2017-18 Parkhurst Hockey Checklist, Team Set Lists
2017-18 Parkhurst Hockey is about as no-frills as it gets, which should be good news for a lot of set builders. Arriving exclusively at Walmart, it has its share of inserts and even a few autographs but the big focus is on accessibility and building the set.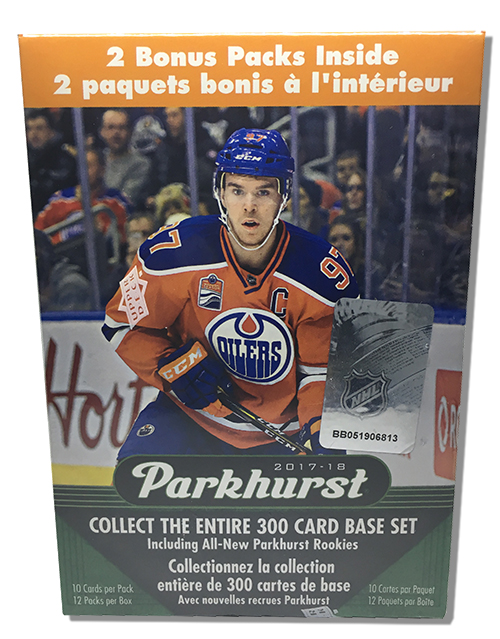 Base Set
The 2017-18 Parkhurst Hockey base set has 300 cards. Although it has some depth, it's still down from the 400 cards it had in 2016-17.
Veterans and rookies are included. That said, this is one of the few sets from Upper Deck this season that have no short prints. All base cards appear to be available in equal quantities.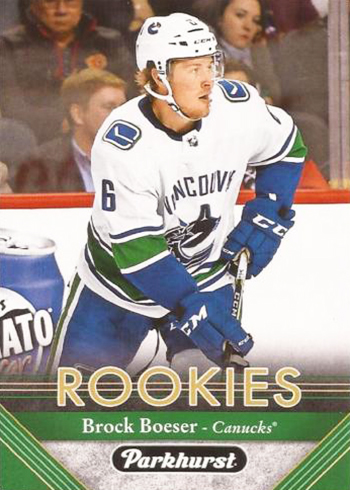 Parallels come in a couple of different colors, both based on border color. Red are the more common, landing four per blaster box (other pack types TBA). Black parallels are 1:12 blaster packs.
Inserts
2017-18 Parkhurst Hockey has four main insert themes.
Prominent Prospects cover the NHL's young stars. Each blaster box has one of these inserts, which come with a patterned foil background. In addition to the base versions are Green (/399) and Gold (/99) parallels in blasters and Red (/199) in gravity feed packs. Prominent Prospects Blue Autographs are also available, although they're not easy to find, falling 1:480 blaster packs. These look to be the only autographs in 2017-18 Parkhurst Hockey.
Blow the Horn (1:10 blaster) highlight the league's top snipers while Parkhurst International (1:5 blaster) look at global greats, past and present.
East Vs. West is all about rivals. Although there are separate East and West checklists and numbering, the designs are complimentary. These land approximately 1:13 blaster packs.
Seeing Stars is exclusive to fat packs. In addition to the base versions, there are Red (1:3.33 packs) and Blue (1:10 packs) parallels.
2017-18 Parkhurst Hockey is available at Walmart stores in both Canada and the United States.
2017-18 Parkhurst Hockey at a glance:
Cards per pack: Blaster – 10
Packs per box: Blaster – 12
Set size: 300 cards
Release date: December, 2017
What to expect in a blaster box:
• Blow the Horn – 1
• East Vs. West – 1-2
• Parkhurst International – 1
• Prominent Prospects – 1
• Black Parallels – 1
• Red Parallels – 4
2017-18 Parkhurst Hockey Checklist
Base
Autographs
Inserts
Team Sets
Comments? Questions? Contact Ryan Cracknell on Twitter @tradercracks or by email.