2017-18 Panini Noir Basketball Checklist, Team Set Lists, Details
2017-18 Panini Noir Basketball dims the lights with dark designs that bring lots of contrast when it comes to player ink and memorabilia swatches.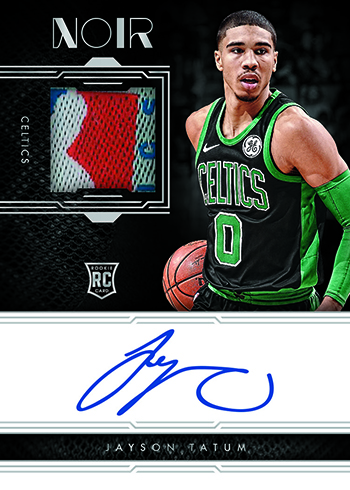 This is a high-end release that is primarily centered on autographs and relics. Boxes come with ten cards, seven of which are hits.
2017-18 Panini Noir Basketball Overview
Lending itself the the product's premium leanings, all of the autographs in 2017-18 Panini Noir Basketball come with on-card signatures. None use labels.
Noir isn't the only release on Panini's basketball calendar to have Rookie Patch Autographs. But the dark backdrops help give some added distinction when placed alongside the likes of Immaculate and other high-end releases. In addition to Super Prime and Tag parallels that are numbered to 5 or less, image variations are also part of the checklist.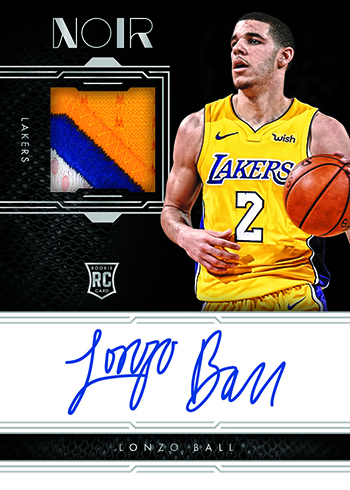 Additional Patch Autographs go beyond first-year standouts and shift to veterans and retired players. These also have Prime and Tag versions.
Spotlight Signatures include even more dark design elements than Rookie Patch Autographs. Images rely on action shots. Rookies and veterans are among the signers here. Cards are available in separate horizontal and vertical designs.
On the strictly memorabilia side are Jumbo Materials and Jumbo Rookie Materials, which boast over-sized swatches.
Icons Memorabilia is exclusively players from the past.
Multi-swatch inserts in 2017-18 Panini Noir Basketball include Episodic Materials and two-player Two-Shot Rookie Jerseys.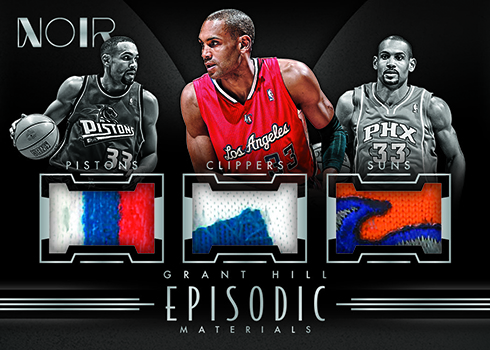 Base cards are done with metal frames. Besides the regular cards are Alternates for both veterans and rookies. Additional subsets come in Feature Length, Vintage Art and Split Screen. Metal frame cards are all numbered to 25.
2017-18 Panini Noir Basketball at a glance:
Cards per pack: 10
Packs per box: 1
Boxes per case: 4
Release date: August 1, 2018
What to expect in a hobby box:
• Autographs or Memorabilia Cards – 7 Total
2017-18 Panini Noir Basketball Checklist
Base
Autographs
Memorabilia
Inserts
Team Sets