2017-18 Panini Flawless Basketball Checklist, Team Set Lists and Details
2017-18 Panini Flawless Basketball continues with the line's tradition of topping off the high end. Autographs, jumbo patches, diamonds and low print runs fill out the checklist.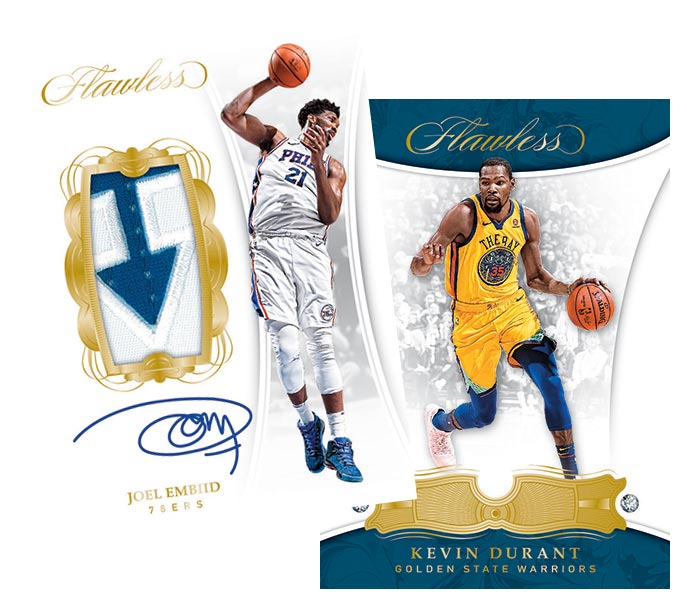 2017-18 Panini Flawless Basketball Diamond Cards
Once again, diamonds are the focal point of the 2017-18 Panini Flawless Basketball base set.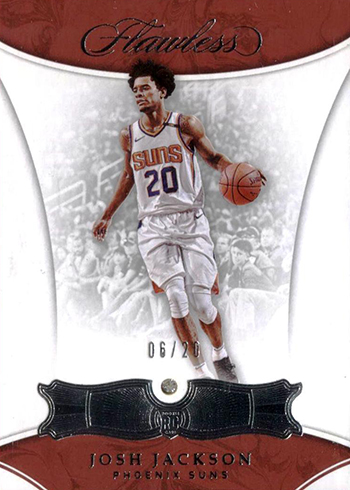 But rather than bringing in different gems for parallels like the line did when it debuted, this time rarer versions go for quantity. That doesn't apply to print run. Rather it's the use of two and three diamonds instead of one. This switch made its debut in 2016-17 Flawless.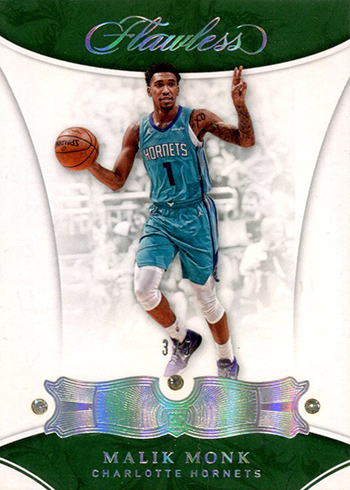 Besides base player cards, other diamond cards include Champions, Most Valuable, Top of the Class and Triple Double. These all have just five copies each.
Autographs and Memorabilia
All autographs in 2017-18 Panini Flawless Basketball have on-card signatures. They come in a variety of forms, including several inserts that combine the signatures with over-sized memorabilia swatches. Patch Autos come in separate horizontal and vertical designs.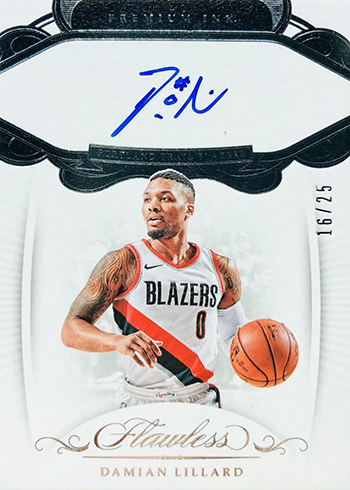 Star Swatch Signatures come with even larger pieces of memorabilia.
Among the most recognizable cards in the product are Logoman Autographs. Logoman patch cards are also available without signatures.
The Honored Numbers checklist is limited to those who have had their number raised to the rafters.
On the memorabilia side, prime pieces get the attention throughout 2017-18 Panini Flawless Basketball. This includes the simply named Patches, which has a jumbo piece.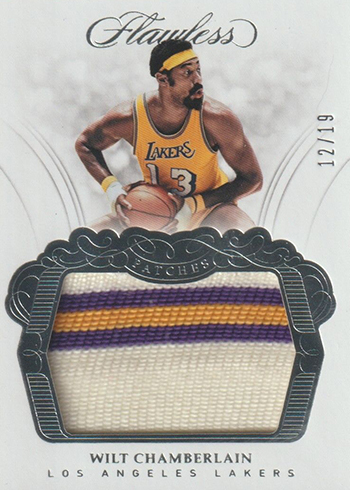 2017-18 Panini Flawless Basketball at a glance:
Cards per pack: 10
Packs per box: 1
Boxes per case: 2
Set size: 160 cards
Release date: October 31, 2018
What to expect in a hobby box:
• Autographs – 7
• Memorabilia Cards – 1
• Additional Autographs or Memorabilia Cards – 1
• Diamond Cards – 1
2017-18 Panini Flawless Basketball Checklist
Base
Autographs
Memorabilia
Updates
Team Sets