Welcome to the Show Trading Cards Bring the Sideshow to Indiegogo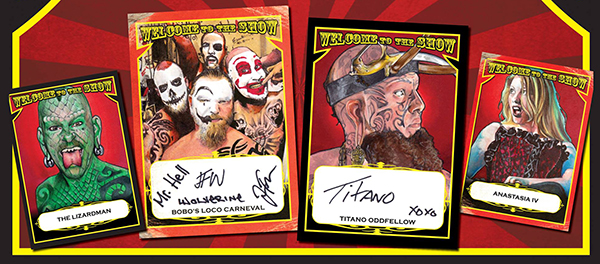 By Ryan Cracknell | Hobby Editor
You're not likely to find 2016 Welcome to the Show Series 1: Sideshow on the shelf of your local card shop. It's one of a growing number of niche products going the indie trading card route.
Created by Mike James, an artist with a lot of experience in the hobby, the limited edition product is available through the crowdsourcing site, Indiegogo. Similar to Kickstarter, collectors and dealers can buy in at various levels and get cards and other rewards in return.
2016 Welcome to the Show Series 1: Sideshow trading cards feature 20 different acts and performers. Some can be found in the pages of the Guinness World Records. Others have been featured by Ripley's Believe It Or Not. They hail from around the world and are considered among the greats of their craft.
Cards feature art drawn by James, who has worked on several sets over the years such as Sportkings, ITG Ultimate Collection, Star Trek, The Walking Dead and Ghostbusters. The subject matter also hits close to home as James himself used to be a sideshow performer.
The 2016 Welcome to the Show Series 1: Sideshow campaign runs throughout October on Indiegogo. Each pack comes with five cards, one of which is an autograph from one of the featured performers. Base cards also have parallels, which land 1:5 packs. Collectors also have a chance to buy into higher reward levels to receive sketch cards, original art, memorabilia cards, master sets and more.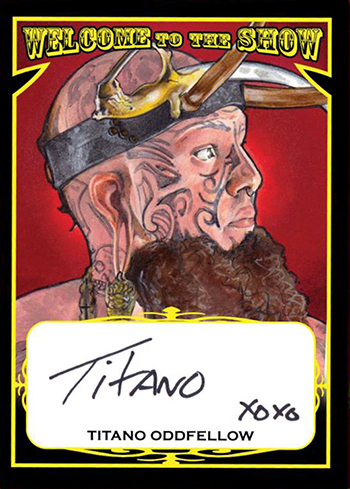 Perks start at $19 for a pack of cards and go up from there. Larger contributions get more packs and other rewards.
Besides the campaign's main page, 2016 Welcome to the Show has a Facebook page that will be used to unveil the checklist.
Comments? Questions? Contact Ryan Cracknell on Twitter @tradercracks.