2016 Upper Deck Moana Tattoo Trading Cards Details
In Western culture, tattoos are often one of two things. Sometimes they're a deep reflection of who a person is and what's important to them. Other times, tattoos are simply a fashion choice. In some cultures, though, tattoos take on a much bigger meaning. Such is the case in ancient Oceania where tattoos were believed to have come from the gods. Nature played a big part in a lot of the designs. In turn, this helped shape identity. With tattoos such an important part of the culture, it seems only appropriate then that tattoos play a major role in a set of Moana trading cards from Upper Deck.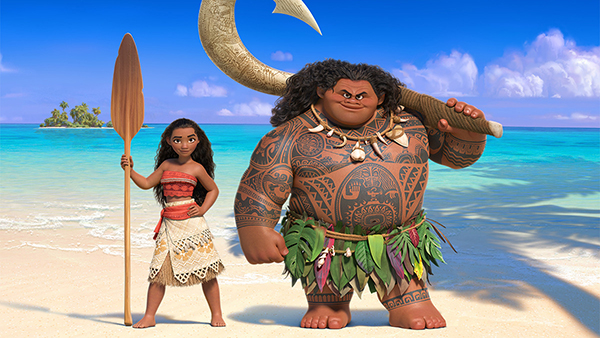 Based on the animated Disney feature, 2016 Upper Deck Moana Tattoo trading cards highlight the film and some kid-friendly wearable designs from the movie.
Each pack of Moana trading cards has a pair of traditional trading cards and three tattoo cards. These tattoos highlight some of Maui's markings. He's the demi-god traveling with Moana as she goes on a journey across the Pacific. Moana is the daughter of a Polynesian chief, Tui Waialiki.
2016 Upper Deck Moana Tattoo trading cards are not a complicated release. They're aimed at kids and intended to be enjoyed and worn as much as they are collected and kept in pages.
The set is on the small side as well, further simplifying things. For there traditional trading card portion, there are 20 different designs. As for the tattoos, there are a dozen different designs.
Packs come with a suggested retail price of $2.49. They're available to dealers both in traditional boxes of 24 packs and in bulk with for peggable foil packs. Without things like autographs and premium inserts, pack searching and "dead boxes" without any hits aren't part of the consideration.
In addition to the Moana trading cards, Upper Deck is making a separate set of dog tags for the film. There are 12 tags in the set along with a chase Voyage tag. Each pack of 2016 Upper Deck Moana Dog Tags has one tag and a visual checklist.
2016 Upper Deck Moana Tattoo Trading Cards at a glance:
Packs per box: 24
Cards per pack: 5
Boxes per case: 12
Set size: 20 cards + 12 tattoos
Release date: October 26, 2016
Comments? Questions? Contact Ryan Cracknell on Twitter @tradercracks.