2017 Upper Deck Marvel Annual 2016 Trading Cards Details
Movies aside, 2016 was a big year for the Marvel Universe. And that's the focus of 2017 Upper Deck Marvel Annual 2016, a trading card recap of sorts highlighting the major events from the comic pages.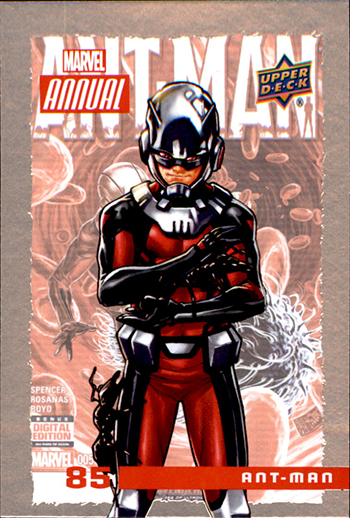 New heroes emerged while others met untimely deaths. Captain America showed some nefarious colors and Doctor Doom found himself on the side of good.
The full 2017 Upper Deck Marvel Annual 2016 base set has 150 cards. Of these, 50 are short prints adding an extra challenge to the equation. Cards focus primarily on characters. All have one-of-one Printing Plate parallels while select cards have variations.
Inserts are included one per pack. There are 11 different sets including Plot Twist, Hero Rookie and In Memoriam. Top 10 lists are also among the basic inserts.
Among the premium inserts in 2017 Upper Deck Marvel Annual 2016 are Die-Cut Plexi cards. These combine a couple of elements, thick acetate and shaped designs.
Sketch cards are also among the inserts. As usual, there are regular cards with original art. New Plexi-Sketch cards see the artwork done on plastic, giving it a different effect.
Finally, there are a variety of manufactured Patch cards. Characters are featured on single and dual versions. Other Patch cards highlight team names and logos.
2017 Upper Deck Marvel Annual 2016 at a glance:
Packs per box: 20
Cards per pack: 5
Boxes per case: 12
Set size: 150 cards
Release date: February 15, 2017
What to expect in a hobby box:
• Total Sketch Cards, Patch Cards or Premium Inserts – 1
• Inserts – 20
Comments? Questions? Contact Ryan Cracknell on Twitter @tradercracks.