2016 Upper Deck Finding Dory sticker cards are simple, like you remember movie cards being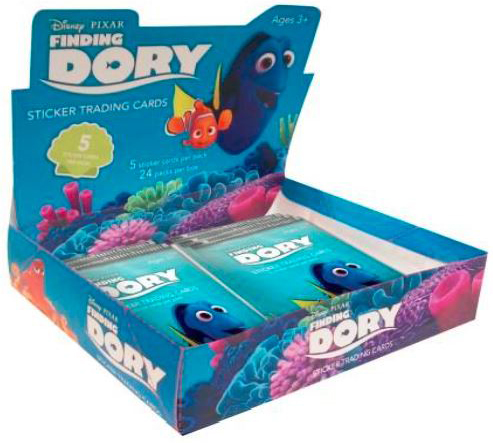 By Ryan Cracknell | Hobby Editor
Things change. Most of us understand that. When we see the benefits of change, it's exciting. But sometimes it means yearnings for the way things used to be. For non-sport collectors, that may very well be a remembrance of when inserts didn't get any more complicated than a sticker. That simplicity is rare into today's hobby, almost unheard of. 2016 Upper Deck Finding Dory sticker cards are a throwback in the sense that they bring back that simple configuration.
The set-up for the 2016 Upper Deck Finding Dory stickers is a mixture of what you'd find in a basic trading card product and one of Panini's sticker collections. They are cards, similar to the way Garbage Pail Kids are. They just double as stickers once peeled. Unlike Panini sticker products, there is no album to store them in outside of regular trading card pages.
See Also: 2016 Upper Deck Finding Dory Box Busters
The base set has 40 cards. They mix the full CGI-style art that will be shown on screen for the Pixar sequel with line art that is often used during the planning stages.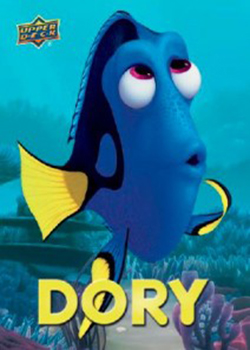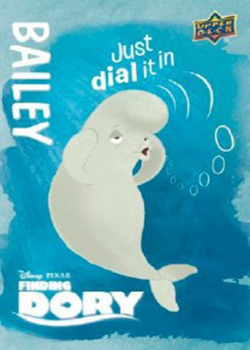 Another bit of non-sport nostalgia can be found on the backs. They fit together to make a massive 40-card puzzle.
Each pack of 2016 Upper Deck Finding Dory sticker cards has four cards.
2016 Upper Deck Finding Dory Sticker Cards at a glance:
Packs per box: 24
Cards per pack: 5
Boxes per case: 12
Set size: 40 cards
Release date: May, 2016
2016 Upper Deck Finding Dory Checklist
40 cards.
P1 Destiny, Bailey, Hank, Dory, Marlin, Nemo
P2 What Do We do? We Swim?
P3 I Am Fluent In Whale
P4 Dory Hooooow Arrreeee Yoooou?
P5 Hank and Coffee Pot
P6 Hank, Dory and Nemo
P7 Dory and Nemo Green
P8 Bailey Just Dial It In
P9 Upside Down Hank
P10 Cuddle Party
P11 Marlin and Nemo
P12 Pipe Pals
P13 Sad Nemo and Dory Orange
P14 Dory and Nemo Yellow
P15 Seaweed Three Hermit Crabs
P16 Seaweed Three Otters
P17 Seaweed Hank and Hermit Crab Tea Cup
P18 Seaweed Dory with Tag
P19 Seaweed Destiny and Dory
P20 Seaweed Dory, Marlin and Nemo
P21 Seaweed Bailey and Destiny
P22 Seaweed Goofy Seal
P23 Seaweed Brown Seal
P24 Seaweed Big Blue Seal
P25 Hermit Crab Tea Cup
P26 Hermit Crab Jug
P27 Hermit Crab Pitcher
P28 Hermit Crab Coffee Cup
P29 Hermit Crab Wine Glass
P30 Hermit Crab Can
P31 Hermit Crab Tuna Can
P32 Hermit Crab Large Coffee Cup
P33 Cute Otter Alone
P34 Goofy Seal
P35 Destiny
P36 Bailey
P37 Dory
P38 Nemo
P39 Marlin
P40 Hank
Comments? Questions? Contact Ryan Cracknell on Twitter @tradercracks.