2016 Topps Star Wars: The Force Awakens Stickers info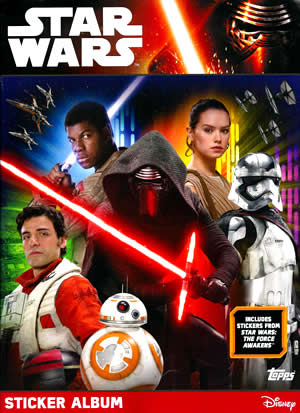 By Ryan Cracknell | Hobby Editor
It has been a long time since there has been a set of Star Wars cards one could consider truly simple. Some are flashier and more complex than others but virtually all of them are now loaded up with multiple levels of inserts to go with the main set. Enter 2016 Topps Star Wars: The Force Awakens Stickers.
Granted, they're not cards in the traditional sense but they are close and have the appeal of something straightforward.
The collection consists of 292 stickers. They focus on the characters and the basic story outline of the seventh Star Wars film. Foil stickers, which are part of the main collection and not parallels, are as complicated as the set gets.
Packs come with five stickers, although there are a couple of different configurations. Basic sticker boxes have 50 packs. There are also starter albums that have a 64-page book to store the stickers in plus 36 stickers to get things moving. Albums are also available on their own.
The sticker collection is actually late arriving in North America. It is already available in Europe through Topps' UK arm.
2016 Topps Star Wars: The Force Awakens Stickers at a glance:
Packs per box: 50
Cards per pack: 5
Boxes per case: 24
Set size: 292 stickers
Release date: March 9, 2016
Comments? Questions? Contact Ryan Cracknell on Twitter @tradercracks.