2016 Topps Star Wars Evolution Checklist and Details
With seven main films, dozens of comics and novels (canon or not), specials, TV spin-offs and more, there's been plenty of change in a certain galaxy that's far, far away. 2016 Topps Star Wars Evolution marks the return of the brand that debuted in 2001 to showcase changes from the original films into the prequel world. Now that a new trilogy has come along, the stories, and the evolution, continues.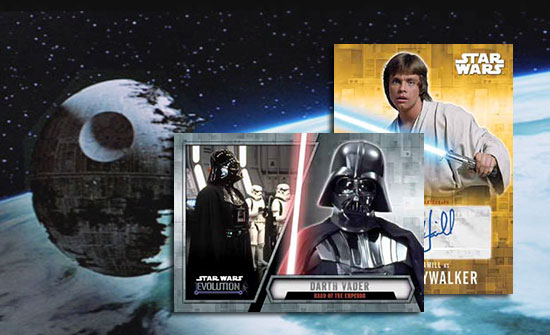 This may be the third Star Wars Evolution set but it comes with a new design and configuration that differentiates it from the first two.
Hobby boxes come with two premium inserts, which include autographs, sketch cards and manufactured patch cards.
Base Set
The 2016 Topps Star Wars Evolution base set consists of 100 cards. It's a character-based focus showing how they grown and changed. Perhaps the cards will unlock the secret as to how Chewbacca hasn't aged much in nearly 40 years.
Parallels found in hobby packs come in four colors: Blue Lightsaber (1:2 packs), Purple Lightsaber (1:12), Gold (/100) and Imperial Red (1/1).
Select base cards have variations as well.
Inserts
Three basic insert sets look at how other elements of the Star Wars universe other than characters have evolved over time. Evolution of Vehicles and Ships and Evolution of the Lightsaber look at tech. Evolution of Star Wars Comics tackle the transformation of the line over the past three-plus decades.
Stained Glass Pairings showcase connections between characters with a colorful background.
Autographs and Premium Inserts
When 2001 Star Wars Evolution arrived, it was the first set for the franchise to include actor autographs. They've become a staple over the years, which carries over to here. The 2016 Topps Star Wars Evolution Autographs checklist has more than 70 signers. Signatures are done using stickers. Parallels come in Purple (/25), Gold (/10), Printing Plates and one-of-one Imperial Red.
In addition to basic autographs, there are also rare cards with two and three signatures.
Sketch cards all come with original art and a character focus.
Patch cards highlight the various factions seen in the films: The Rebel Alliance, Empire, Galactic Republic, Separtists, Jedi Council, Rebels Resistance and the First Order. Each faction is represented with a different patch and various characters. Every faction also has one character that's featured on an autographed patch card.
2016 Topps Star Wars Evolution at a glance:
Packs per box: 24
Cards per pack: 8
Boxes per case: 12
Set size: 100 cards
Release date: June 6, 2016
What to expect in a hobby box:
Autographs, Sketch Cards, Patch Cards – 2 Total
Purple Lightsaber Parallels – 2
Blue Lighsaber Parallels – 12
2016 Topps Star Wars Evolution Checklist
Base Set
100 cards.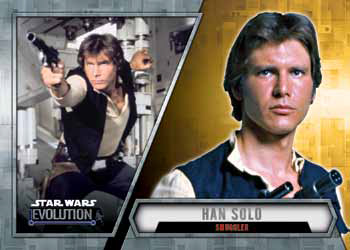 Parallels:
• Blue Lightsaber – 1:2
• Purple Lightsaber – 1:12
• Gold – /100
• Imperial Red – 1/1
1 Anakin Skywalker: Tatooine Slave
2 Anakin Skywalker: Padawan
3 Anakin Skywalker: Jedi Knight
4 Anakin Skywalker: Jedi Redeemed
5 Anakin Skywalker: Jedi Spirit
6 Anakin Skywalker: Sith Apprentice
7 Darth Vader: Sith Lord
8 Darth Vader: Star Pilot
9 Darth Vader: Hand of the Emperor
10 Ahsoka Tano: Padawan
11 Ahsoka Tano: Jedi Knight
12 Ahsoka Tano: Rebel
13 Padmé Amidala: Queen of Naboo
14 Padmé Amidala: Handmaiden Disguise
15 Padmé Amidala: Senator of Naboo
16 Padmé Amidala: Republic Warrior
17 Padmé Amidala: Mother-to-be
18 Obi-Wan Kenobi: Padawan
19 Obi-Wan Kenobi: Jedi Knight
20 Obi-Wan Kenobi: Jedi Master
21 Obi-Wan Kenobi: Tatooine Recluse
22 Obi-Wan Kenobi: Jedi Spirit
23 Yoda: Jedi Master
24 Yoda: Jedi Warrior
25 Yoda: Jedi Council
26 Yoda: Jedi in Exile
27 Yoda: Jedi Spirit
28 Luke Skywalker: Moisture Farmer
29 Luke Skywalker: Rebel Star Pilot
30 Luke Skywalker: Rebel Commander
31 Luke Skywalker: Jedi-in-Training
32 Luke Skywalker: Jedi Knight
33 Luke Skywalker: Jedi in Exile
34 Princess Leia Organa: Senator of Alderaan
35 Princess Leia Organa: Rebel Leader
36 Princess Leia Organa: Rebel Leader
37 Princess Leia Organa: Jabba's Prisoner
38 Princess Leia Organa: Rebel General
39 Leia Organa: Resistance General
40 Han Solo: Smuggler
41 Han Solo: Hero of the Rebellion
42 Han Solo: Rebel Captain
43 Han Solo: Carbonite
44 Han Solo: Rebel General
45 Han Solo: Smuggler
46 Senator Palpatine: Senator of Naboo
47 Chancellor Palpatine: Chancellor
48 Chancellor Palpatine: Ruler of the Republic
49 Emperor Palpatine: Sith Lord
50 Emperor Palpatine: Galactic Emperor
51 Boba Fett: Son of Jango Fett
52 Boba Fett: Mos Eisley Bounty Hunter
53 Boba Fett: Cloud City Capture
54 Boba Fett: Jabba's Palace
55 Chewbacca: Kashyyyk Warrior
56 Chewbacca: Smuggler
57 Chewbacca: Mechanic
58 Chewbacca: Millennium Falcon Co-Pilot
59 Chewbacca: Smuggler
60 Wilhuff Tarkin: Republic Captain
61 Wilhuff Tarkin: Imperial Moff
62 Wilhuff Tarkin: Imperial Grand Moff
63 Lando Calrissian: Bespin Administrator
64 Lando Calrissian: Smuggler
65 Lando Calrissian: Rebel Sympathizer
66 Lando Calrissian: Rebel General
67 Clone Trooper: Phase I
68 Clone Trooper: Phase II
69 Stormtrooper: Imperial Soldier
70 Stormtrooper: First Order Soldier
71 C-3PO: Household Droid
72 C-3PO: Protocol Droid
73 C-3PO: Rebel Interpreter
74 C-3PO: Resistance Interpreter
75 R2-D2: Naboo Mechanic
76 R2-D2: Astromech Droid
77 R2-D2: Rebel Astromech Droid
78 R2-D2: Hero of the Rebellion
79 Mace Windu: Jedi Master
80 Mace Windu: Republic General
81 Mace Windu: Jedi Council
82 Jabba the Hutt: Gangster
83 Jabba the Hutt: Tatooine Crime Lord
84 Mon Mothma: Rebel Conspirator
85 Mon Mothma: Rebel Leader
86 Bib Fortuna: Boonta Eve Classic
87 Bib Fortuna: Jabba's Majordomo
88 FN-2187: First Order Stormtrooper
89 Finn: Resistance Fighter
90 Rey: Jakku Scavenger
91 Rey: Resistance Fighter
92 Kylo Ren: Dark Side Warrior
93 Kylo Ren: First Order Enforcer
94 Darth Maul: Sith Apprentice
95 Darth Maul: Nightbrother
96 Count Dooku: Political Idealist
97 Count Dooku: Separatist Leader
98 Count Dooku: Sith Apprentice
99 Kanan Jarrus: Padawan
100 Kanan Jarrus: Rebel
Short Prints
9 cards.
SP-1 Luke Skywalker: Stormtrooper Disguise
SP-2 Princess Leia Organa: Boussh Disguise
SP-3 Han Solo: Stormtrooper Disguise
SP-4 Lando Calrissian: Skiff Guard
SP-5 Darth Vader: Birth of the Dark Lord
SP-6 Boba Fett: Skiff Battle
SP-7 Darth Sidious: Hologram
SP-8 R2-D2: Dagobah Swamp
SP-9 C-3PO: Bespin Attack
Autograph Cards
Autographs
86 cards.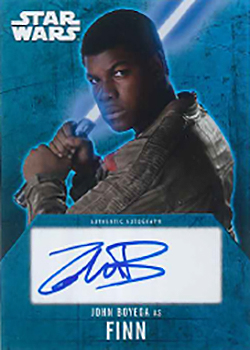 Parallels:
• Purple – /25
• Gold – /10
• Imperial Red – 1/1
• Printing Plates Black – 1/1
• Printing Plates Cyan – 1/1
• Printing Plates Magenta – 1/1
• Printing Plates Yellow – 1/1
Amy Allen as Aayla Secura
Dee Bradley Baker as Captain Rex
Kenny Baker as R2-D2
Erik Bauersfield as Admiral Ackbar
Dickey Beer as Barada
Dickey Beer as Scout Trooper
Jerome Blake as Orn Free Taa
Paul Blake as Greedo
Caroline Blakiston as Mon Mothma
Brian Blessed as Boss Nass
Steve Blum as Zeb Orrelios
Michonne Bourriague as Aurra Sing
David Bowers as Mas Amedda
John Boyega as Finn
Anna Brewster as Bazine Netal
Ralph Brown as Ric Olie
Jeremy Bulloch as Boba Fett
Silas Carson as Nute Gunray
Michael Carter as Bib Fortuna
Keisha Castle-Hughes as Queen Apailana
Kenneth Colley as Admiral Piett
Michaela Cottrell as Even Piell
Dermot Crowley as General Madine
Anthony Daniels as C-3PO
Warwick Davis as Wicket
Tim Dry as J'Quille
Phil Eason as Yaddle
Ashley Eckstein as Ahsoka Tano
Carrie Fisher as Princess Leia Organa
Harrison Ford as Han Solo
Oliver Ford Davies as Sio Bibble
Nika Futterman as Asajj Ventress
Julian Glover as General Veers
Barbara Goodson as Mother Talzin
Taylor Gray as Ezra Bridger
Greg Grunberg as Snap Wexley
Mark Hamill as Darth Bane
Mark Hamill as Luke Skywalker
Alan Harris as Bossk
Gerald Home as Tessek
Jesse Jensen as Saesee Tiin
Zac Jensen as Kit Fisto
Tom Kane as Yoda
Michael Kingma as Tarfful
Jack Klaff as John D. Branon
Nalini Krishan as Barriss Offee
Phil Lamarr as Bail Organa
Denis Lawson as Wedge Antilles
Ian Liston as Wes Janson
Daniel Logan as Boba Fett
Angus MacInnes as Jon "Dutch" Vander
Rocky Marshall as Colonel Datoo
Vanessa Marshall as Hera Syndulla
Peter Mayhew as Chewbacca
Ian McDiarmid as Darth Sidious
John Morton as Boba Fett
Mercedes Ngoh as Rystall Sant
Rohan Nichol as Captain Antilles
Ray Park as Darth Maul
Bonnie Piesse as Beru Whitesun
Freddie Prinze Jr. as Kanan
Wayne Pygram as Grand Moff Tarkin
Hugh Quarshie as Captain Panaka
Mike Quinn as Nien Nunb (Return of the Jedi)
Mike Quinn as Nien Nunb (The Force Awakens)
John Ratzenberger as Bren Derlin
Clive Revil as The Emperor
Pam Rose as Leesub Sirlin
Tim Rose as Admiral Ackbar (Original Trilogy)
Tim Rose as Admiral Ackbar (The Force Awakens)
Deep Roy as Yoda
Andy Secombe as Watto
Andy Serkis as Supreme Leader Snoke
Hassani Shapi as Eeth Koth
Orli Shoshan as Shaak Ti
Tiya Sircar as Sabine Wren
Bruce Spence as Tion Medon
Stephen Stanton as Tarkin
Joonas Suotamo as Chewbacca
Catherine Taber as Padme Amidala
George Takei as Lord Durd
Femi Taylor as Oola
Harriet Walter as Doctor Kalonia
Billy Dee Williams as Lando Calrissian
Sam Witwer as The Emperor
Matthew Wood as Bib Fortuna
Dual Autographs
7 cards.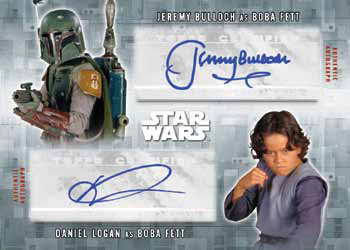 Jeremy Bulloch and Daniel Logan as Boba Fett
Michael Carter and Matthew Wood as Bib Fortuna
Ashley Eckstein as Ahsoka Tano and Dee Bradley Baker as Captain Rex
Mark Hamill as Luke Skywalker and Deep Roy as Yoda
Ian McDiarmid and Clive Revill as Emperor Palpatine
Ian McDiarmid as Darth Sidious and Matthew Wood as General Grievous
Ray Park and Sam Witwer as Darth Maul
Triple Autographs
4 cards.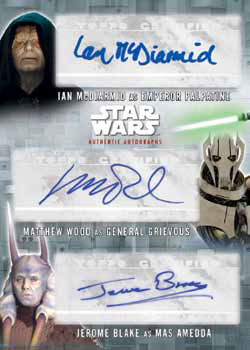 Caroline Blakiston, Dermot Crowley and Tim Rose
Jeremy Bulloch, John Morton and Dickey Beer
Ian McDiarmid, Matthew Wood and Jerome Blake
David Prowse, Kenneth Colley and Julian Glover
Quad Book Autograph
1 card.
Jeremy Bulloch, John Morton, Dickey Beer and Daniel Logan
Patch Cards
56 total cards. Characters are organized here according to the patch.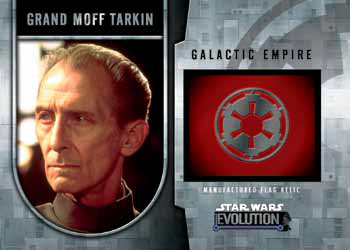 The First Order
Captain Phasma
Flametrooper
General Hux
Kylo Ren
Stormtroopers
Supreme Leader Snoke
TIE Fighter Pilot
Galactic Empire
Darth Vader
General Veers
Grand Moff Tarkin
Moff Jerjerrod
Stormtroopers
The Emperor
TIE Fighter Pilot
Galactic Republic
Bail Organa
Captain Rex
Chancellor Palpatine
Chancellor Valorum
Clone Trooper
Mon Mothma
Senator Amidala
Jedi Order
Aayla Secura
Ki-Adi-Mundi
Mace Windu
Obi-Wan Kenobi
Qui-Gon Jinn
Shaak Ti
Yoda
Phoenix Squadron
Ahsoka Tano
Chopper
Ezra Bridger
Hera Syndulla
Kanan Jarrus
Sabine Wren
Zeb Orrelios
Rebel Alliance
C-3PO
Chewbacca
Han Solo
Lando Calrissian
Luke Skywalker
Princess Leia Organa
R2-D2
The Resistance
Admiral Ackbar
BB-8
Finn
Leia Organa
Nien Nunb
Poe Dameron
Rey
Separatists
Asajj Ventress
Count Dooku
General Grievous
Nute Gunray
Poggle The Lesser
Rune Haako
Super Battle Droid
Autographed Patch Cards
8 cards.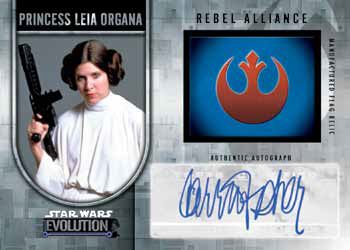 John Boyega as Finn – The Resistance
Silas Carson as Ki-Adi-Mundi – Jedi Order
Taylor Gray as Ezra – Rebels/Phoenix Squadron
Mark Hamill as Luke Skywalker – Rebel Alliance
Ian McDiarmid as Chancellor Palpatine – Galactic Republic
Clive Revill as The Emperor – Galactic Empire
Andy Serkis as Supreme Leader Snoke – The First Order
Matthew Wood as General Grievous – Separatists
Dual Patch Banner Book Cards
Bail Organa/Padme Amidala – Galactic Republic
Count Dooku/General Grievous – Separatists
Emperor Palpatine/Darth Vader – Galactic Empire
Finn/Rey – The Resistance
Kylo Ren/Captain Phasma – The First Order
Luke Skywalker/Princess Leia – Rebel Alliance
Yoda/Mace Windu – Jedi Order
Inserts
Evolution of Lightsaber
9 cards.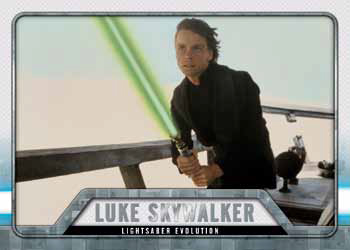 EL-1 Luke Skywalker's Lightsaber
EL-2 Darth Vader's Lightsaber
EL-3 Darth Maul's Lightsaber
EL-4 Count Dooku's Lightsaber
EL-5 Asajj Ventress' Lightsaber
EL-6 Kanan Jarrus' Lightsaber
EL-7 Ezra Bridger's Lightsaber
EL-8 The Inquisitor's Lightsaber
EL-9 Kylo Ren's Lightsaber
Evolution of Marvel Star Wars Comics
17 cards.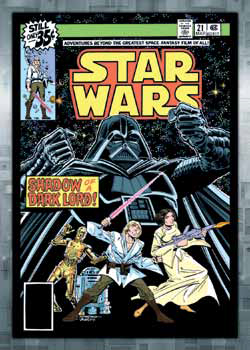 Not all of the featured comics were originally produced at Marvel. However, they are now that Dark Horse no longer publishes Star Wars comics.
EC-1 Star Wars Issue 1
EC-2 Star Wars Issue 52
EC-3 Star Wars Issue 68
EC-4 Dark Empire
EC-5 Crimson Empire
EC-6 Heir to the Empire
EC-7 Shadows of the Empire
EC-8 Star Wars Tales
EC-9 Darth Maul
EC-10 Infinities
EC-11 Knights of the Old Republic
EC-12 Legacy
EC-13 Star Wars (Dark Horse)
EC-14 Darth Vader and the Ghost Prison
EC-15 The Star Wars
EC-16 Marvel Star Wars #1
EC-17 Darth Vader #1
Evolution of Vehicles and Ships
18 cards.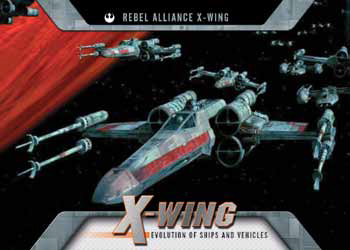 EV-1 Millennium Falcon
EV-2 Millennium Falcon
EV-3 X-wing Fighter
EV-4 X-wing Fighter
EV-5 TIE Fighter
EV-6 TIE Fighter
EV-7 Imperial Shuttle
EV-8 Kylo Ren's Command Shuttle
EV-9 Star Destroyer
EV-10 Star Destroyer
EV-11 Speeder Bike
EV-12 Rey's Speeder
EV-13 AT-TE
EV-14 AT-AT
EV-15 Anakin's Speeder
EV-16 Luke's Landspeeder
EV-17 AT-RT
EV-18 AT-ST
Lenticular Morph Cards
9 cards.
1 Darth Vader
2 Luke Skywalker
3 Leia Organa
4 Han Solo
5 Emperor Palpatine
6 C-3PO
7 Stormtrooper
8 Obi-Wan Kenobi
9 Chewbacca
Stained Glass Pairings
9 cards.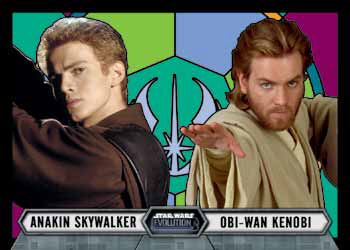 1 Luke Skywalker/Princess Leia
2 Han Solo/Lando Calrissian
3 Obi-Wan Kenobi/Anakin Skywalker
4 Darth Sidious& Darth Maul
5 Darth Vader/Grand Moff Tarkin
6 Kylo Ren/Captain Phasma
7 Chewbacca/C-3PO
8 Admiral Ackbar/Nien Nunb
9 Rey/Finn
Sketch Cards
The following is a list of the 42 artists with sketch cards in the product.
Jennifer Allyn
Kyle Babbit
Angelina Benedetti
Jeffrey Benitez
Tina Berardi
Dan Bergren
Jason Brower
Alex Buechel
Carlos Cabaleiro
Keith Carter
Jonathan Caustrita
Francois Chartier
Roy Cover
Jason Crosby
Marcia Dye
Matthew Fletcher
Jason Flowers
Brad Hudson
Seth Ismart
Scott Jones
Brian Kong
Elfie Lebouleux
Eric Lehtonen
Solly Mohamed
Rich Molinelli
Dan Parsons
Kris Penix
Darrin Pepe
Tim Proctor
David Rabbitte
Brent Ragland
Patrick Richardson
Scott Rorie
Eli Rutten
Tim Shay
Jason Sobol
Stephanie Swanger
Strephon Taylor
Christopther West
Jeff West
Kevin West
Lin Workman
Comments? Questions? Contact Ryan Cracknell on Twitter @tradercracks.