2016 Topps Star Wars Evolution Autographs Checklist Reaches All Corners of the Galaxy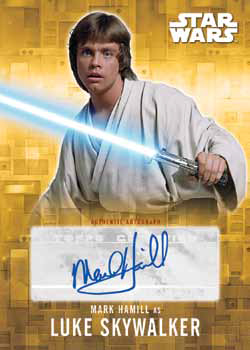 By Ryan Cracknell | Hobby Editor
No matter what era of the franchise that you connect with, the 2016 Topps Star Wars Evolution Autographs checklist has you covered. With 86 different cards, it's the biggest to date for a set of Star Wars trading cards. From the original films to the prequels to the animated shows and even a taste of The Force Awakens, it's there.
Top names include Harrison Ford, Carrie Fisher, Mark Hamill and John Boyega. Hamill actually has a couple of different autographs. Of course, there's Luke Skywalker. He also has one as Darth Bane, a character he voice in The Clone Wars.
Andy Serkis, perhaps best known for his portrayal as Gollum in The Lord of the Rings, makes his Star Wars autograph card debut.
But with such a deep checklist, there are several secondary characters and all places in between.
While the vast majority of the 2016 Topps Star Wars Evolution Autographs use stickers, there is one notable exception — John Boyega who plays Finn in The Force Awakens.
Autographs combine with patch and sketch cards to land two per 2016 Topps Star Wars Evolution box. In addition to base versions, signed cards have Purple (/25), Gold (/10) and one-of-one Printing Plate parallels.
A couple of names that were originally slated for the set didn't make the final checklist. Notable include David Prowse and Jason Isaacs.
2016 Topps Star Wars Evolution Autographs Checklist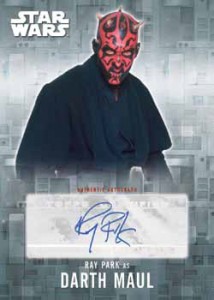 Amy Allen as Aayla Secura
Dee Bradley Baker as Captain Rex
Kenny Baker as R2-D2
Erik Bauersfield as Admiral Ackbar
Dickey Beer as Barada
Dickey Beer as Scout Trooper
Jerome Blake as Orn Free Taa
Paul Blake as Greedo
Caroline Blakiston as Mon Mothma
Brian Blessed as Boss Nass
Steve Blum as Zeb Orrelios
Michonne Bourriague as Aurra Sing
David Bowers as Mas Amedda
John Boyega as Finn
Anna Brewster as Bazine Netal
Ralph Brown as Ric Olie
Jeremy Bulloch as Boba Fett
Silas Carson as Nute Gunray
Michael Carter as Bib Fortuna
Keisha Castle-Hughes as Queen Apailana
Kenneth Colley as Admiral Piett
Michaela Cottrell as Even Piell
Dermot Crowley as General Madine
Anthony Daniels as C-3PO
Warwick Davis as Wicket
Tim Dry as J'Quille
Phil Eason as Yaddle
Ashley Eckstein as Ahsoka Tano
Carrie Fisher as Princess Leia Organa
Harrison Ford as Han Solo
Oliver Ford Davies as Sio Bibble
Nika Futterman as Asajj Ventress
Julian Glover as General Veers
Barbara Goodson as Mother Talzin
Taylor Gray as Ezra Bridger
Greg Grunberg as Snap Wexley
Mark Hamill as Darth Bane
Mark Hamill as Luke Skywalker
Alan Harris as Bossk
Gerald Home as Tessek
Jesse Jensen as Saesee Tiin
Zac Jensen as Kit Fisto
Tom Kane as Yoda
Michael Kingma as Tarfful
Jack Klaff as John D. Branon
Nalini Krishan as Barriss Offee
Phil Lamarr as Bail Organa
Denis Lawson as Wedge Antilles
Ian Liston as Wes Janson
Daniel Logan as Boba Fett
Angus MacInnes as Jon "Dutch" Vander
Rocky Marshall as Colonel Datoo
Vanessa Marshall as Hera Syndulla
Peter Mayhew as Chewbacca
Ian McDiarmid as Darth Sidious
John Morton as Boba Fett
Mercedes Ngoh as Rystall Sant
Rohan Nichol as Captain Antilles
Ray Park as Darth Maul
Bonnie Piesse as Beru Whitesun
Freddie Prinze Jr. as Kanan
Wayne Pygram as Grand Moff Tarkin
Hugh Quarshie as Captain Panaka
Mike Quinn as Nien Nunb (Return of the Jedi)
Mike Quinn as Nien Nunb (The Force Awakens)
John Ratzenberger as Bren Derlin
Clive Revil as The Emperor
Pam Rose as Leesub Sirlin
Tim Rose as Admiral Ackbar (Original Trilogy)
Tim Rose as Admiral Ackbar (The Force Awakens)
Deep Roy as Yoda
Andy Secombe as Watto
Andy Serkis as Supreme Leader Snoke
Hassani Shapi as Eeth Koth
Orli Shoshan as Shaak Ti
Tiya Sircar as Sabine Wren
Bruce Spence as Tion Medon
Stephen Stanton as Tarkin
Joonas Suotamo as Chewbacca
Catherine Taber as Padme Amidala
George Takei as Lord Durd
Femi Taylor as Oola
Harriet Walter as Doctor Kalonia
Billy Dee Williams as Lando Calrissian
Sam Witwer as The Emperor
Matthew Wood as Bib Fortuna
Dual Autographs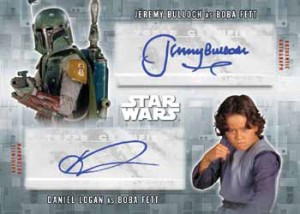 Jeremy Bulloch and Daniel Logan as Boba Fett
Michael Carter and Matthew Wood as Bib Fortuna
Ashley Eckstein as Ahsoka Tano and Dee Bradley Baker as Captain Rex
Mark Hamill as Luke Skywalker and Deep Roy as Yoda
Ian McDiarmid and Clive Revill as Emperor Palpatine
Ian McDiarmid as Darth Sidious and Matthew Wood as General Grievous
Ray Park and Sam Witwer as Darth Maul
Triple Autographs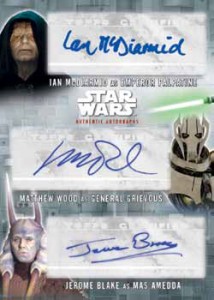 Caroline Blakiston, Dermot Crowley and Tim Rose
Jeremy Bulloch, John Morton and Dickey Beer
Ian McDiarmid, Matthew Wood and Jerome Blake
David Prowse, Kenneth Colley and Julian Glover
Quad Book Autograph
Jeremy Bulloch, John Morton, Dickey Beer and Daniel Logan