2016 Topps Spring Fever promo card info and how to get them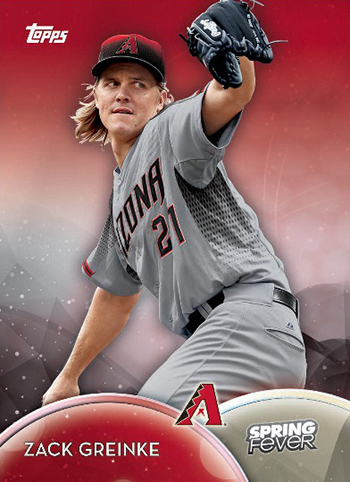 By Ryan Cracknell | Hobby Editor
If you're planning on delving into 2016 Topps Series 1 Baseball this week, there's some added incentive to head down to your local hobby shop. Between February 10 and 21, if you make a qualifying purchase at a participating shop you get a redemption card good for a pack of exclusive 2016 Topps Spring Fever cards. You then return to the shop from February 22-29 to get your cards.
The 2016 Topps Spring Fever set has 50 cards. Among them are the first cards of a handful of players in their new uniforms. Zack Greinke, Jason Heyward and Todd Frazier all fall into this category.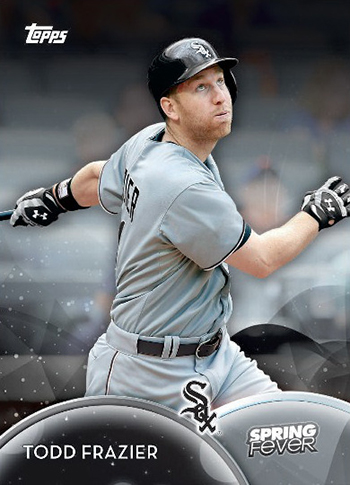 The checklist also includes such rookies as Corey Seager and Trea Turner.
In addition to the base cards, autographs are once again randomly inserted in 2016 Topps Baseball Spring Fever packs. Collectors also get a 2016 MLB Wacky Packages promo card.
Collectors get one Spring Fever pack for every $20 spent on 2016 Topps Series 1 packs and boxes. Each pack has five cards.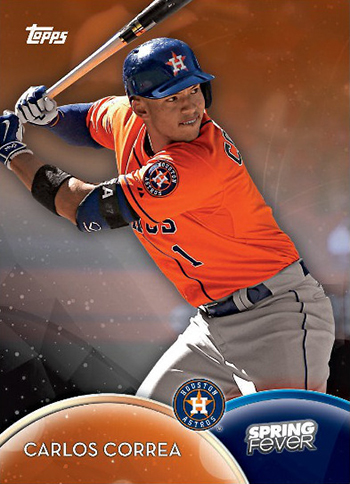 2016 Topps Spring Fever Checklist
SF-1 Mike Trout, Los Angeles Angels
SF-2 Buster Posey, San Francisco Giants
SF-3 Jason Heyward, Chicago Cubs
SF-4 Todd Frazier, Chicago White Sox
SF-5 David Price, Boston Red Sox
SF-6 Zack Greinke, Arizona Diamondbacks
SF-7 Yu Darvish, Texas Rangers
SF-8 Salvador Perez, Kansas City Royals
SF-9 Johnny Cueto, San Francisco Giants
SF-10 Jacob deGrom, New York Mets
SF-11 Joey Votto, Cincinnati Reds
SF-12 Robinson Cano, Seattle Mariners
SF-13 Josh Donaldson, Toronto Blue Jays
SF-14 Madison Bumgarner, San Francisco Giants
SF-15 Kris Bryant, Chicago Cubs
SF-16 Clayton Kershaw, Los Angeles Dodgers
SF-17 Hunter Pence, San Francisco Giants
SF-18 Matt Harvey, New York Mets
SF-19 David Ortiz, Boston Red Sox
SF-20 Anthony Rizzo, Chicago Cubs
SF-21 Dustin Pedroia, Boston Red Sox
SF-22 Yadier Molina, St. Louis Cardinals
SF-23 Miguel Cabrera, Detroit Tigers
SF-24 Felix Hernandez, Seattle Mariners
SF-25 Andrew McCutchen, Pittsburgh Pirates
SF-26 David Wright, New York Mets
SF-27 Albert Pujols, Los Angeles Angels
SF-28 Max Scherzer, Washington Nationals
SF-29 Bryce Harper, Washington Nationals
SF-30 Adrian Gonzalez, Los Angeles Dodgers
SF-31 Kyle Schwarber, Chicago Cubs
SF-32 Corey Seager, Los Angeles Dodgers
SF-33 Jon Gray, Colorado Rockies
SF-34 Luis Severino, New York Yankees
SF-35 Miguel Sano, Minnesota Twins
SF-36 Trea Turner, Washington Nationals
SF-37 Aaron Nola, Philadelphia Phillies
SF-38 Hector Olivera, Atlanta Braves
SF-39 Stephen Piscotty, St. Louis Cardinals
SF-40 Joe Mauer, Minnesota Twins
SF-41 Ichiro, Miami Marlins
SF-42 Giancarlo Stanton, Miami Marlins
SF-43 Carlos Correa, Houston Astros
SF-44 Masahiro Tanaka, New York Yankees
SF-45 Jose Bautista, Toronto Blue Jays
SF-46 Jake Arrieta, Chicago Cubs
SF-47 Paul Goldschmidt, Arizona Diamondbacks
SF-48 Francisco Lindor, Cleveland Indians
SF-49 Dee Gordon, Miami Marlins
SF-50 Manny Machado, Baltimore Orioles
Autographs
SFA-AR Anthony Rizzo, Chicago Cubs
SFA-BD Brandon Drury, Arizona Diamondbacks
SFA-CC Carlos Correa, Houston Astros
SFA-CK Clayton Kershaw, Los Angeles Dodgers
SFA-CRO Carlos Rodon, Chicago White Sox
SFA-CY Carl Yastrzemski, Boston Red Sox
SFA-DH Dilson Herrera, New York Mets
SFA-DO David Ortiz, Boston Red Sox
SFA-DP David Price, Boston Red Sox
SFA-DT Devon Travis, Toronto Blue Jays
SFA-ER Eddie Rosario, Minnesota Twins
SFA-GB Greg Bird, New York Yankees
SFA-HO Hector Olivera, Atlanta Braves
SFA-HS Hector Santiago, Los Angeles Angels
SFA-JM James McCann, Detroit Tigers
SFA-JS Jorge Soler, Chicago Cubs
SFA-KG Kendall Graveman, Oakland Athletics
SFA-KM Ketel Marte, Seattle Mariners
SFA-KP Kevin Plawecki, New York Mets
SFA-KW Kyle Waldrop, Cincinnati Reds
SFA-LJ Luke Jackson, Texas Rangers
SFA-LSA Luis Sardinas, Seattle Mariners
SFA-MA Miguel Almonte, Kansas City Royals
SFA-MC Michael Choice, Cleveland Indians
SFA-MK Max Kepler, Minnesota Twins
SFA-MRY Matt Reynolds, New York Mets
SFA-MSA Miguel Sano, Minnesota Twins
SFA-MSH Matt Shoemaker, Los Angeles Angels
SFA-MST Marcus Stroman, Toronto Blue Jays
SFA-PM Paul Molitor, Milwaukee Brewers
SFA-RS Richie Shaffer, Tampa Bay Rays
SFA-TM Tom Murphy, Colorado Rockies