Topps Produces Exclusive Card for Carlos Correa Charity Program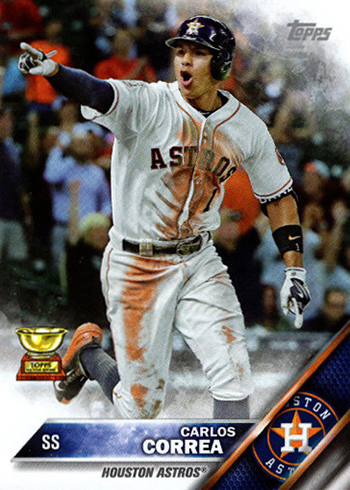 By Ryan Cracknell | Hobby Editor
Topps has made an exclusive card for one of their spokesmen that won't be offered in packs or through some sort of special promotion. Rather, the special 2016 Topps Restless for a Cause Carlos Correa is only available to those who donate to the shortstop's season-long charitable campaign.
Those who pledge to donate a dollar for every hit Correa gets in 2016 receive the card. Additional items are available at different pledge levels ($2 = logo t-shirt, $3 = logo cap, $5 = logo duffle bag). Those offering $10 per hit receive both a signed card and an autographed Carlos Correa mini bat. The top pledge reward is a special meet and greet event that's open to those donating $20 or more per hit. All pledges include the exclusive card.
Proceeds from the campaign go to Houston Children's Charity and their A Better Night's Sleep program. It provides beds and bedding to children in need. Correa's goal is to provide 2,000 beds.
The 2016 Topps Restless for a Cause Carlos Correa card looks similar to his 2016 Topps Opening Day card from the front. Presumably, it'll be like his 2016 Topps card, which is expected to land in Series 2. It's the back that offers the difference. The exclusive explains the Restless for a Cause program and is numbered SAMPLE-1.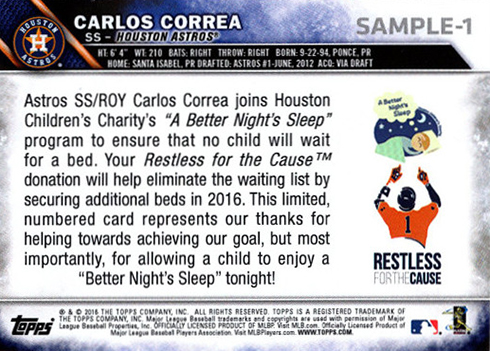 Comments? Questions? Contact Ryan Cracknell on Twitter @tradercracks.