Ugly Christmas Sweaters, Jobu, Foam Fingers — 2016 Topps Pro Debut Fragments of the Farm Has Them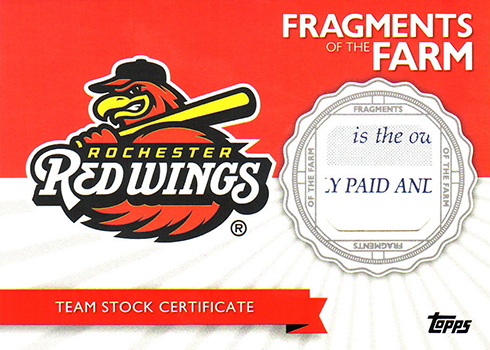 By Ryan Cracknell | Hobby Editor
By now, you might be growing tired of the standard jersey relic. You might dig the idea of a memorabilia card but are left looking for something fresh and original. 2016 Topps Pro Debut Fragments of the Farm are anything but your standard jersey cards. The set features some truly bizarre relics from minor league ballparks.
The 16-card set isn't concerned about specific players. Rather the relics are franchise based. The more standard pieces of bases, stadium walls and seats. But then things escalate quickly. Although not an official Major League trading card, there is a card with hair from a Jobu bobblehead given out by the Lake County Captains. Although not official recognized, it does appear that the Jobu card might be a short print. The Myrtle Beach Pelicans sacrificed a foam finger to the baseball card gods. The Rochester Red Wings have a piece of their team in the form of a small fragment of a team stock certificate.
Yes, there are a couple of jerseys among the 2016 Topps Pro Debut Fragments of the Farm relics. Both cards have swatches from special promotional jersey including an Ugly Christmas Sweater card from the Round Rock Express.
Fragments of the Farm have a few different parallels including Gold (/50), Red (/5) and Black (1/1). That said, there's not much different about them other than the serial number and the color of the rays coming out of the bottom of the card. The quality of the memorabilia pieces doesn't seem to be much different among the parallels either.
2016 Topps Pro Debut Fragments of the Farm relic cards are intended to showcase some of the fun of minor league baseball. Because they don't focus on specific players, they don't generally carry a lot of value. If you are looking for some of these cards, you can find them in the Beckett Marketplace and on eBay.
2016 Topps Pro Debut Fragments of the Farm Gallery
FOTF-CC Game-Used Home Plate from Huntington Park, Columbus Clippers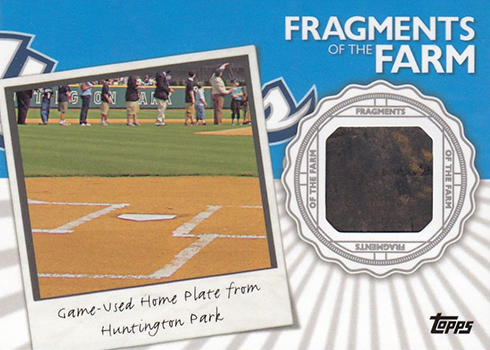 FOTF-CCL Game-Used Base from Huntington Park, Columbus Clippers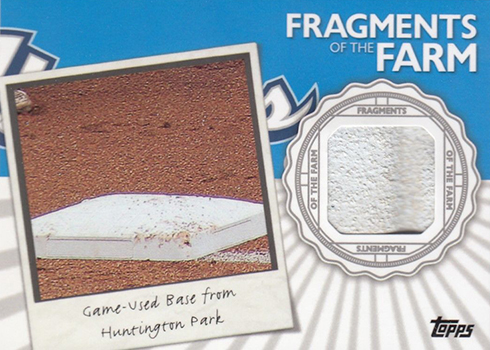 FOTF-EPC 2015 Triple-A Championship Game Ticket, El Paso Chihuahuas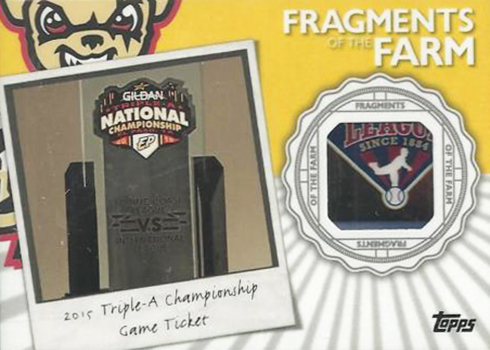 FOTF-FRR "Pink in the Park" Promotional Jersey, Frisco RoughRiders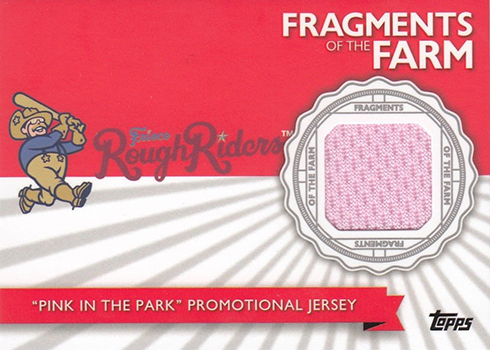 FOTF-HS Outfield Wall from Metro Bank Park, Harrisburg Senators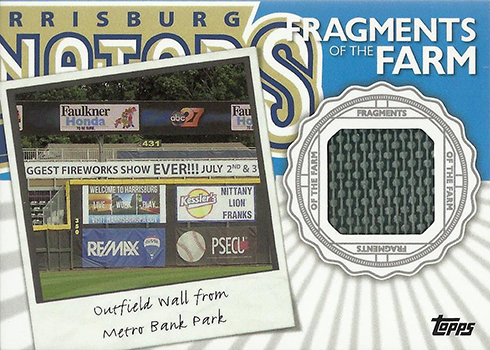 FOTF-LCC Hair from Jobu Promotional Bobblehad, Lake County Captains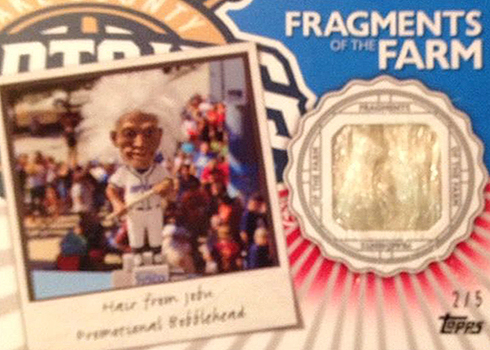 FOTF-LCCA Game-Used Home Plate from Classic Park, Lake County Captains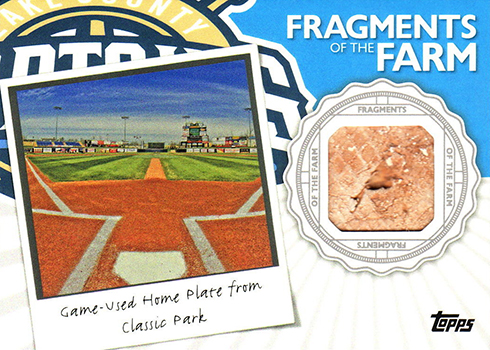 FOTF-MBP Promotional Foam Finger, Myrtle Beach Pelicans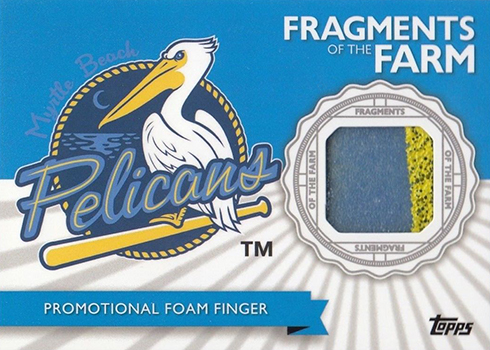 FOTF-MRH Game-Used Base from Security Bank Ballpark, Midland RockHounds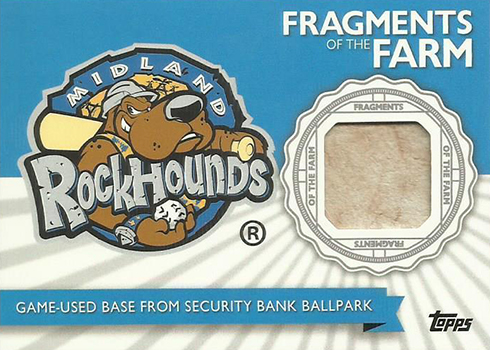 FOTF-RB Game-Used Base from State Mutual Stadium, Rome Braves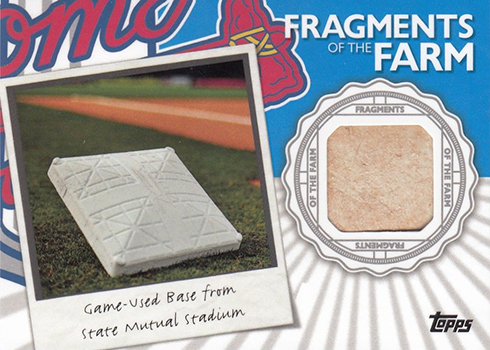 FOTF-RFS Orange RVA Promotional Jersey, Richmond Flying Squirrels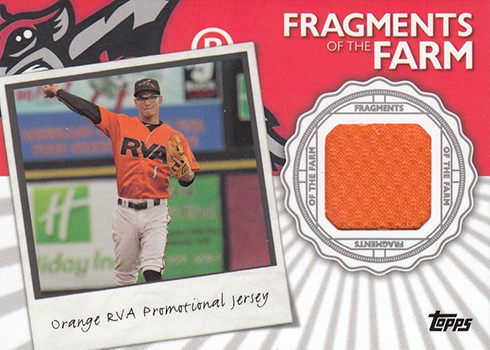 FOTF-RRE Team Stock Certificate, Richmond Flying Squirrels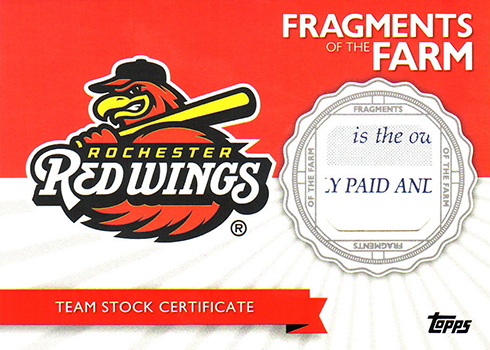 FOTF-RRW "Ugly Christmas Sweater" Promotional Jersey, Round Rock Express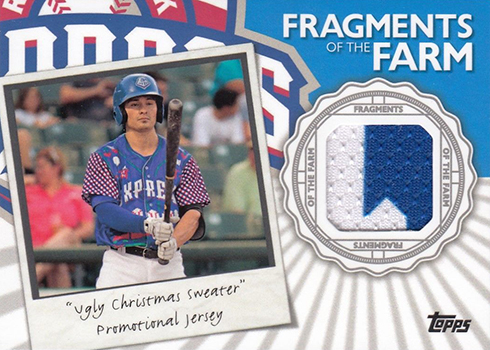 FOTF-TD Field Tarp from Oneok Field, Tulsa Drillers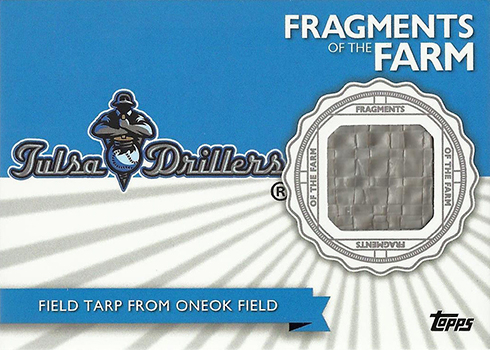 FOTF-TMH Stadium Seat Back from Fifth Third Field, Toledo Mud Hens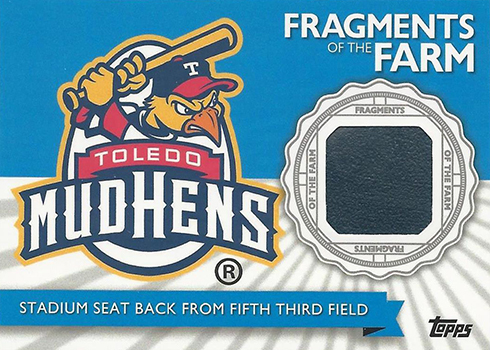 FOTF-WCC Game Day Shirt from Director of Smiles, Rhashan, Williamsport Crosscutters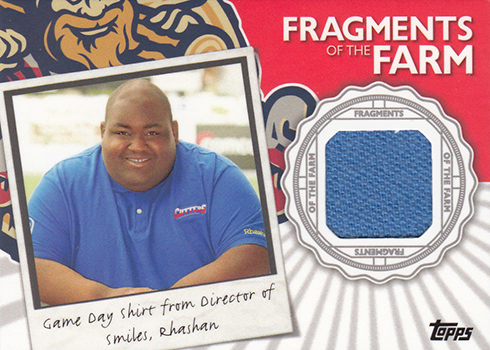 Comments? Questions? Contact Ryan Cracknell on Twitter @tradercracks.