2016 Topps Opening Day Baseball stresses ballpark fun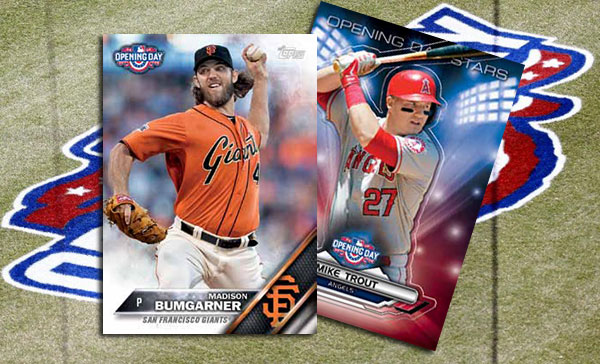 By Ryan Cracknell | Hobby Editor
2016 Topps Opening Day Baseball isn't going to bring you a "sick mojo hit." It probably won't result in many cards that carry a lot of monetary value on the secondary market.
And it's not supposed to.
This is a set for those looking for some old-fashioned fun with today's players. Its cheap price tag, basic inserts and manageable checklist are geared more at families than it is group breaks and those looking for premium autographs.
Base Set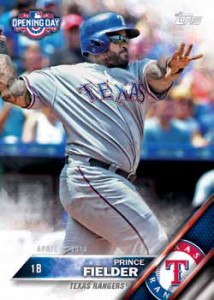 The 2016 Topps Opening Day Baseball base set has 200 cards. The look is very similar to the one used for 2016 Topps Baseball save for the Opening Day logo on the front. With a smaller checklist, collectors can expect a heavy focus on stars and key rookie cards. A total of 75 of the cards preview players from 2016 Topps Series 2 Baseball.
Opening Day Edition parallels are printed on foil and come serial numbered to 2016. On the rare side are Printing Plates and black-bordered Opening Day Edition 1/1 parallels.
Variations also exist for select players.
See Also: 2016 Topps Opening Day Baseball Box Busters
Inserts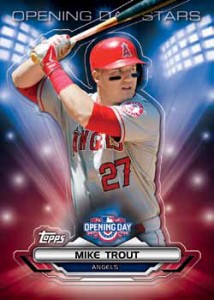 Every pack of 2016 Topps Opening Day Baseball comes with an insert, most of which take a simple and fun approach to the game.
Opening Day Stars return, but they're not 3-D cards as they have been in the past. Rather, they've been switched into stickers. For many long-time collectors, this could add an old-school vibe despite the modern design.
A couple more insert sets make their return. Mascots offers some of the only cards of the year of the costumed cheerleaders. A total of 25 cards make up the set including some new inclusions like Rally Monkey and Hank the Ballpark Pup.
Superstar Celebrations captures some of 2015's biggest moments and what happens afterwards.
2016 Topps Opening Day Baseball has a few new elements as well. Alternate Reality pictures players in their team's third jersey. Bubble Trouble is a one-per-box insert that shows players and their skills at making bubbles from their gum. Heavy Hitters highlights 15 batters known for their power. Finally, there's Striking Distance, which notes players who are close to major milestones.
Autographs and Memorabilia Cards
Unlikely virtually every product in the hobby today, not every box of 2016 Topps Opening Day Baseball has an autograph or memorabilia card. They can be found, but they're not guaranteed on a box level.
Opening Day Autographs have signatures from players. Mascot Signatures, which have proven to be some of the most popular cards in Opening Day, are back.
Opening Day Relics has a checklist that's limited to ten players. These have a piece of game-used gear embedded in them.
2016 Topps Opening Day Baseball at a glance:
Packs per box: 36
Cards per pack: 7
Boxes per case: 20
Set size: 200 cards
Release date: March 16, 2016
What to expect in a hobby box:
Bubble Trouble Inserts – 1
Additional Inserts – 35