2016 Topps Opening Day Baseball Canadian Blister Packs Have Exclusives — Or Do They?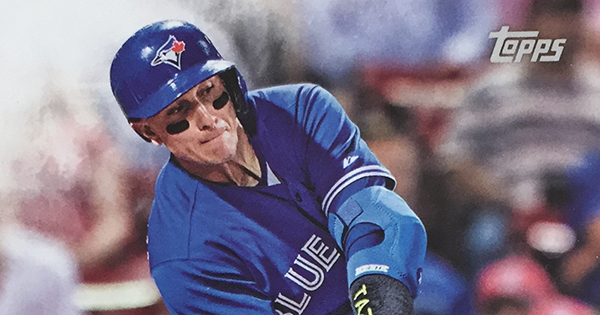 By Ryan Cracknell | Hobby Editor
When it comes to baseball cards, retail exclusives in Canada are a rarity. With the market largely dominated by hockey, baseball collectors north of the 49th Parallel don't often see much baseball at mass retail, let alone any with cards made specifically for Canadians.
But check out this Canadian 2016 Topps Opening Day Baseball blister packs. More specifically, take a look at the top corner — exclusive Blue Jays cards.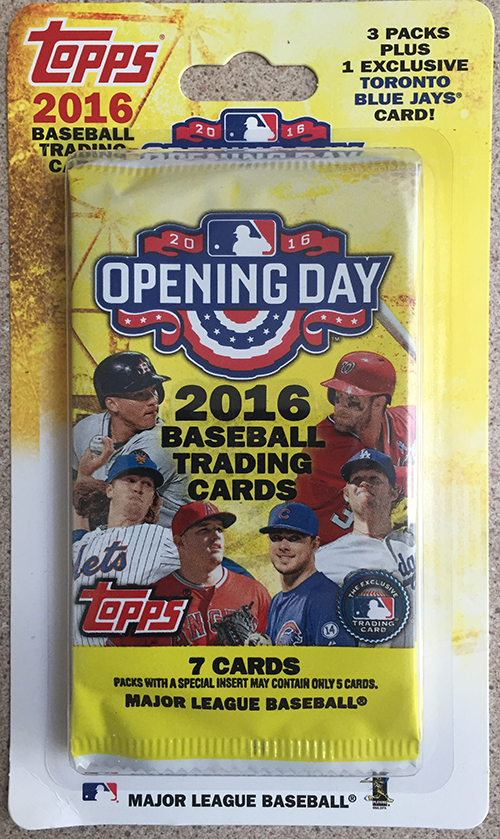 As fun as it was to watch their run last year, I don't consider myself a Jays fan. But I do love me some exclusives. At about $5 (Canadian) for three packs, I bought a couple primarily with the allure of something those in the U.S. might not be able to find.
What I found still has me scratching my head a couple of weeks later.
Upon opening the package, here's the loose card that was sitting loose between the packs.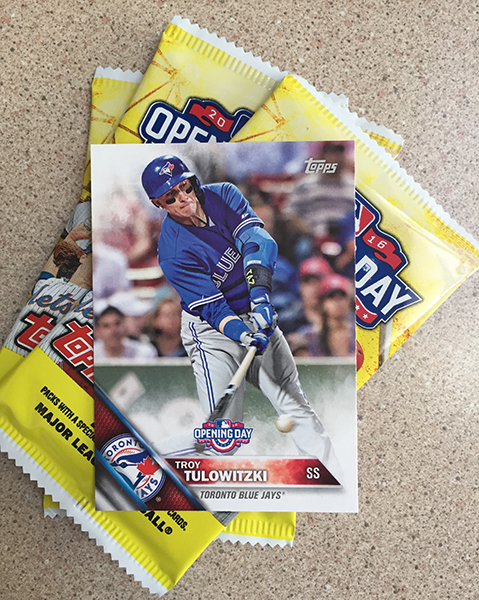 Troy Tulowitzki — not bad. Now to figure out what the exclusive was. Parallel perhaps, like the Purple cards found in similar Toys "R" Us blisters stateside? Some sort of photo variation? Seeing as how these were my first 2016 Topps Opening Day Baseball packs, I had to do a little investigating.
Here's the base Tulowitzki card.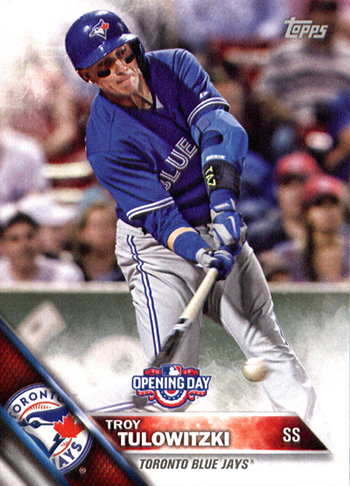 The photo's the same, so it doesn't look to be a variation. I even checked to see if the cropping was slightly different. My eyeballs can't see any differences. The elbow pad is the same. "TAZ" is written on both black bands. Tulowitzki has eye black in both photos. Even the caps in the background fans match up.
So how about a parallel? The "exclusive" has no foil. The smoke and nameplate both appear to match up as well. So what is the "exclusive" here? Is there even one beyond the cards being exclusive to Opening Day?
My second blister yielded the same Tulowitzki card. The following week I visited a second Walmart and grabbed two more blisters. This time, though, it was the draw of cheap cards and the possibility of mascots versus strictly a maybe-exclusive. They had Devon Travis and Marco Estrada, but again, both appear to be base cards.
So what's going on with these Canadian 2016 Topps Opening Day Baseball blister packs? I contacted Topps and they haven't provided any answers.
Am I missing something here or do these blisters simply make building a Blue Jays team set easier rather than offering something not found anywhere else? That's normally the way these sorts of retail exclusives are handled.
So if you find yourself in Canada with an urge to buy some baseball cards, these blisters are cheap. But if you simply want the exclusive, it might not be what you expect.
If I hear back from Topps about the cards, I'll be sure to post an update.
Comments? Questions? Contact Ryan Cracknell on Twitter @tradercracks.