2016 Topps Now Gets Its First Relic Card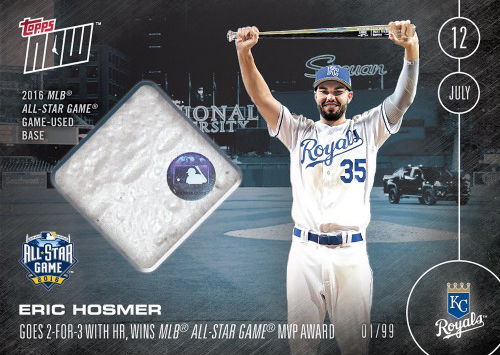 By Ryan Cracknell | Hobby Editor
The timely nature of 2016 Topps Now Baseball makes game-specific a natural fit. Usually that's not possible, at least in a way that would deliver such cards quickly. The All-Star Game made for the right circumstances, though, to give it a try. To commemorate the Midsummer Classic, the first Topps Now relic card was created.
A variation of card the game's MVP, Eric Hosmer, was made with a piece of a base used in the 2016 MLB All-Star Game.
Unlike regular cards, there was no open-ended print run. The amount of base swatches available was limited. As a result, the card came with a print run of 99 numbered copies.
Sold initially on the Topps website for $59.99, the card sold out in less than an hour. Typically, 2016 Topps Now Baseball cards are available for 24 hours.
It didn't take long for a couple of the buyers who locked in to list them on eBay. Within a few hours, one closed at $249.99.
The Topps Now Hosmer relic card comes with the seal of approval from MLB Authentication. All 99 cards come with an authentication hologram that can be checked online, much like the memorabilia cards in 2015 Topps Strata Baseball.
For those working on the main 2016 Topps Now set that might have missed out, the card is essentially an insert. There's a regular version of the card that has the standard 24-hour selling window.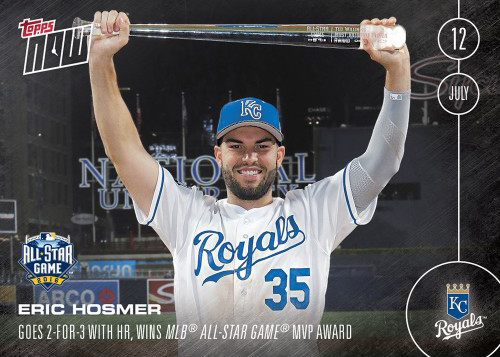 This isn't the first premium insert for the online product. So far, there have been autographs from Brandon Crawford and Ichiro. Both were sent randomly to ten collectors who ordered regular versions of the cards.
Hosmer broke Mike Trout's two-year run as All-Star MVP after hitting a home run and getting an RBI single later in the game.
Comments? Questions? Contact Ryan Cracknell on Twitter @tradercracks.