Mickey Moniak, 2016 MLB 1st Overall Pick, Gets First Phillies Card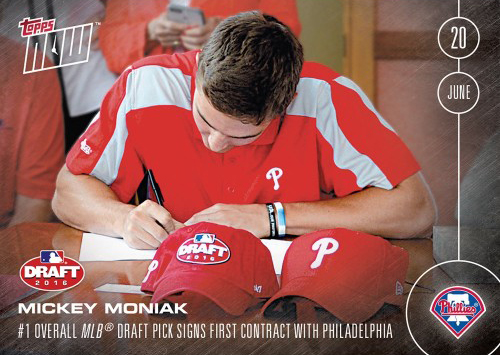 By Ryan Cracknell | Hobby Editor
The possibilities of on-demand printing continue to become more apparent. Just a day after signing his first pro contract, Mickey Moniak has his first MLB baseball card. It's part of the 2016 Topps Now Baseball set.
Like all 2016 Topps Now cards, it's being offered for just 24 hours.
The 2016 Topps Now Mickey Moniak is available on the Topps website for $9.99. Bulk lots of five, ten and 20 cards are also available with a discount. Some sellers already have cards listed on eBay for a little cheaper than buying single cards direct, at least for now.
The print run will be based on the number of cards that are ordered during the 24-hour window, which closes at 2PM EST on Wednesday, June 22.
Moniak, who was drafted out of high school, received a signing bonus from the Philadelphia Phillies worth $6.1 million.
When Moniak was drafted, like a lot of his fellow first round picks, he already had baseball cards. He has nearly 100 cards dating back as far as 2013 thanks to his time with the USA Baseball program.
Comments? Questions? Contact Ryan Cracknell on Twitter @tradercracks.