Bartolo Colon-o-mania Is Here — 2016 Topps Now Home Run Card Selling for $50+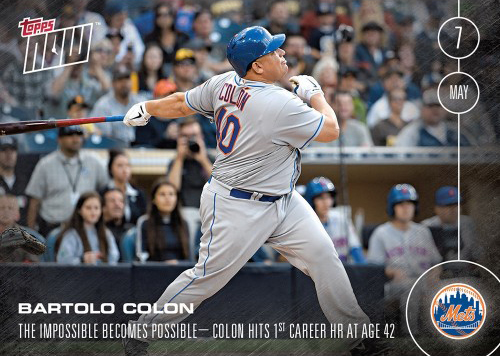 By Ryan Cracknell | Hobby Editor
It's amazing what happens when a 42-year-old pitcher hits his first career home run. It's almost magical. And when there's magic involved, strange things can happen. And some strange and illogical things are happening with the 2016 Topps Now Bartolo Colon card commemorating the pitcher's unlikely moon shot.
First, nearly 9,000 copies of the on-demand card were sold. And right when you think supply might hinder it's place as a cardboard novelty, a second wave of strangeness emerges with some crazy secondary market prices to the tune of $50 and up — for now.
Like all 2016 Topps Now cards, it was available to order on the Topps website for 24 hours. The card got a tremendous amount of mainstream and social press given its quick turnaround time. That led to a print run of 8,826 copies, more than 7,000 more than the second highest Topps Now card thus far.
So you'd think the flood would mean somewhat reasonable prices on the after market, right? Nope. While some of the early ones to sell on eBay didn't go for a lot, things have quickly escalated. The first were likely sold by dealers who locked in at the initial bulk rate and flipped them for easy, guaranteed money. But the big print run led to another wave of press and more attention for the card. By the afternoon, the 2016 Topps Now Bartolo Colon home run card was topping $30. By the time New York was settling in for dinner it had jumped again to $50 and higher.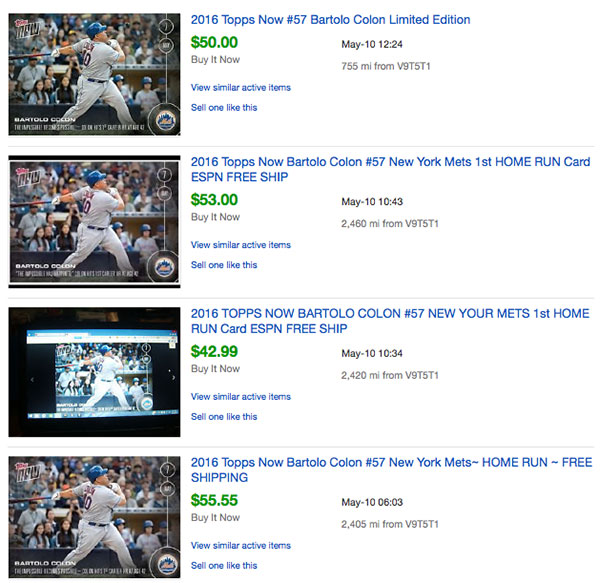 Don't expect it to stay at these levels, though. While the card has an audience outside of regular baseball card collectors, the high prices right now are in large part due to the news cycle.
The same thing happened last year when Derek Jeter's 2015 Topps base card spiked, with one even selling for $100. It repeated when 2016 Topps Baseball came out and the Canadian masses caught a glimpse of Jose Bautista's postseason bat flip card.
These Jeter and Bautista cards still sell for more than most of their comparable issues, but at more reasonable levels. They capture a moment and tell a specific story that resonates with fans, not just card collectors.
So while it's not likely to ever be found in a dime box, the 2016 Topps Now Bartolo Colon home run card is likely to drop once people move on to other moments. But what if this is the only card to feature Colon's magical at bat? Then the card will be the only one to tell the story. The card itself has a unique story in its own right, complete with best-seller status.
And what is the price of a story? Less than a week earlier, Colon had a different Topps Now card for passing Pedro Martinez on the All-Time Wins list. That card has a print run of 298. Despite having more than 18,500 fewer copies, it was initially selling for under $10.
Comments? Questions? Contact Ryan Cracknell on Twitter @tradercracks.