That Time When Alex Rodriguez Dressed Up as Nomar Garciaparra for a Baseball Card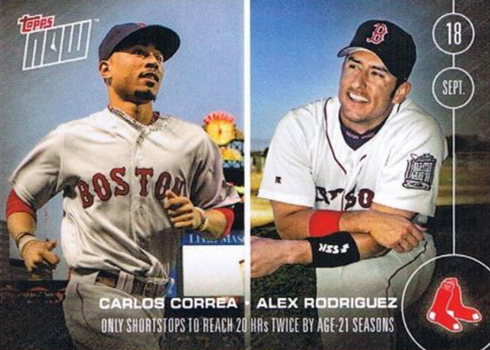 By Ryan Cracknell
Update (December 7): Correct versions of the errors have been sent to collectors.
When humans are involved, mistakes are bound to happen. The hobby is riddled with error cards. You can add another one to the list. And it's a little more glaring than a simple spelling mistake or a misplaced stat. This one has Alex Rodriguez and Carlos Correa impersonating a couple of popular Boston Red Sox players.
When 2016 Topps Now #474 was unveiled on September 19, it featured Correa and Rodriguez. It commemorated the second-year standout for the Astros joining ARod as the only shortstops to have a pair of 20-home run seasons before their 22nd birthdays. The wording on the mock-up shown on the Topps site was a little awkward but everything else seemed fine.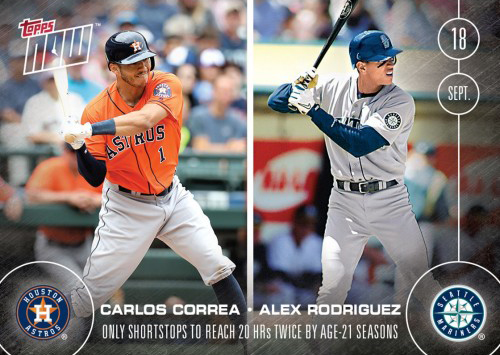 Something seems to have happened along the production path. Here's the card that's showing up: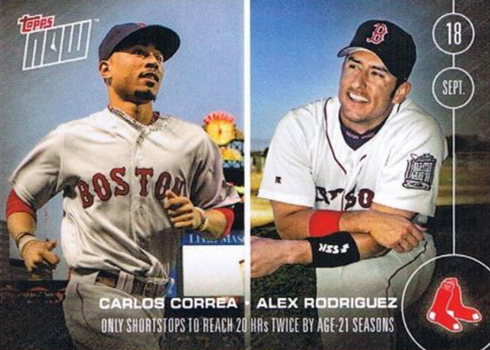 It doesn't take a Where's Waldo? World Champion to see that's neither Correa or a young Rodriguez. Rather it's Mookie Betts and Nomar Garciaparra. It looks like the images were switched up with card #483, which came along a couple days later in the print-on-demand set.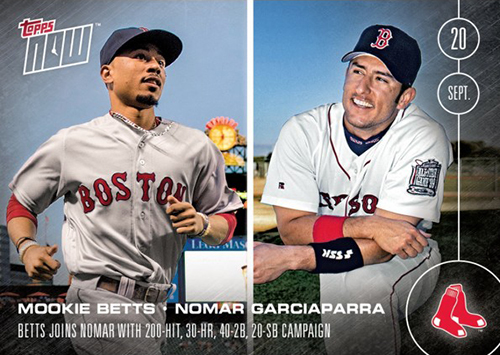 It looks as though all of the 2016 Topps Now #474 errors are the same. We've reached out to Topps to see if a corrected version will be sent to those that ordered the card. We'll provide any updates if we hear back.
Traditionally today, errors aren't normally corrected. However, given Topps Now's on-demand nature, it might make it easier to fix the mistake.
The closest thing to a precedent may have been a decade earlier. In 2006, Topps issued a special online-only Topps Chrome Barry Bonds card commemorating his 715th career home run, passing Babe Ruth for second all-time. The card that was originally sent had the wrong team and date listed on the back. A corrected version was sent to those who bought the card direct a short time later.
(HT to @norcalsportcard for the tip.)
Comments? Questions? Contact Ryan Cracknell on Twitter @tradercracks.