2016 Topps Museum Collection Baseball has new look but familiar format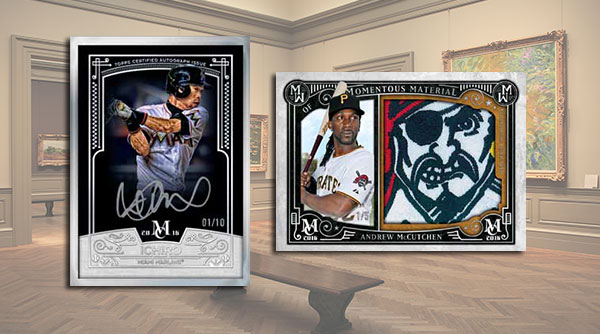 By Ryan Cracknell | Hobby Editor
If you're planning on opening packs and boxes of 2016 Topps Museum Collection Baseball, the general format is the same. However, the design takes on a different, darker tone for many of the cards, setting it apart from previous sets.
Every pack of the high-end product has a hit with four-pack boxes delivering an autographed relic, a basic autograph, a prime relic and a quad relic.
Autographs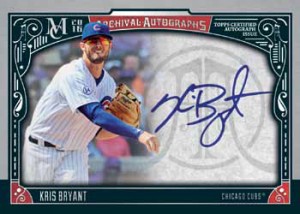 All basic autographs in 2016 Topps Museum Collection come with on-card signatures.
Numbered Archival Autographs are where the majority of them are found. The checklist has more than 70 players, making it comparable in size to the base set. Gold and Sepia parallels are both numbered to 5.
Dual Autographs (/25) and Triple Autographs (/5) both have multiple signatures and are still hard-signed.
Framed Museum Collection Autographs return as a case hit. More than 40 past and present players are included. They come with Gold (/15), Silver (/10), Black (/5) and Wood (1/1) frames.
Cut Signatures are randomly inserted, although with no more than 20 cards available in the entire product run, they're not easy.
Autographed Relics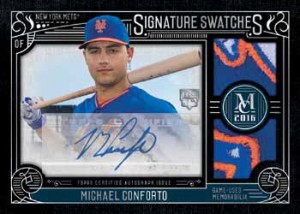 Most autographed relics come with either two, three or four swatches. Signature Swatches Dual and Triple Relic Autographs both have Gold (/25) and Patch (/5) parallels.
Primary Pieces Quad Relic Autographs are all done with a book card format and are numbered to 10.
Momentous Materials Jumbo Patch Autographs have only one piece of memorabilia, but it's on the large side so it's doubtful many will complain. Base versions are numbered to 10 while parallels come in Gold (/5) and Emerald (1/1). All combine to be a case hit.
Prime Relics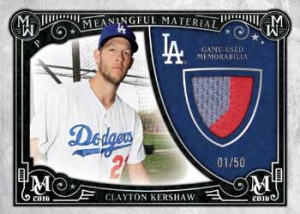 Besides the design shift, the other major change in 2016 Topps Museum Collection Baseball is the movement away from a jumbo relic per box to a prime relic. These are premium swatches such as patches.
Meaningful Material Prime Relics have the biggest presence with more than 100 cards. Numbered to 50, all have pieces of game-used memorabilia. Parallels are available in Gold (/35), Copper (/10) and Emerald (1/1). Dual book card versions have gear from two players and are numbered to 5.
Momentous Material Jumbo Patch Relics (/5) have some of the biggest patches included on baseball cards all year.
There are a few different relic inserts that come with premium pieces. As such, they're one-of-ones. However, with large checklists, they should cumulatively  show up with a little more regularity than you might usually expect. Jumbo Lumber Bat Nameplate Relics has more than 75 cards. Museum Memorabilia, which have a MLB logo patch from a game-used jersey, has around cards. Momentous Materials Laundry Tag Relics trumps them both with a checklist of 200 unique cards.
Quad Relics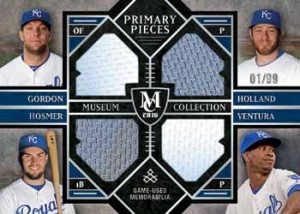 Primary Pieces Quad Relics come in a few varieties. Basic Single- and Quad-Player versions are numbered to 99 and have Copper (/75) and Gold (/25) parallels. Patch versions for both are numbered to 5.
Retired players are featured in Single-Player Primary Pieces Quad Relics Legends (/25). Gold (/5) is the lone parallel for there.
Canvas Collection
Canvas Collection cards have been a staple in Museum Collection for several years. Rather than photographs, the cards are done with artwork. Canvas Collection Reprints are inserted one per box.
One-of-one Originals, with the artwork done directly on the card, are also randomly inserted.
Base Set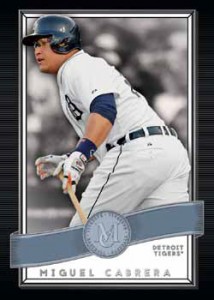 While much of this product is going to be centered on signed cards and memorabilia, 2016 Topps Museum Collection does have a base set. The checklist is 100 cards, so it's not very big. But with so few cards per box and the high price tag, it's unlikely that many are going to have an easy time putting it together. Veterans, rookies and retired players are all included.
Parallels come in four colors: Copper, Green (/199), Blue (/99) and Red (1/1). They combine to fall one per pack.
2016 Topps Museum Collection Baseball at a glance:
Packs per box: 4
Cards per pack: 5
Boxes per case: 12
Set size: 100 cards
Release date: April 13, 2016
What to expect in a hobby box:
Autographed Relics – 1
Autographs – 1
Quad Relic Cards – 1
Prime Relic Cards – 1
Canvas Collection Reprints Inserts – 1
Parallels – 4