2016 Topps MLB Wacky Packages Checklist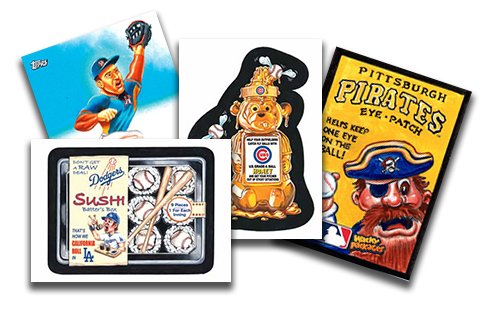 By Ryan Cracknell | Hobby Editor
Wacky Packages and Topps Baesball both have a long history in the hobby. However, they're traditionally viewed as being something like cousins on related but opposite sides of the hobby. 2016 Topps MLB Wacky Packages change that.
The relatively simple set spoofs all 30 MLB teams as well as a few minor league squads. Additional cards include mascot autographs and relics. A handful of players have autographs as well.
Looking for the full 2016 Topps MLB Wacky Packages checklist? You're in luck.
2016 Topps MLB Wacky Packages Checklist
Base Set
90 cards.
Parallels:
Green Grass – 1 per hobby/hobby collector pack
Sepia – 1:2 hobby collector packs
Gold – /25 hobby/hobby collector packs
Black Ludlow Back – 1:14 hobby collector packs
Red Ludlow Back – /10, hobby collector packs
Lumber – /5, hobby collector packs
Artist Autographs – /5, hobby collector packs
Printing Plates – 1/1, hobby collector packs
Franchise Cards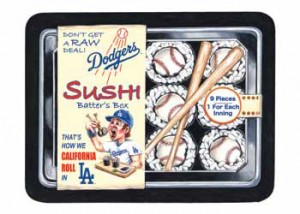 1 Athletics Body Spray
2 Athletics Game Ball Gumballs
3 Angels Halo Polish
4 Angels Food Cake Mix
5 Astros O's
6 Astros Model Rocket Kit
7 Blue Jays Bird Bath Sports Drink
8 Blue Jays Blue Crayons
9 Braves Bubble Gum
10 Braves Cutlery Set
11 Brewers Coffee
12 Brewers Tea
13 Cardinals Eggs
14 Cardinals Red Wing Sauce
15 Cubs Catcher's Mitt
16 Cubs Honey
17 Diamondbacks Snake Oil
18 Diamondbacks Back Scratcher
19 Dodgers Blue Paint
20 Dodgers Sushi
21 Giants Bridge Playing Cards
22 Giants Magic Beans
23 Indians Can O' Corn
24 Indians Summer
25 Mariners Cocktail Sauce
26 Mariners Sea Salt
27 Marlins Fish Sticks
28 Marlins Fish Food
29 Mets Deli Meat
30 Mets Matzo Ball Soup
31 Nationals Monument Polish
32 Nationals Gnats Bug Spray
33 Orioles Feather Dusters
34 Orioles Sunflower Seeds
35 Padres Deep Friar
36 Padres Head Shavers
37 Phillies Cheesesteaks
38 Phillies Fanatical Party Favors
39 Pirates Eye Patch
40 Pirates Parrot Crackers
41 Rays Tanning Lotion
42 Red Sox Tea Party Bags
43 Rays Florida Orange Juice
44 Red Sox Boston Cream Pie
45 Reds Mustache Wax
46 Reds Catch-Up
47 Rockies Rock Candy
48 Rockies Road Game Ice Cream
49 Royals Blue Cheese
50 Royals Dazzler
51 Rangers Oven Range
52 Rangers BBQ Sauce
53 Tigers Big Cat Litter
54 Tigers Flea Collar
55 Twins Cookie Cutter
56 Twins-icle Ice Pops
57 White Sox Laundry Detergent
58 White Sox Relish
59 Yankees Noodle Candy
60 Yankees Big Apple Juice
MLB Event Cards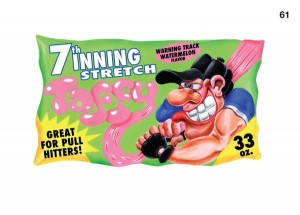 61 7th Inning Stretch Taffy
62 All-Star Game Telescope
63 MLB Draft Lottery Ticket
64 MLB Record Breaking Hits
65 Opening Day Chocolates
Minor League Cards
67 Bowling Green Hot Rods Pretzel Rods
68 Lehigh Valley IronPigs Jerky
69 Myrtle Beach Pelicans Storage Bags
70 Nashville Sounds Ear Plugs
71 Asheville Tourists Selfie Stick
72 El Paso Chihuahuas Hot Dog
73 Montgomery Biscuits Doggie Treats
74 Cedar Rapids Kernels Popping Corn
75 Charlotte Stone Crabs Cakes
76 Toledo Mud Hens Hen Sanitizer
77 Louisville Bats Bat-tery
78 Richmond Flying Squirrels Caramel Corn
79 Biloxi Shuckers Oyster Crackers
80 Vermont Lake Monsters Maple Syrup
Ballpark Foods
81 Hot Dogger
82 Bench Fries
83 Nacho High Cheese
84 Soda Pop Foul
85 Pop Fly Corn
86 2-Seam Ice Cream
87 Salty Pretzel
88 Chuckin' Strips
89 Peanut Gallery Peanuts
90 Grand Slam Burger
Autographs
Active Stars Autographs
5 cards.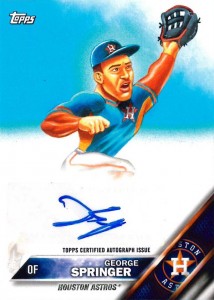 MA-AP A.J. Pollock, Arizona Diamondbacks
MA-BS Blake Swihart, Boston Red Sox
MA-GS George Springer, Houston Astros
MA-SM Starling Marte, Pittsburgh Pirates
MA-YG Yasmani Grandal, Los Angeles Dodgers
Mascot Autographs
5 cards.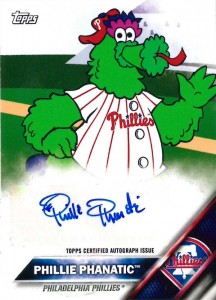 MA-BM Billy the Marlin, Miami Marlins
MA-CC Clark, Chicago Cubs
MA-MM Mr. Met, New York Mets
MA-PP Phillie Phanatic, Philadelphia Phillies
MA-TR Theodore Roosevelt, Washington Nationals
Relic Cards
Stadium Seat Relics
5 cards.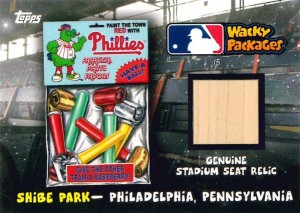 SSR-CI Cleveland Indians
SSR-DT Detroit Tigers
SSR-MT Minnesota Twins
SSR-PP Philadelphia Phillies
SSR-SC St. Louis Cardinals
Ticket Relics
10 cards.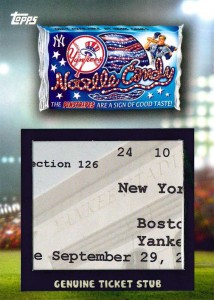 TR-CC Chicago Cubs
TR-HA Houston Astros
TR-KCR Kansas City Royals
TR-LAD Los Angeles Dodgers
TR-NM New York Mets
TR-NY New York Yankees
TR-SC St. Louis Cardinals
TR-TBJ Toronto Blue Jays
TR-TR Texas Rangers
TR-WN Washington Nationals
Sketch Cards
Artists TBA.
Comments? Questions? Contact Ryan Cracknell on Twitter @tradercracks.