2016 Topps Gypsy Queen Baseball is about old and new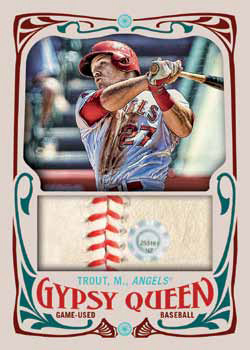 By Ryan Cracknell | Hobby Editor
2016 Topps Gypsy Queen Baseball has that same old-time look and feel it has had since the one-time cigarette brand was resurrected a few years ago. But with the promise, once again, of four hits per hobby box, there's something very modern about the product as well.
Mini cards and a handful of insert sets are also key parts to the release.
See Also: 2016 Topps Gypsy Queen Baseball Checklist
Base Set and Mini Cards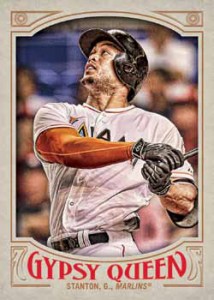 2016 Topps Gypsy Queen Baseball has 350 cards in its main set. Of these, 50 are short prints.
Framed parallels exist for 100 cards, all of which are serial numbered. The include Purple Paper, new Green Paper and hobby-only Black Paper (1/1). These cards also have Printing Plates.
All 350 cards also come with mini versions, which are inserted one per pack. Besides the basic parallel, there are Purple, Gold and Red (/5) versions. Leather and Clear minis are both one-of-one versions done on different card stock.
Each hobby box has a box loader with ten mini cards. These form a 100-card set of base set Mini Variations.
In addition to these are standard-sized short print variations.
Get a fully sortable 2016 Topps Gypsy Queen Baseball checklist and price guide access.
Inserts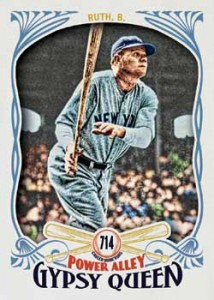 In recent years, Gypsy Queen has had some of the more distinct basic inserts for the sport. Glove Stories return, showcasing big plays. Walk-Off Winners are also back. These inserts highlight walk-off wins from 2015.
New to 2016 Topps Gypsy Queen Baseball is Power Alley. Focusing on home run hitters from the past and present, the cards note their home run totals. For current players, that total is based on numbers through the end of 2015.
All three of the full-sized basic inserts have Printing Plate parallels.
MVP Minis commemorate 25 players who have been named baseball's Most Valuable Player. These can also be founded with signed versions.
Autographs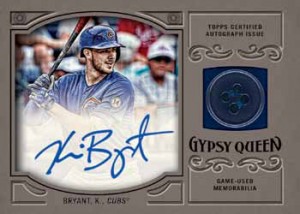 On-card signatures are a key to the autographs found in 2016 Topps Gypsy Queen Baseball. This starts with the basic autographs, which have a checklist of veterans, rookies and retired players. Numbered parallels come in Green, Gold, Red (/5) and Black (1/1).
Mini Autographs (/25) and their Black (1/1) parallels are exclusive to the hobby box topper boxes.
Autographed Relic cards and Mini Auto Patch Book cards both stick with the hard-signed theme. Autographed Relics have Red (/5) and Black Button (1/1) parallels. The Mini Auto Patch Books, which are exclusive to the hobby mini boxes, have Black (1/1) versions.
Relic Cards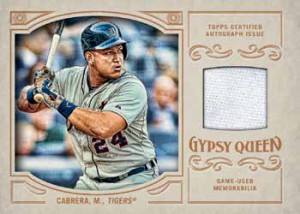 Regular Relics have can be found with a mix of uniform and bat pieces from current and retired players. Similar are framed Mini Relics. Both have numbered Gold, Red (/5) and Black (1/1) parallels. For the full-sized Relic cards, the Black versions come with a button from a game-used jersey.
Jumbo Patch Relics (/10) come with an over-sized multi-color swatch.
Laces Around the League (/5) come with a piece of a game-used baseball. The swatch shows stitching rather than just plain leather.
A couple of one-of-one inserts are also randomly inserts. Prime Bat Relics have a premium piece from a game-used bat. Original Art Patch cards feature original artwork to go with the premium relic swatch.
Ancient Era Remnants are new to 2016 Topps Gypsy Queen Baseball. Categorized by Topps as a relic in the release, these come with buyback cards 1920s through to the '50s in a plastic frame. These feature a mix of athletes, celebrities and events.
2016 Topps Gypsy Queen Baseball at a glance:
Packs per box: 24
Cards per pack: 10
Boxes per case: 10
Set size: 350 cards
Release date: April 6, 2016
What to expect in a hobby box:
Autographs – 2
Relic Cards – 2
Mini Cards – 24
Mini Card Exclusives – 10