2016 Topps Garbage Pail Kids American as Apple Pie in Your Face Info
When you click on links to various merchants on this site, like eBay, and make a purchase, this can result in this site earning a commission.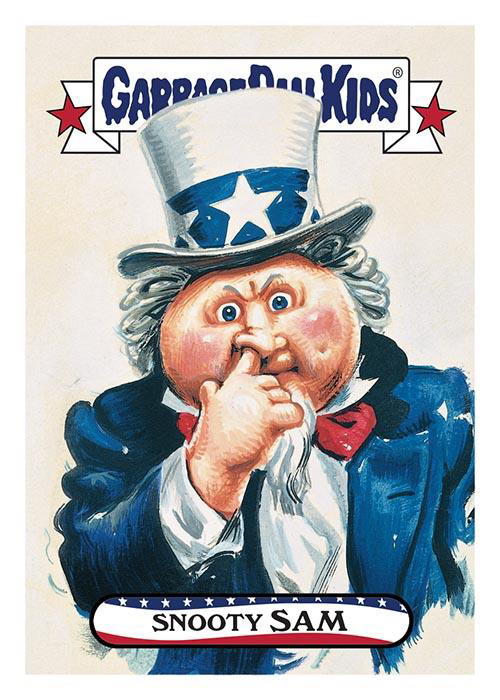 By Ryan Cracknell | Hobby Editor
2016 Topps Garbage Pail Kids American as Apple Pie in Your Face trading cards take on pop culture with a big and varied base set and pool of inserts. From presidential hopefuls to some of America's most sacred treasures, nothing is safe from satire in the product.
Like several recent Garbage Pail Kids sets, American as Apple Pie in Your Face has both hobby and hobby collector configurations. Each has their own focus and exclusives. Regular hobby boxes target those looking more at the base set with 24 packs of eight cards and no guaranteed hits. Hobby collector boxes have fewer cards with just six cards per pack. However, they also promise one premium card per box.
Base Set and Basic Inserts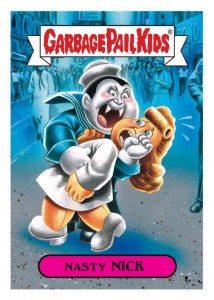 Americana comes in many different forms. As such, the 2016 Topps Garbage Pail Kids American as Apple Pie in Your Face is broken down into nine distinct themes. As American as Apple Pie (84 cards) spoof many of the thing the country is known for like cars, cowboys and food. This is numbered as the main base set.
However, there are a couple of simple inserts that are numbered separately but included in packs in a similar fashion. Americana Swept Under the Rug (18 cards) and America Devolved (18 cards) both confront those embarrassing moments.
2016 has a couple major events scheduled that are getting the GPK treatment as well. First up is the presidential election. 2016 Presidential Candidates (ten cards) don't take sides. The cards poke fun at top candidates from both the Republican and Democratic parties. 2016 U.S. Summer Olym-Picks (18 cards) bring back original Garbage Pail Kids at cast them in Olympic events.
Keeping with the sports theme is America's Pastimes (18 cards), which parody the country's most popular sports.
American Icons (18 cards) take some of the country's greatest achievers and puts their egos in check.
The last two subsets are American Inventors (18 cards) and U.S. Historical Moments (18 cards).
All told, it's 220 cards once you combine the traditional A/B name variation format.
Each has several parallels. Spit Splatter (/99) are exclusive to hobby boxes and have a blue spit pattern around the border. Hobby collector boxes have some exclusive parallels of their own. Bruised fall one per premium pack. Bloody Nose (/75) have a red-pattern border. Non-exclusive parallels include Gold Dust, which have 50 copies each, and Printing Plates.
Hobby Inserts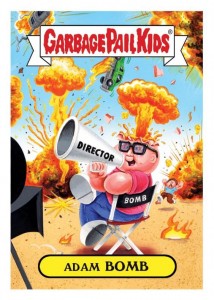 In addition to the Spit Splatter parallels, regular hobby boxes have some additional inserts not found in Hobby Collector or retail packs.
Comic Cover Stickers recreate key artwork from the recent IDW comics. The set has eight cards, one of which is inserted in every box.
Eight Horror Stickers are also inserted one per box.
Hobby packs are the only place to find Die-Cut Sketch Cards. These have original artwork done on them. Rather than being shaped in the traditional rectangle, the cards are shaped. Approximately 500 total Die-Cut Sketch Cards are included in the product.
Hobby Collector Inserts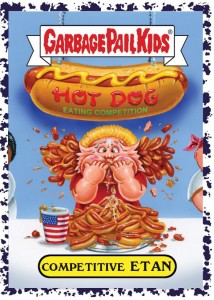 Aimed more at those looking for premium inserts, hobby collector boxes promise one such card per box. These come in several forms. Dual Artist Panoramic Sketch Cards fold out to be double the size of regular sketch cards. Artwork is done by a pair of artists rather than just one.
Patriotic Patch cards (ten cards, /50) have manufactured patches featuring various slogans.
Artist Relics (six cards, /99) have swatches of clothes worn by Garbage Pail Kids artists.
Autographs
GPK artists are featured on autograph cards. A total of 110 signed cards can be found, each numbered to 25.
Resurrected GPK "Friends"
A couple of retail exclusives reach into the Topps archives and breath new life into some short-lived products. Gross Bears, which were buttons that spoofed Care Bears, and Bathroom Buddies are both back with separate six-card sets.
2016 Topps Garbage Pail Kids American as Apple Pie in Your Face at a glance:
Packs per box: 24 (Hobby), 24 (Hobby Collector)
Boxes per case: 8 (Hobby), 8 (Hobby Collector)
Cards per pack: 10 (Hobby), 6 (Hobby Collector)
Set size: 220 cards
Release date: January 20, 2016
What to expect in a hobby box:
Comic Cover Inserts – 1
Horror Stickers – 1
What to expect in a hobby collector box:
Relic, Patch or Panoramic Sketch Card – 1
Bruised Parallels – 24