2016 Topps Chicago Cubs World Series Champions Checklist and Details
Looking at who won, there will be no cancelling the 2016 Topps Chicago Cubs World Series Champions box set. A cheaper alternative to the Topps Now 2016 World Series set, it features key players from the team plus a couple of cards that help tell the story of the 2016 postseason.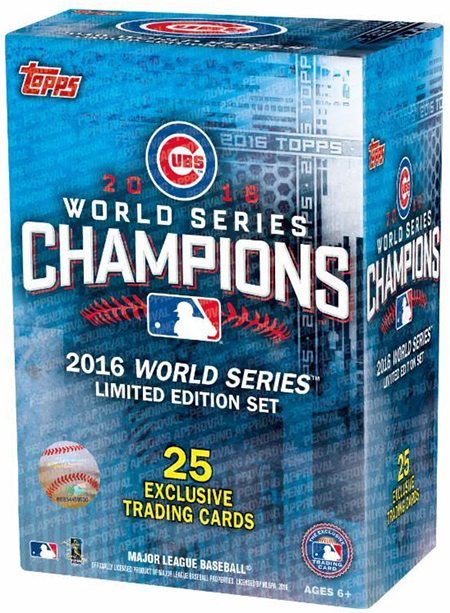 The blaster-style box set comes with 25 cards. Player cards make up the majority of the checklist, although there are also highlights from the World Series and Chicago's playoff run to get there.
This is a traditional commemorative set that doesn't have any additional content or marketing angles. As a result, it should be readily available for less than $25 at hobby shops and online on places like eBay. By comparison, the Topps Now sets, which come with a more limited print run and the option for an autograph, start at $50 for 15 cards.
Topps announced a similar 2015 World Series set. However, after the Kansas City Royals defeated the New York Mets, it was cancelled. Although no official reason was given, it's likely due to the fact that the Royals don't have the same big-market appeal as teams like the Mets, Cubs, Red Sox and Yankees.
2016 Topps World Series Champions card set at a glance:
Set size: 25 cards
Sets per case: 16
Release date: November 23, 2016
2016 Topps World Series Champions Checklist
WS-1 Kyle Schwarber
WS-2 Anthony Rizzo
WS-3 Kyle Schwarber
WS-4 Jake Arrieta
WS-5 Aroldis Chapman
WS-6 Wrigley Field
WS-7 David Ross/Anthony Rizzo
WS-8 Kris Bryant
WS-9 Aroldis Chapman
WS-10 Kris Bryant
WS-11 Addison Russell
WS-12 Dexter Fowler
WS-13 David Ross
WS-14 Ben Zobrist
WS-15 Chicago Cubs
WS-16 Willson Contreras
WS-17 Jon Lester
WS-18 Addison Russell
WS-19 Kris Bryant
WS-20 Ben Zobrist
WS-21 Anthony Rizzo
WS-22 Javier Baez
WS-23 Jake Arrieta
WS-24 Kyle Schwarber
WS-25 Aroldis Chapman
Comments? Questions? Contact Ryan Cracknell on Twitter @tradercracks.