Ben Zobrist, His Bike and an Exclusive Topps Card for Charity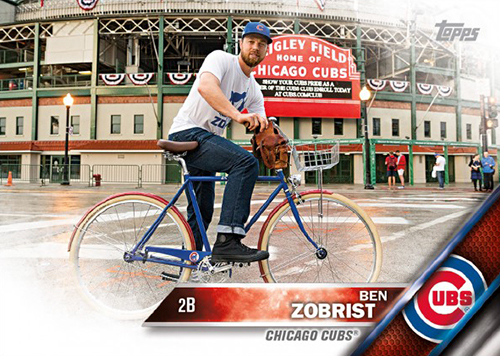 By Ryan Cracknell | Hobby Editor
It's hard to think of a more high profile bicycle in the hobby today than the one belonging to Ben Zobrist. Already featured on a 2016 Topps Now card, it's back on another online-exclusive.
The Cubs second baseman has teamed with Topps to offer a special card featuring him and his bike with all proceeds from the sale going to charity.
Zobrist and his bike gained notoriety earlier in the season when he rode it to "work" one day wearing his full Cubs uniform. Although he'd be riding to Wrigley all year, this time Zobrist got a little more attention thanks in large part to social media.
Although Zobrist isn't in his Cubs uniform, Stephen Green's photo does place the action in front of Wrigley field. And going full Sandlot, Zobrist is also wearing his PF Flyer shoes. The card design is based off of 2016 Topps Baseball.
The Ben Zobrist bike card is available until the end of the World Series through the Topps website. Individual copies are $9.99 each. Discounts are available for lots of five, ten and 20.
All proceeds from the sale of the card got to Patriot Forward.
Also connected to the card is a contest for a replica bike like Zobrist's.
The 2016 Topps Now Ben Zobrist bike card, which was only available for 24 hours, sold 2,968 copies.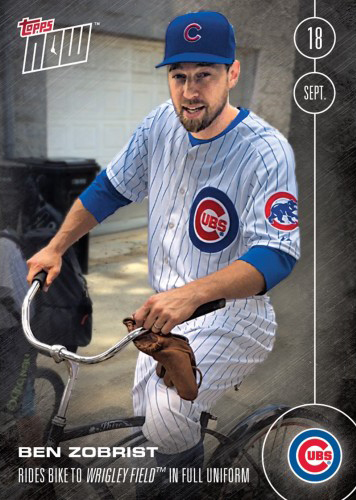 Comments? Questions? Contact Ryan Cracknell on Twitter @tradercracks.