2016 Topps Baseball Stadium Giveaway Cards Checklist, Info and Dates
Over the course of the season, there's going to be a lot of over-sized baseball cards getting handed out at MLB stadiums across the United States (and Toronto). At select games throughout June and July, there's a 2016 Topps Baseball stadium giveaway at every ballpark.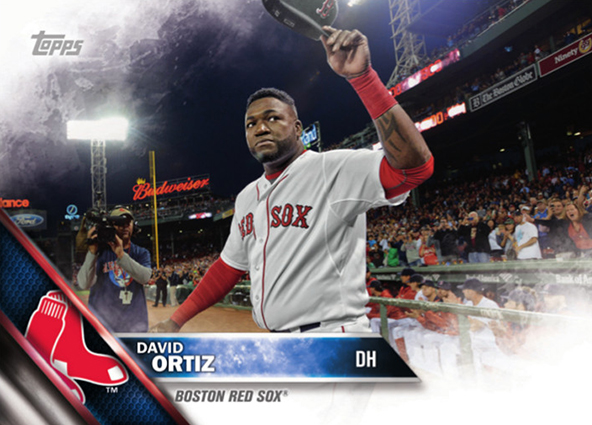 During these games, those in attendance receive a card measuring 5″ by 7″ highlighting a player or something else that's important to the team. Most feature a local favorite player. However, a handful of the stadium giveaway cards have mascots on them. The Atlanta Braves are featuring Turner Field.
Among the notable names on the checklist are Mike Trout, David Ortiz and Andrew McCutchen. A couple of cards highlight retired players. For instance, the New York Mets card has Mike Piazza. The San Francisco Giants are honoring alumni from their 1986 squad.
Other than the larger dimensions, the 2016 Topps Baseball Stadium Giveaway cards have the same general design as the flagship 2016 Topps Baseball set. Backs are similar but come with an ad for the Topps website.
Here's the full 2016 Topps Baseball stadium giveaway schedule and checklist.
2016 Topps Baseball Stadium Giveaway Cards Checklist and Schedule
American League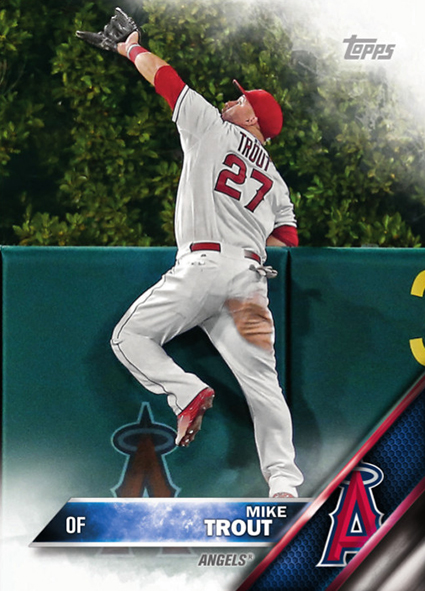 Baltimore Orioles – Adam Jones July 10
Boston Red Sox – David Ortiz June 17-19
Chicago White Sox – Southpaw June 12
Cleveland Indians – Corey Kluber June 19
Detroit Tigers – Justin Upton June 25
Houston Astros – Carlos Correa June 17
Kansas City Royals – Sluggerrr June 26
Los Angeles Angels – Mike Trout June 11
Minnesota Twins – Glen Perkins June 23
New York Yankees – Masahiro Tanaka June 25
Oakland Athletics – Stanley and Stomper June 19
Seattle Mariners – Kyle Seager June 28
Tampa Bay Rays – Raymond June 19
Texas Rangers – Adrian Beltre June 4
Toronto Blue Jays – Jose Bautista June 9
National League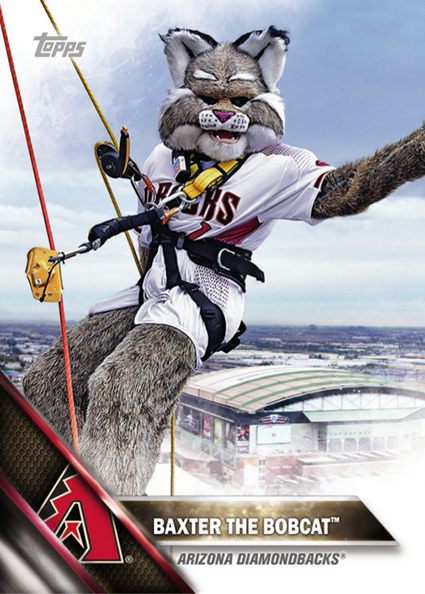 Arizona Diamondbacks – Baxter June 12
Atlanta Braves – Turner Field June 12
Chicago Cubs – Jon Lester June 4
Cincinnati Reds – Eugenio Suarez June 10
Colorado Rockies – Charlie Blackmon June 25
Los Angeles Dodgers – Adrian Gonzalez June 18
Miami Marlins – Christian Yelich June 22
Milwaukee Brewers – Scooter Gennett June 28
New York Mets – Mike Piazza July 30
Philadelphia Phillies – Aaron Nola June 4
Pittsburgh Pirates – Andrew McCutchen July 23
San Diego Padres – Swinging Friar June 19
San Francisco Giants – 1986 Giants Team June 11
St. Louis Cardinals – Michael Wacha June 30
Washington Nationals – Daniel Murphy July 6
Comments? Questions? Contact Ryan Cracknell on Twitter @tradercracks.