2016 Topps baseball cards: New approach is apparent in Series 1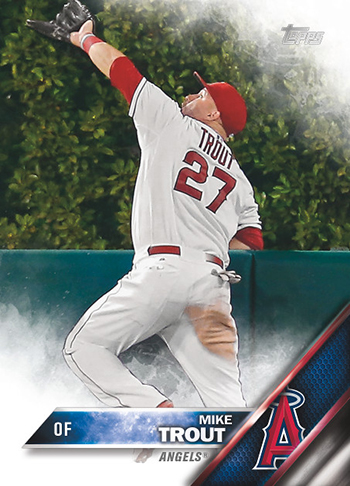 By Chris Olds
When Topps released the basic breakdowns and images for the 2016 Topps Series 1 baseball card set, they made it clear that the release of the hobby's longest-running and most-popular brand is a departure from the norm.
What hasn't changed is that collectors can expect one autograph or Relic in every 36-pack hobby box or one autograph and two relics in every HTA 10-pack Jumbo box.
Get a fully sortable 2016 Topps Series 1 Baseball checklist and price guide access.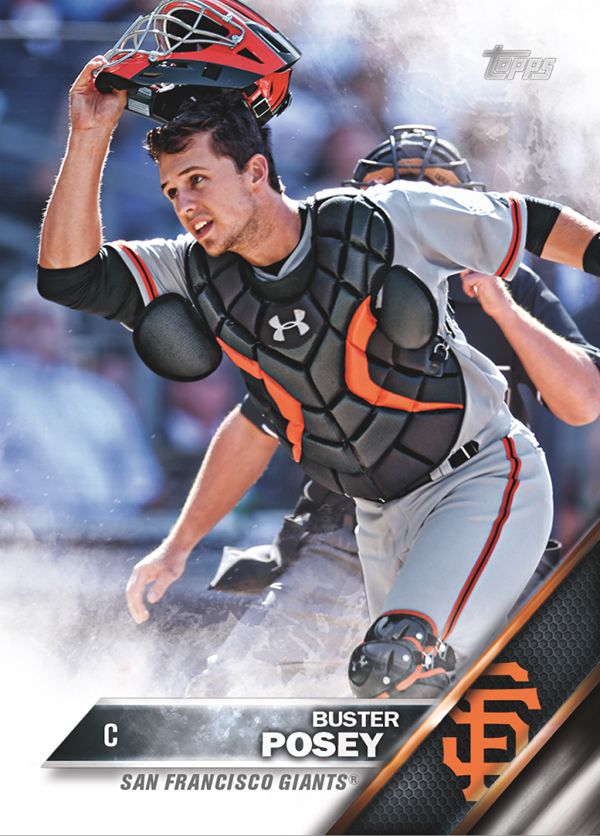 Base Set and Parallels
This time,  the base set for 2015 Topps Series 1 consists of 350 cards — the same higher amount that began this year — and it is a mix of rookies, veterans, league leaders and include a subset of World Series highlight cards. Each card has several types of parallels, including Gold (/2,016), Vintage (/99), Black (/65), Pink (/50), Platinum (1/1), Rainbow, Clear (/10; standard hobby boxes only), Framed (/16; one per case) and 1/1 printing plates. New to 2016 are Negative parallels. These are not numbered but fall about four per hobby case.
Select players also have variations, but there aren't any Sparkles this year. Instead there are shots of players in camo uniforms and even tougher, more traditional photo swap variations.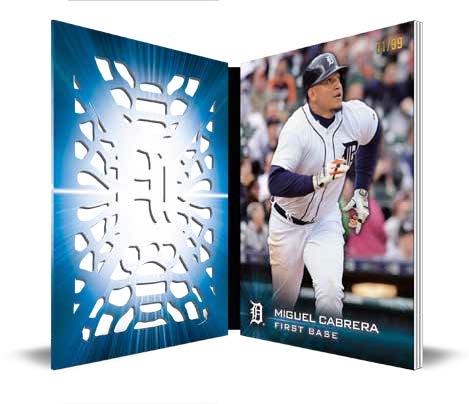 Inserts
2016 Topps Series 1 Baseball has plenty of basic inserts, which is the norm for the brand. Berger's Best is a year-by-year look back at basic Topps. Others include Perspectives, Pressed into Service, 100 Years at Wrigley Field, Back to Back, Topps Laser, First Pitch and also two stamped buybacks per box. The Laser cards mark a 20-year anniversary of an experimental die-cut insert from the past and this time the approach is used in booklet form. Pressed into Service cards show players in non-traditional roles, while the Wrigley set revisits past moments in the venue's history. First Pitch, like last year, showcase celebrity and other notable appearances at ballparks.
A selection of manufactured Relics can be found in this one with Team Logo Pins, No-hitter Pins and World Series Stamp and Coin cards. The first two here have autographed parallels limited to only 25 copies, while the coin/stamp cards have denomination versions and some have autographs (/10) as well. All are numbered.
Also to be found are Bunt Code cards and Bunt Player cards that offer an extra way to get into Topps' mobile apps game for MLB where virtual baseball cards have been generating real cash for some collectors. Codes are good for in-game tokens or exclusive cards found only with the redeeming of the card.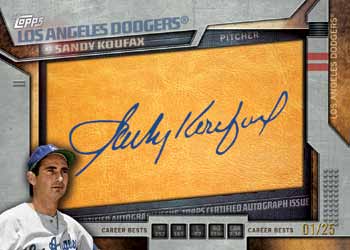 Autographs
There are eight types of autographed Relics alone in 2016 Topps Series 1 Baseball with most of these cards limited to 10 copies. None of them made to more than 50. That makes them among the toughest pulls in the product. Berger's Best, Topps Laser, Back to Back, Pressed and Wrigley inserts will be limited to 10, while the World Series winners and Postseason Performance will be limited to 50. A set of Glove Leather autos — signed onto simulated leather like Sweet Spot cards of the past — are limited to 25.
For standard autographs, there are Scouting Report — a chance for scouts to sound off about players' performances — Berger's Best, Laser, Back to Back, Pressed, Wrigley, World Series and Postseason. These are limited to 25 except for Series and Postseason, which are limited to 50. A pair of 1/1 inclusions can be found here with Berger's Best cut autos as well as a standard cut auto set.

Memorabilia
Nine different game-used memorabilia sets are in 2016 Topps Series 1 Baseball with the same lineup as other inserts — Scouting Report, Berger's Best, Laser, Back to Back, Pressed, Wrigley, World Series and Postseason. The only new one here will be In the Name Relics that are 1/1 letter patches from players' 2015 MLB All-Star Game workout jerseys. These will be found in hobby and jumbo packs only along with the Laser Relics. All standard Relics are be numbered to 99 or 100 save for the Scouting Report, which will not be numbered.
Chris Olds can be found on Twitter by clicking here.
2016 Topps Series 1 Baseball at a glance
Packs per hobby box: 36
Cards per pack: 10
Set size: 350
Release date: February 3, 2016
What to expect in a hobby box