2016 Topps Archives Signature Series All-Star Edition Baseball Player Checklist and Details
2016 Topps Archives Signature Series All-Star Edition Baseball is a mouthful to read or say out loud. But the concept couldn't be simpler. Like last year's similar release, every card is an autographed buyback.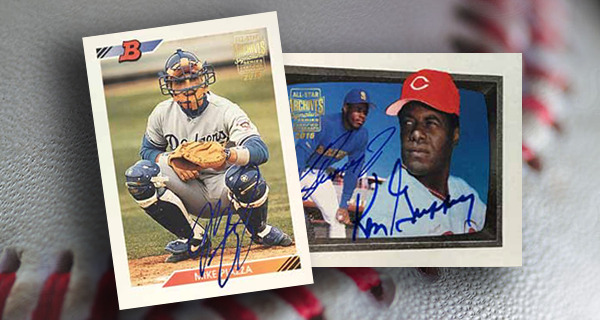 Boxes come with just one item. It's an original Topps or Bowman card from the past that has since been signed (if you're unsure what a buyback card is, check this out). The product gets the "All-Star Edition" notation because every card has a retired player who was an All-Star at least once in their career.
Cards come with an All-Star foil stamp noting they're from this particular release. They're also numbered and come already in a case. Signatures are all on-card.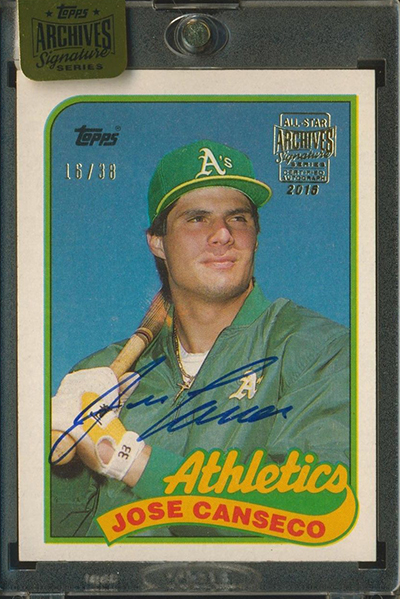 Due to the nature of the product, it'll be tough to nail down a full set. Rather, it's aimed at fans of particular players and teams looking for a combination of autographs and nostalgia.
A couple of wrinkles have been added from 2015 Topps Archives Signature Series. First up are dual autographs. These are cards that picture two players and are signed by both. Memorabilia card buybacks are also available in 2016 Topps Archives Signature Series All-Star Edition Baseball that transform existing relic cards into autographed relics.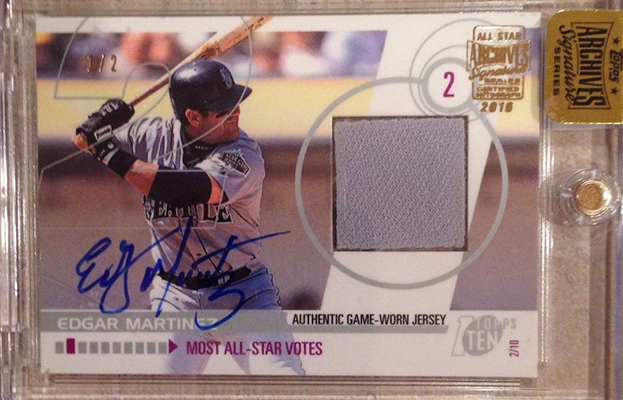 2016 Topps Archives Signature Series All-Star Edition Baseball at a glance:
Packs per box: 1
Cards per pack: 1
Boxes per case: 20
Release date: August 31, 2016
What to expect in a hobby box:
Autographed Buyback Cards – 1
2016 Topps Archives Signatures Series Checklist
Please note the following is a list of players in the product released by Topps. They have not put out a detailed breakdown of which cards have been signed and in what quantities.
102 players.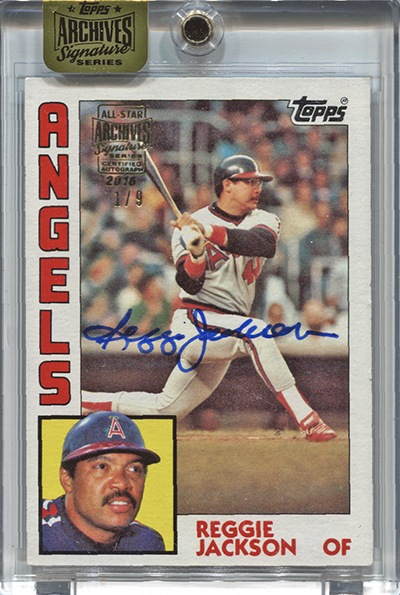 Hank Aaron
Jim Abbott
Joe Adcock
Sandy Alomar Jr.
Sparky Anderson
Carlos Baerga
Harold Baines
Ernie Banks
Johnny Bench
Craig Biggio
Wade Boggs
Bobby Bonds
Lou Burdette
Jose Canseco
Rod Carew
Gary Carter
Roger Clemens
Jeff Conine
Johnny Conine
Al Dark
Darren Daulton
Eric Davis
Carlos Delgado
Bucky Dent
Don Drysdale
Leo Durocher
Dennis Eckersley
Bob Feller
Tony Fernandez
Mark Fidrych
Rollie Fingers
Carlton Fisk
George Foster
John Franco
Andres Galarraga
Nomar Garciaparra
Steve Garvey
Tom Glavine
Tom Gordon
Shawn Green
Ken Griffey Jr.
Ken Griffey Sr.
Steve Gromek
Ozzie Guillen
Tony Gwynn
Jim Hunter
Monre Irvin
Bo Jackson
Reggie Jackson
Randy Johnson
Chipper Jones
George Kell
Harmon Killebrew
Ralph Kiner
Sandy Koufax
Barry Larkin
Bob Lemon
Greg Maddux
Billy Martin
Edgar Martinez
Ed Matthews
Gil McDougald
Mark McGwire
Minnie Minosa
Kevin Mitchell
Johnny Mize
Paul Molitor
Don Mueller
Mark Mulder
Dale Murphy
Stan Musial
Joe Nierko
Paul O'Neill
John Olerud
Andy Pafko
Andy Pettite
Mike Piazza
Jim Rice
Cal Ripken Jr.
Robin Roberts
Frank Robinson
Al Rosen
Nolan Ryan
Curt Schilling
Herb Score
Bill Skowron
Enos Slaughter
John Smoltz
Duke Snider
Warren Spahn
Willie Stargell
Kent Tekulve
Frank Thomas
Mickey Vernon
Omar Vizquel
Billy Wagner
Earl Weaver
Hoyt Wilhelm
Ted Williams
Carl Yastrzemski
Robin Yount
Don Zimmer
Comments? Questions? Contact Ryan Cracknell on Twitter @tradercracks.