Unannounced 2016 Topps Archives Operation Desert Shield Cards Arrive
When you click on links to various merchants on this site, like eBay, and make a purchase, this can result in this site earning a commission.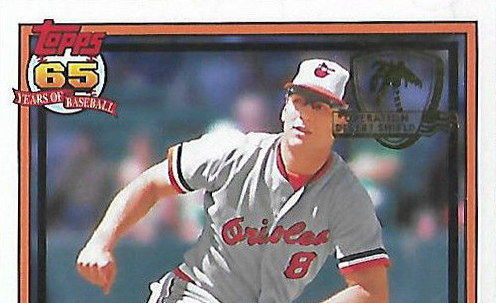 By Ryan Cracknell | Hobby Editor
2016 marks the 25th anniversary of one of the most famous parallel releases of the modern era. 2016 Topps Archives Operation Desert Shield parallels are a nod to the popular set. Not announced in advance, they're also going to be tough to pull.
It looks as though the 2016 Topps Archives Operation Desert Shield checklist is limited to numbers 201 to 300 in the base set. This would coincide with the cards that are based on the 1991 Topps Baseball release.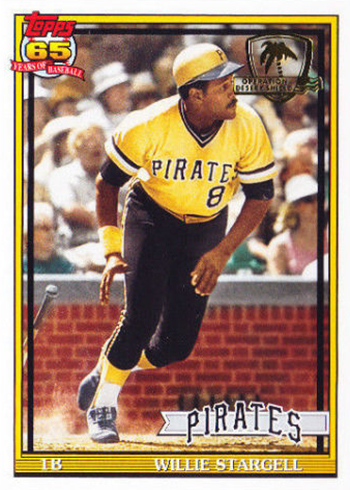 But just because there's (likely) only 100 cards to track down, don't think that building a full run is going to be easy. According to Brent Williams, a breaker who sells under brentandbecca on eBay, Desert Shield parallels are inserted 1:328 hobby packs. Several key rookies in the set are included in the 1991 portion of 2016 Topps Archives Baseball. Corey Seager, Michael Conforto and Miguel Sano lead the way. For those looking to get a little nostalgic, Chipper Jones, the top card in the 1991 Topps Desert Shield set, is also on the expected checklist.
Not many 2016 Topps Archives Operation Desert Shield cards have surfaced on eBay yet. It's likely individual cards will be available in small numbers even in the early days of Archives' release.
Spotting the 2016 Topps Archives Operation Desert Shield cards is simple. Like the originals, there's a gold foil Desert Shield logo in the top corner.
For those not familiar with 1991 Topps Desert Shield Baseball, they're a parallel of the regular 1991 Topps Baseball set. However, they weren't made for stores. Rather, they were produced as a gift to soldiers stationed in Iraq at the time and those slated to potentially head over there. Topps made the cards and packaged them like the mass-produced cards. However, each has that trademark stamp to create something different.
1991 Topps Desert Shield Baseball is one of the rare sets from the era that has held up value-wise. Their history, limited availability and fact that many either didn't survive the trip home or were damaged, has made them among the most desirable cards from the boom peak. In fact, they were so popular at one point that fakes became an issue so buying them now from a reputable dealer or authenticated through grading is an especially good idea.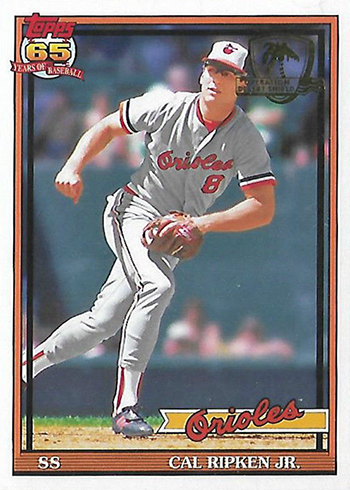 2016 Topps Archives Operation Desert Shield Checklist
201 Jackie Robinson, Brooklyn Dodgers
202 Yadier Molina, St. Louis Cardinals
203 Johnny Bench, Cincinnati Reds
204 Miguel Cabrera, Detroit Tigers
205 Jose Peraza, Cincinnati Reds
206 Hoyt Wilhelm, New York Giants
207 Chris Davis, Baltimore Orioles
208 Matt Harvey, New York Mets
209 Phil Rizzuto, New York Yankees
210 Orlando Cepeda, San Francisco Giants
211 Kevin Kiermaier, Tampa Bay Rays
212 Gaylord Perry, Cleveland Indians
213 Aroldis Chapman, New York Yankees
214 Adam Jones, Baltimore Orioles
215 Yoenis Cespedes, New York Mets
216 Rougned Odor, Texas Rangers
217 Hector Olivera, Atlanta Braves
218 John Franco, New York Mets
219 Kelby Tomlinson, San Francisco Giants
220 Larry Doby, Cleveland Indians
221 Cole Hamels, Texas Rangers
222 Matt Kemp, San Diego Padres
223 Goose Gossage, New York Yankees
224 Hunter Pence, San Francisco Giants
225 Clayton Kershaw, Los Angeles Dodgers
226 Ryan Braun, Milwaukee Brewers
227 Freddie Freeman, Atlanta Braves
228 Roberto Clemente, Pittsburgh Pirates
229 Billy Butler, Oakland Athletics
230 James Shields, San Diego Padres
231 Paul Goldschmidt, Arizona Diamondbacks
232 David Peralta, Arizona Diamondbacks
233 Edwin Encarnacion, Toronto Blue Jays
234 Jake Arrieta, Chicago Cubs
235 Lou Boudreau, Cleveland Indians
236 Roger Maris, New York Yankees
237 Miguel Sano, Minnesota Twins
238 Rod Carew, Minnesota Twins
239 Xander Bogaerts, Boston Red Sox
240 John Kruk, Philadelphia Phillies
241 Rob Refsnyder, New York Yankees
242 Harmon Killebrew, Minnesota Twins
243 Cal Ripken Jr., Baltimore Orioles
244 Trevor Rosenthal, St. Louis Cardinals
245 Adam Eaton, Chicago White Sox
246 Gary Carter, Montréal Expos
247 Zack Godley, Arizona Diamondbacks
248 Anthony Rizzo, Chicago Cubs
249 Jose Bautista, Toronto Blue Jays
250 Carlos Correa, Houston Astros
251 Bobby Doerr, Boston Red Sox
252 Trayce Thompson, Los Angeles Dodgers
253 Robin Roberts, Philadelphia Phillies
254 Colin Rea, San Diego Padres RC
255 Brandon Phillips, Cincinnati Reds
256 Chipper Jones, Atlanta Braves
257 Giancarlo Stanton, Miami Marlins
258 Odubel Herrera, Philadelphia Phillies
259 Willie Stargell, Pittsburgh Pirates
260 Dallas Keuchel, Houston Astros
261 Joe Mauer, Minnesota Twins
262 Andre Dawson, Montréal Expos
263 Eddie Mathews, Milwaukee Braves
264 Luke Jackson, Texas Rangers
265 Warren Spahn, Milwaukee Braves
266 Hisashi Iwakuma, Seattle Mariners
267 Carlos Gonzalez, Colorado Rockies
268 Carl Edwards Jr., Chicago Cubs
269 Adrian Gonzalez, Los Angeles Dodgers
270 Brian McCann, New York Yankees
271 Ted Williams, Boston Red Sox
272 Taijuan Walker, Seattle Mariners
273 Nolan Ryan, Texas Rangers
274 Michael Brantley, Cleveland Indians
275 Corey Seager, Los Angeles Dodgers
276 Nolan Arenado, Colorado Rockies
277 Ichiro, Miami Marlins
278 Lucas Duda, New York Mets
279 Josh Donaldson, Toronto Blue Jays
280 Josh Reddick, Oakland Athletics
281 Francisco Lindor, Cleveland Indians
282 Lou Brock, St. Louis Cardinals
283 Michael Conforto, New York Mets
284 Catfish Hunter, New York Yankees
285 Maikel Franco, Philadelphia Phillies
286 Willie Mays, New York Giants
287 Adrian Beltre, Texas Rangers
288 Nomar Garciaparra, Boston Red Sox
289 Wade Davis, Kansas City Royals
290 Anthony Rendon, Washington Nationals
291 Kaleb Cowart, Los Angeles Angels RC
292 Andrew Miller, New York Yankees
293 Craig Kimbrel, Boston Red Sox
294 Andrew McCutchen, Pittsburgh Pirates
295 Todd Frazier, Chicago White Sox
296 Edgar Martinez, Seattle Mariners
297 Justin Verlander, Detroit Tigers
298 Kyle Waldrop, Cincinnati Reds
299 Hector Rondon, Chicago Cubs
300 Sandy Koufax, Brooklyn Dodgers
Comments? Questions? Contact Ryan Cracknell on Twitter @tradercracks.