2016 Topps Allen & Ginter X Baseball Details
Over the last 11 years, the overall look of Topps Allen & Ginter hasn't made any dramatic changes. From the time it was resurrected in 2006, its had its roots in the original Allen & Ginter tobacco cards from more than a century ago. Then along comes 2016 Topps Allen & Ginter X Baseball.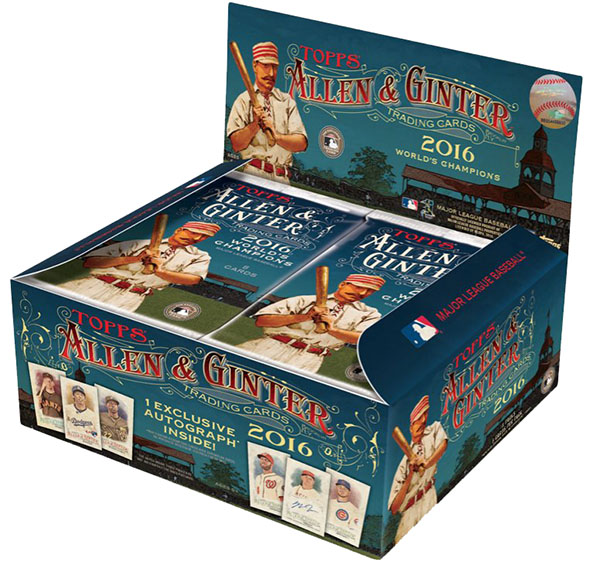 Released as an online exclusive, the design is virtually identical to the main 2016 Ginter set save for one major difference: the plain white backgrounds have been made black. Okay, so a simple change of background isn't a huge change but it does dramatically change the look as well as offer an alternative of sorts from the brand's status quo.
The look isn't the only difference, though. 2016 Topps Allen & Ginter X Baseball has one autograph per box. The regular Ginter release has three hits per hobby box but signed cards aren't guaranteed to be one of them.
The 2016 Topps Allen & Ginter X checklist is virtually the same as the regular release, at least for the main components. The base set has 350 cards, the final 50 of which are short prints. Each pack also has a mini parallel.
Autograph signers are also consistent with the original version along with the product's other inserts. Autographs come with the black background and come with a silver frame.
As far as other inserts go, Allen & Ginter X is sort of a stripped down version opting for a more streamlined approach. The mini parallels and autographs appear to be the only things outside of the base set.
Available only on the Topps website, each box costs $69.99 with 18-box cases running $1,250. This is the second year for Allen & Ginter X. 2015's debut followed a similar pattern with the dark look.
2016 Topps Allen & Ginter X Baseball at a glance:
Packs per box: 18
Cards per pack: 8
Boxes per case: 18
Set size: 350 cards
Release date: July 27
What to expect in a box:
• Autographs – 1
• Mini Cards – 18
Comments? Questions? Contact Ryan Cracknell on Twitter @tradercracks.