2016 Topps All-Star FanFest Baseball Card Details and Checklist
Topps is heading to the 2016 MLB All-Star Game in San Diego and they're bringing some exclusive baseball cards with them. The 2016 Topps All-Star FanFest cards cover a handful of different promotions for various aspects of the nearly week-long event.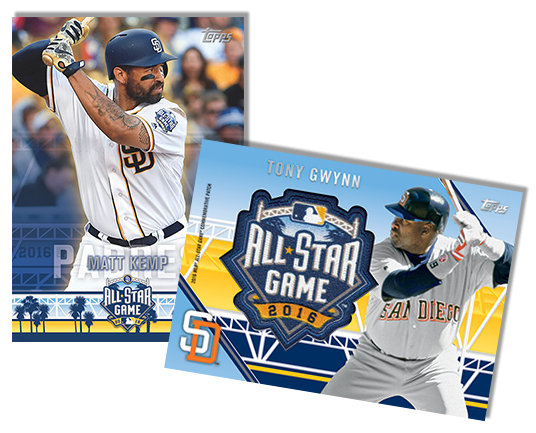 2016 Topps All-Star FanFest Wrapper Redemption Cards
Things begin with an exclusive six-card wrapper redemption set. Collectors who bring three unopened packs of 2016 Topps or Bowman cards to the Topps booth and open them get one of the cards free. The checklist includes one Padres player, Matt Kemp. Mike Trout, Clayton Kershaw and Buster Posey add some more California flavor. Bryce Harper and Kris Bryant round out the set.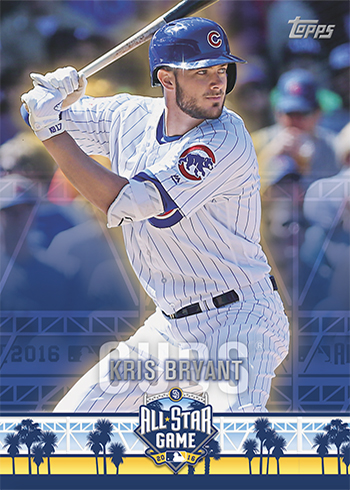 There's a limit of six cards (one per player) per person, per day.
A seventh card featuring David Ortiz is also available. However, it's part of a separate offer. To get one, collectors must not only buy something from the Topps booth but do so with a Mastercard credit or debit card.
2016 Topps Baseball All-Star Patch Cards and Factory Sets
Among the items Topps will have for sale at the FanFest is a 2016 Topps Baseball All-Star factory set. For each set purchased, Topps is giving away an exclusive manufactured patch card. Six cards are being made, each numbered to 150.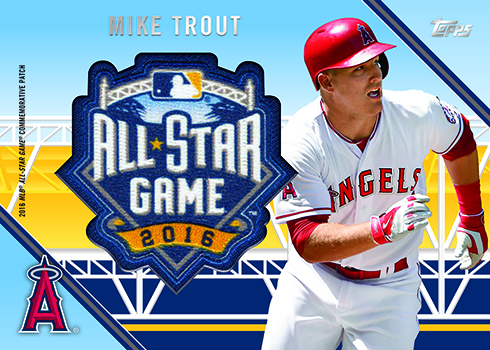 The late Padre great, Tony Gwynn, is among those with 2016 Topps All-Star Patch Cards. Also on the checklist is Ted Williams who is pictured as a member of the Padres from when the team was part of the minor league Pacific Coast League. Ichiro, Kenta Maeda, Trout and Harper also have patch cards.
Topps Now
Under normal circumstances, 2016 Topps Now Baseball cards are only available through the company's website. However, a trio of commemorative All-Star cards will also be available at the FanFest. On Saturday, July 9th, there will be a special edition card of the player with the most votes for the 2016 MLB All-Star Game. The following day, there's a second Topps Now card highlighting the 1992 MLB All-Star Game that was also in San Diego. Finally, Monday has a card with the MVP from the 2016 Futures Game.
Topps has plenty of other activities planned for the 2016 All-Star FanFest, including a vintage card swap, Bowman promo packs, pack wars and an opportunity to make your own card. Full details are posted on their website.
The FanFest runs from July 8-12.
2016 Topps All-Star FanFest Checklist
Wrapper Redemption Cards
7 cards. Ortiz only available by buying something using a Mastercard at the Topps booth.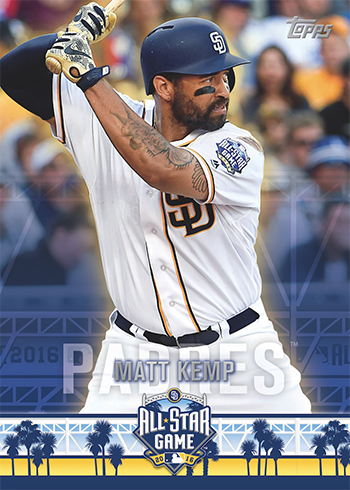 Kris Bryant, Chicago Cubs
Bryce Harper, Washington Nationals
Matt Kemp, San Diego Padres
Clayton Kershaw, Los Angeles Dodgers
David Ortiz, Boston Red Sox
Buster Posey, San Francisco Giants
Mike Trout, Los Angeles Angels
All-Star Commemorative Patch Cards
6 cards. /150.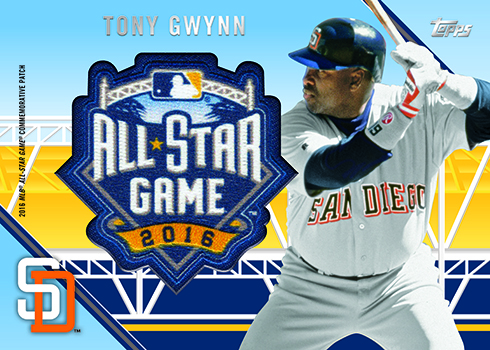 Tony Gwynn, San Diego Padres
Bryce Harper, Washington Nationals
Ichiro, Miami Marlins
Kenta Maeda, Los Angeles Dodgers
Mike Trout, Los Angeles Angels
Ted Williams, San Diego Padres (PCL)