Breaking Down the 2016 Select Football Prizm Parallel Rainbow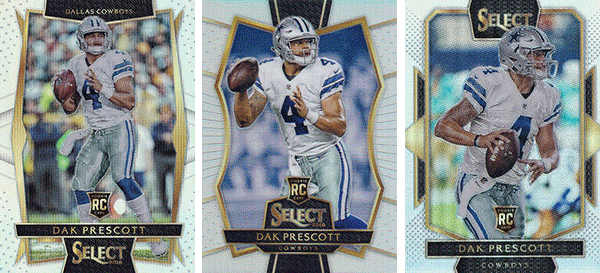 By Ryan Cracknell | Hobby Editor
Over the past couple of years, the Select brand has carved out its niche. Yes, it's chromium-based like Prizm, which also means lots of Prizm parallels. But it's a little more than that. Select combines that distinct design element with a tiered structure. And within each tier, there's a different rainbow to chase. For the 2016 Select Football parallels, that means a large master rainbow but it also opens things up to customizable combinations as big or as small that appeals to the individual collector.
2016 Select Football has a 300-card base set checklist. That breaks down to 100 cards for each tier: Concourse, Premier Level and Field Level. While there is some overlap in players between tiers, it's not exactly the same mix.
On a design end, each tier is also a little different.
Concourse cards have nine different types of Prizm parallels. They start with basic Silver Prizms, which have a shiny rainbow background. From there, it shifts into a different mix of colors that are similar to other chromium-centered products from both Panini and other manufacturers.
Premier Level cards have eight parallels. Premier Level Prizms come in many colors but most also come die-cut. The shaped addition is exclusive to Premier Level cards.
Similarly, Field Level Prizms are the only ones with a checkered backdrop to go with the mix of colors. Field Level cards have seven types of Prizms.
For players in all three tiers of the checklist, that's 24 total parallels. That's a lot. And with some coming in with small print runs, a 2016 Select Football Prizm parallel master rainbow is a definite challenge. But there are other approaches collectors can take. One could stick to a single tier rainbow. Perhaps sticking specific or similar colors.
Below is a full gallery of all the 2016 Select Football Prizm parallels so you can easily see both the rainbow and the differences in designs and patterns.
2016 Select Football Concourse Parallels
2016 Panini Select Football Premier Level Parallels
2016 Panini Select Football Field Level Parallels
Comments? Questions? Contact Ryan Cracknell on Twitter @tradercracks.