2016 Score Football cards kick off Panini's NFL exclusive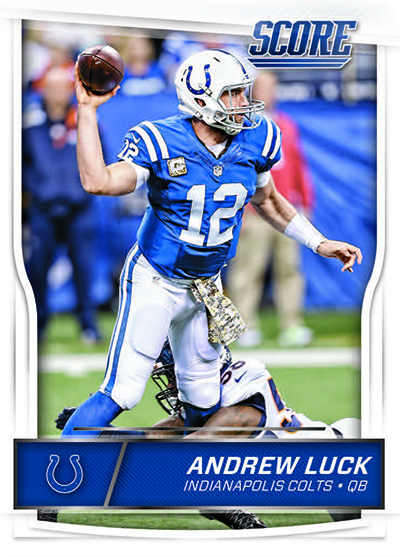 By Ryan Cracknell | Hobby Editor
2016 Score Football marks a new era for the gridiron side of the hobby. It's the start of Panini's exclusive in the sport, the last of the major American leagues to do so. Intended as a far-reaching product, it's not so much on the expensive side. Rather, it's about kicking the new football card season off, introducing new rookies and delivering a big checklist.
The hobby side of 2016 Score Football follows a jumbo pack format with three autographs and either a fourth signed card or something with memorabilia per ten-pack box.
Base Set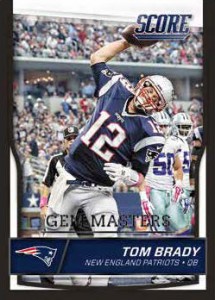 With 440 cards, the 2016 Score Football base set is on the bigger side for the sport. A total of 330 veterans are joined by 110 rookies. For first-year players, these are their first fully licensed NFL cards. Panini has a Contenders and Prizm Draft Picks coming out before Score, but they're college-themed sets. Collectors will find several rookie cards per pack.
Like past years, parallels are plentiful as well, landing two per pack. Gem Masters is the rarest of the bunch, numbered one-of-one. Printing plates are a case hit.
Inserts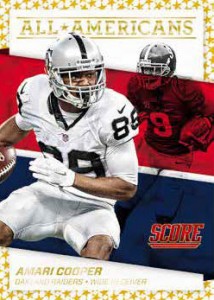 Going with the jumbo theme, the over-sized hobby packs have a lot of inserts — four per pack. While they might not bring a lot of value on the secondary market, they expand the overall checklist and offer other angles to chase for those who are so inclined.
Among these basic inserts is All-Americans, which delves into recent college standouts. No Fly Zone gives some rare attention to defensive backs. Signal Callers highlight top quarterbacks.
Inserts come with several parallels including Red, Green, Gold and Black.
Each 2016 Score Football blaster box comes with a Rookie Helmet or Veteran Helmet card. These have a manufactured patch and aren't found in any other packs or boxes.
Autographs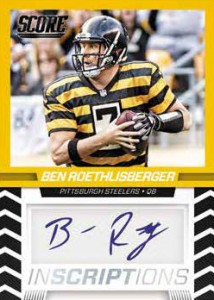 Traditionally, Score Football offers an early and deep list of autographs of recent draft picks. This set looks to be no different. That means a mix of marquee players as well as some rookies on the bubble of making a legitimate go of it in the NFL. Rookie Signatures have a full slate of parallels including Scorecard, Showcase, Gold Zone, Artist's Proof, Red Zone, First Down, End Zone, Gem Masters and Printing Plates.
Inscriptions, which is one of the oldest autograph lines in football, returns. These and Score Signatures bring some veteran content to the autograph side. Peyton Manning, Drew Brees and Marcus Mariotta are among those confirmed for the product.
Dual Draft Signatures pair autographs of players from the same draft class.
Memorabilia Cards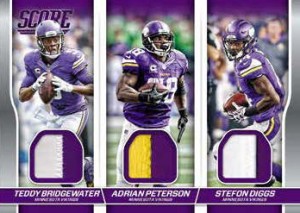 2016 Score Football memorabilia cards take a multi-swatch approach for a couple of inserts. Triple Jerseys have three jersey pieces from teammates. Prime parallels with premium swatches are numbered to 10.
Team 8's is the same basic concept only with eight swatches. These are done in a double-sided format with four pieces on the front and four on the back.
It's not all multi-player memorabilia cards, though. Jumbo Jerseys come with an over-sized swatch. Prime versions with premium swatches are numbered to 10 or less.
2016 Score Football at a glance:
Packs per box: 10 (jumbo hobby), 24 (retail)
Cards per pack: 40 (jumbo hobby), 12 (retail)
Boxes per case: 12 (jumbo hobby), 20 (retail)
Set size: 440 cards
Release date: April 27, 2016
What to expect in a jumbo hobby box:
Autographs – 3
Additional Autographs and Memorabilia Cards – 1
Inserts – 40
Parallels – 20
Comments? Questions? Contact Ryan Cracknell on Twitter @tradercracks.