2016 Score Football Box Busters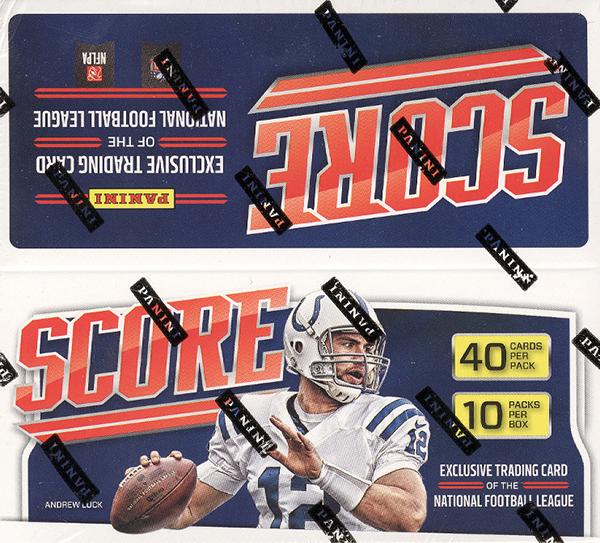 Join Justin Grunert and Eric Norton as they open some 2016 Score Football.
2016 Score Football Box Breakdown
Here's a look at the box and what we pulled.
Packs per box: 10
Cards per pack: 40
Cards per box: 400
Base Set Completion (without rookies) (127/330): 38%
Base Set Completion (with rookies) (199/440): 45%
Duplicates: 0
Parallels: 21
Scorecard: 10
Jumbo First Down (/10): 1
Anquan Boldin
Jumbo Gold Zone (/99): 5
Robert Mathis
Arian Foster
Marshawn Lynch
Tyler Ervin
Vic Beasley Jr.
Showcase (/99): 1
Carlos Dunlap
Jumbo Artists Proof (/50): 3
Jonathan Stewart
Michael Thomas
Arian Foster
Jumbo Red Zone (/35): 1
Mohamed Sanu
Autographs: 3
Rookie Signatures: 1
Carson Wentz
Rookie Signatures Jumbo Gold Zone (/99): 1
Zack Sanchez
Rookie Autographs Artist's Proof (/25): 1
Josh Doctson
Memorabilia Cards: 1
Dual Jerseys: 1
Derek Carr/Amari Cooper
Inserts: 44
All Americans: 3
Robert Griffin III
Andrew Luck
Sammy Watkins
All Americans Gold: 1
Danny Shelton
All Americans Red: 1
Von Miller
Chain Reaction: 1
Donte Moncrief
Chain Reaction Gold: 1
Aaron Rodgers
Chain Reaction Green: 1
Tom Brady
Chain Reaction Jumbo Gold (/99): 1
John Brown
Franchise: 3
Aaron Rodgers
Matt Forte
Calvin Johnson
Franchise Gold: 1
Joe Flacco
Franchise Red: 1
LeSean McCoy
NFL Draft: 1
Michael Thomas
NFL Draft Gold: 1
Jared Goff
NFL Draft Jumbo Red (/50): 1
Derrick Henry
No Fly Zone: 1
Tyrann Mathieu
No Fly Zone Red: 2
Richard Sherman, Mike Adams
Pepsi Rookie of the Week: 1
Amari Cooper
Reflections: 3
D.Bryant/A.Johnson
J.Graham/A.Gates
J.Winston/E.Manning
Reflections Gold: 2
B.Bortles/B.Roethlisberger
A.Luck/P.Manning
Reflections Green: 1
M.Gordon/J.Charles
Sack Attack: 1
Ezekiel Ansah
Sidelines: 3
Tony Romo
Antonio Gates
Ben Roethlisberger
Sidelines Gold: 2
Ndamukong Suh
Adrian Peterson
Sidelines Red: 1
Richard Sherman,
Signal Callers: 2
Eli Manning
Drew Brees
Signal Callers Gold: 1
Cam Newton
Signal Callers Red: 1
Carson Palmer
Signal Callers Jumbo Red (/50): 1
Tom Brady
Stoppers: 1
Harrison Smith
Stoppers Green: 1
J.J. Watt
Toe the Line: 1
Allen Robinson
Toe the Line Gold:
DeAndre Hopkins
Toe the Line Red:
Randall Cobb
See Also: 2016 Score Football Checklist and Price Guide Access