2016 Rittenhouse Star Trek: The Next Generation Portfolio Prints Series 2 Checklist, Details
When you click on links to various merchants on this site, like eBay, and make a purchase, this can result in this site earning a commission.
2016 Rittenhouse Star Trek: The Next Generation Portfolio Prints Series 2 trading cards offer up the second half of Juan Ortiz's exploration of the popular spinoff. Filling in the gaps from 2015's Series 1, missing episodes get their shot in the base set.

And while artwork may dominate the main part of the product and several inserts, that's not the case with the primary premium inserts, autographs. They land three per box and come in a couple of different forms.
Base Set
The 88-card 2016 Rittenhouse Star Trek: The Next Generation Portfolio Prints Series 2 base set features 88 cards. This fills out the remainder of the series. Each TNG episode has been interpreted by artist Juan Ortiz and made into a piece of poster-style art.
If you collected Series 1, you likely noticed the base set only had odd numbers. Consider these to be the evens to fill out the master checklist.
All 88 base cards have a Gold parallel. Inserted one per box, these have a facsimile signature of Ortiz. Every other box also has a parallel with Ortiz's authentic signature for a second series of parallels.
Autographs

Autographs are inserted 1:8 packs. Around 40 actors are on tap to sign for this set. Many of the top stars are signing with the newer Silver Signature Series design. These have a dark backdrop and are signed with a silver pen. While Rittenhouse has used the style for several other lines, including Star Trek: TOS, these are some of the first for The Next Generation.
Long-time TNG collectors will recognize the returning autograph design for the secondary characters and guests. It continues the look that has been used for the show for years. One of the notable inclusions here is Mick Fleetwood, one of the founding members of Fleetwood Mac.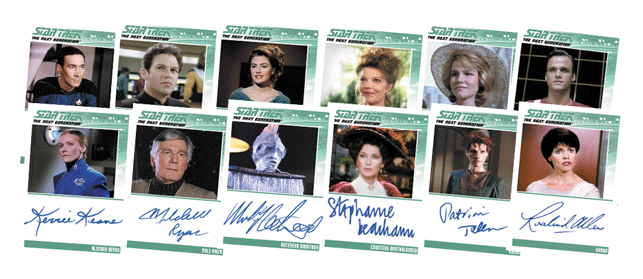 Sketch Cards
Sketch cards continue to be a growing focus for Rittenhouse's Star Trek line. Here, they're a case hit landing 1:288 packs. As with their other recent sets, the card maker is striving for a more high-end approach to these.
Inserts
A few inserts carry on with the product's overarching art theme. TNG Comics (40 cards, 1:24 packs) highlight the work found in the 1989 comic book series. TNG Comics Archive Cuts (40 cards, 1:48 packs) take it a step further with actual panel pieces cut from original books. Both of these sets were also in Portfolio Prints Series 1.
Other evolving insert sets include Ships of the Line (nine cards, 1:48) and TNG Universe Art (nine cards, 1:24) that highlight specific characters.
Metal cards are a second case hit. Each is numbered to 100 or less.
Incentives
Those ordering by the case get a few extras. For starters, there are two case toppers, I Am Locutus and Q. One of these is included with each case.
The six-case incentive is a Dual Autograph signed by Brent Spiner (Data) and Denise Crosby (Yar). A hand-painted sketch card by Charles Hall, Mick Glebe or Matt Glebe is available to those buying nine cases. Finally, there's a special Archive Box with a pair of sketch cards as an 18-case incentive.
2016 Rittenhouse Star Trek: The Next Generation Portfolio Prints Series 2 at a glance:
Packs per box: 24
Cards per pack: TBA
Boxes per case: 12
Set size: 88 cards
Release date: July 27, 2016
What to expect in a hobby box:
• Autographs – 3
• TNG Comics Inserts – 1
• TNG Universe Art Inserts – 1
• Gold Parallels – 1
2016 Rittenhouse Star Trek: The Next Generation Portfolio Prints Series 2 Checklist
Base Set
88 cards. Odd numbers are found in Series 1.
Parallels:
• Gold Signature – 1:24 packs
• Autograph – 1:72 packs
2 Encounter at Farpoint, Part Two
4 Code of Honor
6 Where No One Has Gone Before
8 Justice
10 Hide and Q
12 The Big Goodbye
14 Angel One
16 Too Short a Season
18 Home Soil
20 Heart of Glory
22 Symbiosis
24 We'll Always Have Paris
26 The Neutral Zone
28 Where Silence Has Lease
30 The Outrageous Okona
32 The Schizoid Man
34 A Matter of Honor
36 The Dauphin
38 The Royale
40 The Icarus Factor
42 Q Who?
44 Up The Long Ladder
46 The Emissary
48 Shades of Gray
50 The Ensigns of Command
52 Who Watches the Watchers
54 Booby Trap
56 The Price
58 The Defector
60 The High Ground
62 A Matter of Perspective
64 The Offspring
66 Allegience
68 Tin Man
70 The Most Toys
72 Menage a Troi
74 The Best of Both Worlds, Part 1
76 Family
78 Suddenly Human
80 Legacy
82 Future Imperfect
84 The Loss
86 The Wounded
88 Clues
90 Galaxy's Child
92 Identity Crisis
94 Qpid
96 Half a Life
98 The Mind's Eye
100 Redemption, Part 1
102 Darmok
104 Silicon Avatar
106 The Game
108 Unification, Part 2
110 New Ground
112 Violations
114 Conundrum
116 Ethics
118 Cause and Effect
120 Cost of Living
122 Imaginary Friend
124 The Next Phase
126 Time's Arrow, Part 1
128 Realm of Fear
130 Relics
132 True Q
134 A Fistful of Datas
136 Chain of Command, Part 1
138 Ship in a Bottle
140 Face of the Enemy
142 Birthright, Part 1
144 Starship Mine
146 The Chase
148 Suspicions
150 Second Chances
152 Descent, Part 1
154 Liaisons
156 Gambit, Part 1
158 Phantasms
160 Attached
162 Inheritance
164 The Pegasus
166 Sub Rosa
168 Thine Own Self
170 Eye of the Beholder
172 Journey's End
174 Bloodlines
176 Preemptive Strike
Autographs
Both regular Autographs and Silver Signature Series Autographs combine at a rate of 1:8 packs.
Rarity: Extremely Limited – 100-200 copies; Very Limited – 200-300 copies; Limited – 300-500 copies.
Autographs
35 cards.
Rosalind Allen as Yanar
Madchen Amick as Teenage Anya – Extremely Limited
Erich Anderson as Commander Keiran MacDuff – Very Limited
Michael Aron as Jack London
Diedrich Bader as Tactical Officer – Limited
Stephanie Beacham as Regina Bartholemew – Limited
Brian Brophy as Commander Bruce Maddox – Limited
Michael Champion as Boratus – Limited
Lanai Chapman as Ensign Sariel Rager – Limited
Tracee Coccoo as Lt. Jae
Dennis Cockrum as Corvallen Freight Captain – Limited
Robert Costanzo as Slade Bender
Leonard John Crofoot as Lal – Very Limited
Samantha Eggar as Marie Picard – Limited
Mick Fleetwood as Antedean Dignitary – Very Limited
Spencer Garrett as Simon Tarses – Limited
Wayne Grace as Torak – Limited
Kerrie Keane as Alexana Devos – Limited
Tzi Ma as Biomolecular Physiologist
Glenn Morshower as Orton – Very Limited
Marnie Mosiman as Harmony – Limited
Lycia Naff as Ensign Sonya Gomez – Limited
Jennifer Nash as Meribor – Very Limited
Marcus Nash as Ensign Jean-Luc Picard – Limited
Peter Parros as Klingon Tactical Officer – Very Limited
Gina Ravera as Ensign Tyler
Mitchell Ryan as Kyle Riker – Limited
Robert Schenkkan as Lt. Commander Dexter Remmick – Extremely Limited
James Sloyan as Alidar Jarok – Very Limited
Patricia Tallman as Kiros – Limited
Saxon Trainor as Lt. Linda Larson – Very Limited
Scott Trost as Ensign Shipley
Ned Vaughn as Cortan Zweller
Doug Wert as Jack Crusher – Limited
Pamela Winslow as Ensign McKnight – Limited
Silver Signature Series Autographs
4 cards.
Denise Crosby as Tasha Yar – Extremely Limited
Michael Dorn as Lt. Worf – Extremely Limited
Gates McFadden as Dr. Beveerly Crusher – Extremely Limited
Patrick Stewart as Jean-Luc Picard – Extremely Limited
Dual Autographs
1 card. 6-case incentive.
Brent Spiner as Data/Denise Crosby as Tasha Ya
Inserts
Rendered Art Metal Cards
6 cards. 1:576 packs.
R2 Captain Jean-Luc Picard
R4 Lt. Worf
R6 Counselor Deanna Troi
R8 Borg Drone
R10 Captain Jean-Luc Picard
Q – exclusive to incentive Archive box
Ships of the Line
9 cards. 1:48 packs.
SL10
SL11
SL12
SL13
SL14
SL15
SL16
SL17
SL18
Silhouette Gallery Metal Cards
5 cards. 1:576 packs.
SG2 Ensign Wesley Crusher
SG4 Commander William Riker
SG6 Lt. Tasha Yar
SG8 Lt. Commander Data
SG10 Guinan
Star Trek TNG Comic Archive Cuts
40 cards. 1:48 packs.
AC2.2
AC2.4
AC2.6
AC2.8
AC2.10
AC2.12
AC2.14
AC2.16
AC2.18
AC2.20
AC2.22
AC2.24
AC2.26
AC2.28
AC2.30
AC2.32
AC2.34
AC2.36
AC2.38
AC2.40
AC2.42
AC2.44
AC2.46
AC2.48
AC2.50
AC2.52
AC2.54
AC2.56
AC2.58
AC2.60
AC2.62
AC2.64
AC2.66
AC2.68
AC2.70
AC2.72
AC2.74
AC2.76
AC2.78
AC2.80
Star Trek TNG Comic Book Cards
39 cards. 1:24 packs.
CBK2.2
CBK2.4
CBK2.6
CBK2.08
CBK2.10
CBK2.12
CBK2.14
CBK2.16
CBK2.18
CBK2.20
CBK2.22
CBK2.24
CBK2.26
CBK2.28
CBK2.30
CBK2.32
CBK2.34
CBK2.36
CBK2.38
CBK2.40
CBK2.42
CBK2.44
CBK2.46
CBK2.48
CBK2.50
CBK2.52
CBK2.54
CBK2.56
CBK2.58
CBK2.60
CBK2.62
CBK2.64
CBK2.66
CBK2.68
CBK2.70
CBK2.72
CBK2.74
CBK2.78
CBK2.80
Universe Gallery
9 cards. 1:24 packs.
U2 Lt. Commander Data
U4 Dr. Beverly Crusher
U06 Commander William Riker
U8 Lt. Commander Geordi La Forge
U10 Dr. Katherine Pulaski
U12 Captain Jean-Luc Picard
U14 Ensign Ro Laren
U16 Locutus of Borg
U18 Commander Sela
Sketch Cards
40 artists. 1:288 packs.
Rarity: Scarce – less than 25 cards; Extremely Limited – 25-50 cards; Very Limited – 50-75 cards; Limited – over 75 cards.
Irma Ahmed – Scarce
Kristin Allen – Extremely Limited
Sean Anderson – Scarce
Leon Braojos – Very Limited
Francois Chartier – Extremely Limited
Adam Cleveland – Limited
Roy Cover – Very Limited
Jason Davies – Extremely Limited
David Day – Extremely Limited
Marcia Dye – Extremely Limited
Norman Jim Faustino – Extremely Limited
Connie Faye – Scarce
Matt Glebe – 9-Case Incentive
Mick Glebe – 9-Case Incentive
Javier Gonzalez – Very Limited
Charles Hall – 9-Case Incentive
James Hiralez – Scarce
Laura Inglis – Scarce
John Jackman – Extremely Limited
Debbie Jackson – Scarce
Mike James – Extremely Limited
Rich Kunz – Scarce
Lee Lightfoot – Extremely Limited
Tirso Llaneta – Scarce
Jeff Mallinson – Scarce
Warren Martineck – Limited
Eric McConnell – Scarce
Chris Meeks – Extremely Limited
Rich Molinelli – Scarce
Nathan Nelson – Extremely Limited
Tanner Padlo – Scarce
Gener Pedrina – Scarce
Prescilla Petraites – Scarce
Brent Ragland – Extremely Limited
Scott Rorie – Extremely Limited
Jason Saldajeno – Extremely Limited
Danny Silva – Scarce
Emily Tester – Scarce
Brad Utterstrom – Scarce
Helga Wojik – Scarce
Case Toppers
2 cards.
CT2 "I Am Locutus Of Borg. Resistance Is Futile"
CT4 Q
Promo Cards
P1 Picard/Riker/Troi – General Distribution
P2 Picard – Non-Sport Update Magazine
P3 Enterprise – Conventions
Comments? Questions? Contact Ryan Cracknell on Twitter @tradercracks.