2016 Rittenhouse Game of Thrones Season 5 Trading Cards Checklist and Details
Game of Thrones can be counted on for several things: epic plotlines, sudden death, dragons and sets of seasonal trading cards recapping the episodes that were. 2016 Rittenhouse Game of Thrones Season 5 trading cards continue with the tradition, once again promising two autographs and a handful of inserts in every box.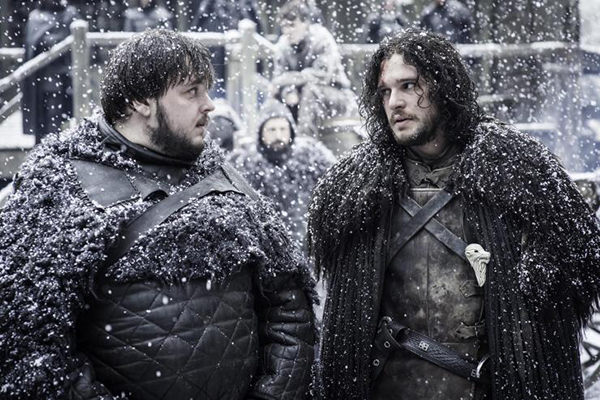 Base Set
A total of 100 cards make up the 2016 Rittenhouse Game of Thrones Season 5 base set. Like all four of the show's earlier sets, the biggest focus is on the characters. If you're familiar with the show, you understand why. There is a lot to keep up with. People come, go and come back again. Sometimes, death doesn't even stop them from making an impact.
The remaining 40 cards cover the events of the fourth season. If Game of Thrones were a show with 20-plus episodes per season, that'd probably be light as far as giving more than the very basics. But the fifth season only has ten episodes. All things considered equal, that's four cards each.
The 2016 Rittenhouse Game of Thrones Season 5 base set is complimented by two parallels. The first is inserted 1:3 packs. Gold cards fall one per box.
Autographs
Two autographs per box has been consistent for the show from the beginning. And while the checklist is once again deep in signers, some key names are missing. Headlining the set this time around are Peter Dinklage (Tyrion Lannister), Sophie Turner (Sansa Stark), Kit Harington (Jon Snow), Lena Headey (Cersei Lannister), Natalie Dormer (Margaery Tyrell) and Carise van Houten (Melisandre).
Emilia Clarke is probably the biggest name not on the checklist. She has not signed since the Season 2 set.
Pack-inserted autographs comes in three different designs, continuing themes started in earlier releases. They are Blue, Full-Bleed and Bordered.
Inserts
Two of the most common basic inserts in 2016 Rittenhouse Game of Thrones Season 5 are continuations from past themes: Quotable (1:12) and Relationships (1:24). Both of these have nine cards.
A new set titled Beautiful Death Art cards are included at a rate of one per box. Beautiful Death is the biggest of the basic insert sets with 20 cards. Each also has a Gold parallel (1:144).
Reflections is another new insert. The 16-card set is also tough to find, surfacing 1:96 packs.
Relic cards are randomly inserted. As are Sketch cards, which have, in the past, fetched some big numbers on the secondary market despite not having any character artwork.
Incentives
Incentive cards come in several forms for 2016 Rittenhouse Game of Thrones Season 5. They start with the case toppers. Each has a Die-Cut Shield card of either House Baratheon or House Bolton.
Those order six cases get a Dual Autograph with signatures from Sophie Turner and Aidan Gillen (Littlefinger). This is the first dual-signed card in the line's history.
The nine-case incentive is a Peter Dinklage Autographed Relic, another Game of Thrones first.
An Archive Box is available to those taking 18 12-box cases. Each has an exclusive full-bleed Peter Dinklage autograph and all four of the Printing Plates used to make one of the base cards.
2016 Rittenhouse Game of Thrones Season 5 at a glance:
Packs per box: 24
Cards per pack: 5
Boxes per case: 12
Set size: 100 cards
Release date: June 8, 2016
What to expect in a hobby box:
Autographs – 2
Beautiful Death Art Cards – 1
Relationships Inserts – 1
Quotable Inserts – 2
Parallels – 8
Gold Parallels – 1
2016 Rittenhouse Game of Thrones Season 5 Checklist
Base Set
100 cards.
Parallels:
• Parallel – 1:3
• Gold – 1:24 (/150)
• Printing Plates – Archive Box Exclusive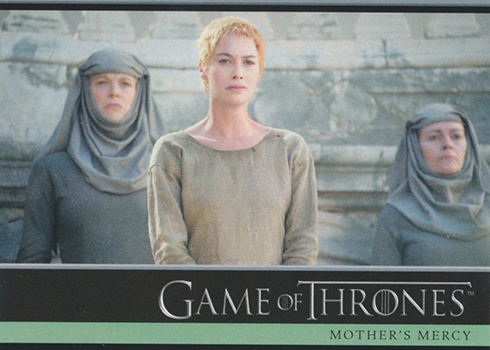 1 The Wars to Come
2 The Wars to Come
3 The Wars to Come
4 The House of Black and White
5 The House of Black and White
6 The House of Black and White
7 High Sparrow
8 High Sparrow
9 High Sparrow
10 Sons of the Harpy
11 Sons of the Harpy
12 Sons of the Harpy
13 Kill The Boy
14 Kill The Boy
15 Kill The Boy
16 Unbowed, Unbent, Unbroken
17 Unbowed, Unbent, Unbroken
18 Unbowed, Unbent, Unbroken
19 The Gift
20 The Gift
21 The Gift
22 Hardhome
23 Hardhome
24 Hardhome
25 The Dance of Dragons
26 The Dance of Dragons
27 The Dance of Dragons
28 Mother's Mercy
29 Mother's Mercy
30 Mother's Mercy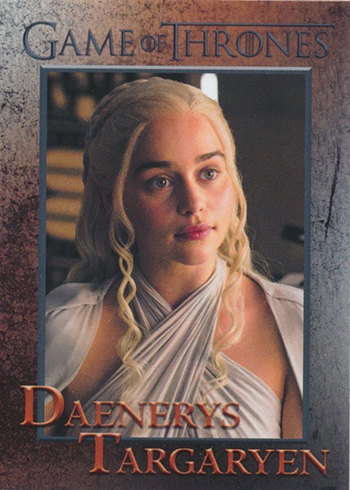 31 Sansa Stark
32 Theon Greyjoy
33 Petyr "Littlefinger" Baelish
34 Tyrion Lannister
35 Samwell Tarly
36 Arya Stark
37 Bronn
38 Jon Snow
39 Brienne of Tarth
40 Ser Davos Seaworth
41 Daenerys Targaryen
42 Lord Varys
43 Ser Jaime Lannister
44 Grand Maester Pycelle
45 Stannis Baratheon
46 Queen Cersei Lannister
47 Margaery Tyrell
48 Ser Jorah Mormont
49 Dragons
50 Melisandre
51 Podrick Payne
52 Barriston Selmy
53 Roose Bolton
54 Tormund Giantsbane
55 Gilly
56 Mance Rayder
57 Ramsay Snow
58 Grey Worm
59 Lady Olenna Tyrell
60 Missandei
61 Ser Loras Tyrell
62 Meryn Trant
63 Ellaria Sand
64 Daario Naharis
65 Maester Aemon
66 Alliser Thorne
67 Qyburn
68 Janos Slynt
69 Olyver
70 Selyse Baratheon
71 Mace Tyrell
72 King Tommen Baratheon
73 Eddison Tollett
74 Olly
75 Shireen Baratheon
76 Hizdahr zo Loraq
77 High Septon
78 High Sparrow
79 Maggy
80 Faceless Man
81 Yohn Royce
82 Jaqen H'ghar
83 Areo Hotah
84 Doran Martell
85 Lollys Stokeworth
86 Mossador
87 Waif
88 Obara Sand
89 Tyene Sand
90 Nymeria Sand
91 Walda Bolton
92 Myrcella Baratheon
93 Trystane Martell
94 Malko
95 Yezzan zo Qaggaz
96 Septa Unella
97 Karsi
98 Night's King
99 Wun Wun
100 Checklist
Autographs
47 cards, 1:12 packs.
Rarity Scale:
• Extremely Limited – 100-200 copies
• Very Limited – 200-300 copies
• Limited – 300-500 copies.
Blue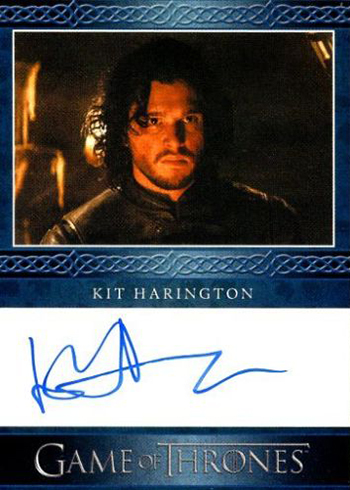 Jacob Anderson as Grey Worm – Limited
Hafpor Julius Bjornsson as Gregor Clegane – Limited
Ben Crompton as Eddison Tollett – Limited
Aidan Gillen as Littlefinger – Extremely Limited
Kit Harington as Jon Snow – Very Limited
Birgitte Hjort Sorensen as Karsi – Limited
Brenock O'Connor as Olly – Limited
Deobia Oparei as Areo Hotah – Limited
Sophie Turner as Sansa Stark – Extremely Limited
Bordered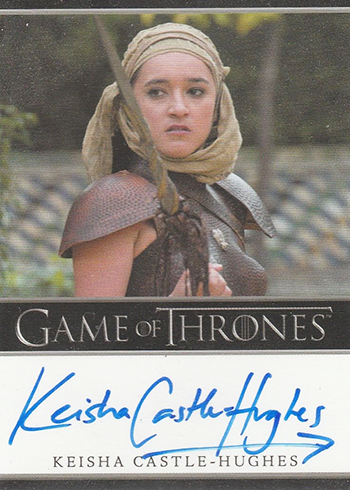 Keisha Castle-Hughes as Obara Sand – Limited
Dean-Charles Chapman as Tommen Baratheon – Limited
Enzo Cilenti as Yezzan zo Qaggaz – Limited
Peter Dinklage as Tyrion Lannister – Archive Box Exclusive
Nathalie Emmanuel as Missandei – Limited
Lino Facioli as Robin Arryn – Limited
Joel Fry as Hizdahr zo Loraq – Limited
Jessica Henwick as Nymeria Sand – Limited
Charlotte Hope as Myranda – Limited
Rosabell Laurenti Sellers as Tyene Sand – Limited
Reece Noi as Mossador – Limited
Hannah Murray as Gilly – Limited
Toby Sebastian as Trystane Martell – Limited
Alexander Siddig as Doran Martell – Extremely Limited
Rupert Vansittart as Yohn Royce – Limited
Carice van Houten as Melisandre – Limited
Ian Whyte as Wun Wun – Limited
Tom Wlaschiha as Jaqen H'ghar – Limited
Full-Bleed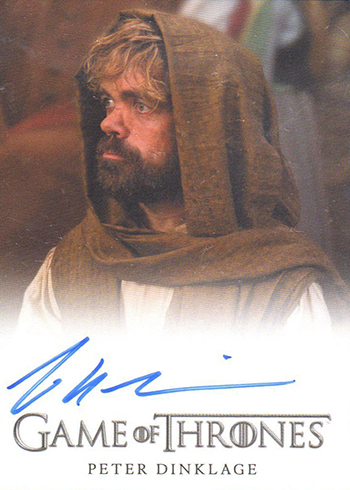 Roger Ashton-Griffiths as Mace Tyrell – Limited
Ian Beattie as Meryn Trant – Limited
Paul Bentley as High Septon – Limited
Elizabeth Cadwallader as Lollys Stokeworth – Limited
Peter Dinklage as Tyrion Lannister – Very Limited
Natalie Dormer as Margaery Tyrell – Limited
Lena Headey as Cersei Lannister – Very Limited
Kerry Ingram as Shireen Baratheon – Limited
Michael McElhatton as Roose Bolton – Limited
Lucian Msamati as Salladhor Saan – Limited
Ross O'Hennessy as Lord of Bones
Daniel Portman as Podrick Payne – Limited
Jonathan Pryce as High Sparrow – Very Limited
Iwan Rheon as Ramsay Snow – Limited
Eugene Simon as Lancel Lannister – Limited
Will Tudor as Olyvar – Limited
Indira Varma as Ellaria Sand – Limited
Hannah Waddingham as Septa Unella
Elizabeth Webster as Walda Bolton
Maisie Williams as Arya Stark – Very Limited
Dual Autographs
1 card. Given as a six-case incentive.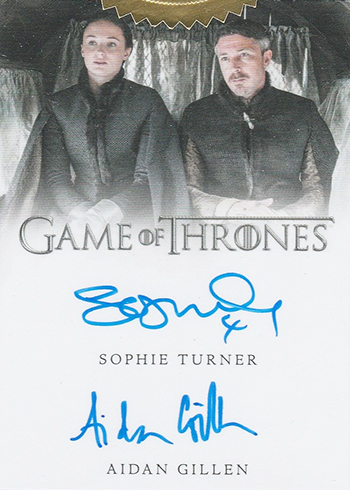 Sophie Turner as Sansa Stark/Aidan Gillen as Littlefinger
Autographed Relics
1 card. Given as a nine-case incentive.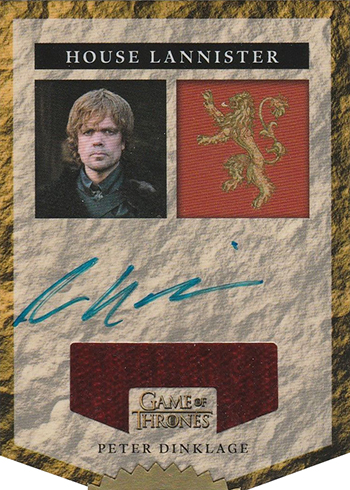 Peter Dinklage as Tyrion Lannister
Relics
Dragonglass Relic Cards
1 card, 1:1,440 packs.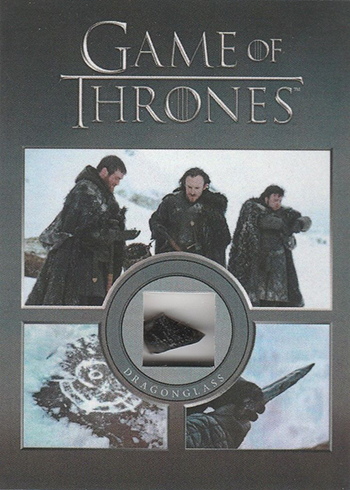 DG1 Dragonglass /200
Night's Watch Relic Cards
5 cards, 1:288 packs.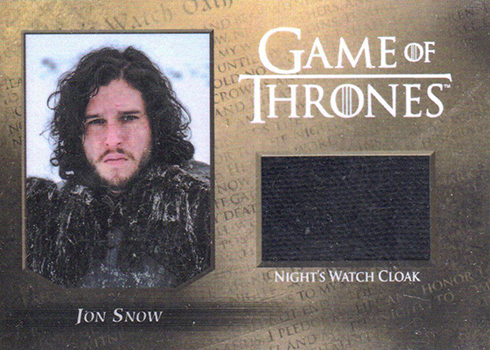 CC1 Jon Snow /250
CC2 Samwell Tarly /250
CC3 Grenn /250
CC4 Eddison Tollett /250
CC5 Pypar /250
Inserts
Beautiful Death Poster Art
20 cards, 1:24 packs.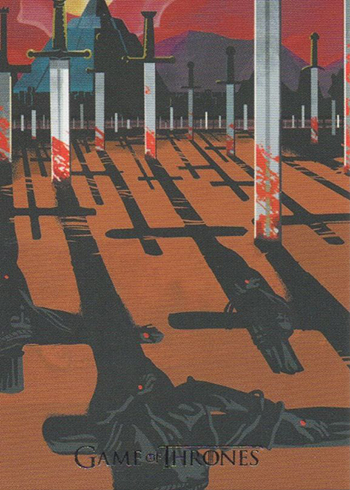 Parallels:
• Gold – 1:144 (/150)
BD21
BD22
BD23
BD24
BD25
BD26
BD27
BD28
BD29
BD30
BD31
BD32
BD33
BD34
BD35
BD36
BD37
BD38
BD39
BD40
House Shields
2 cards, inserted 1/case as a case topper.
H11 House Baratheon
H12 House Bolton
Quotable Game of Thrones
9 cards, 1:12 packs.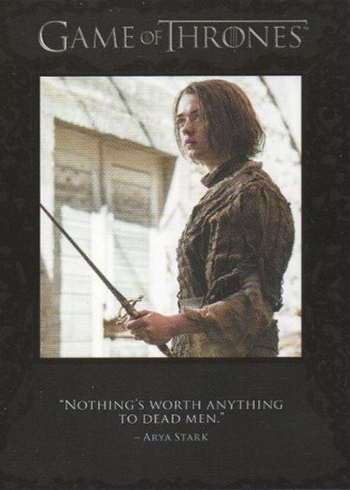 Q41
Q42
Q43
Q44
Q45
Q46
Q47
Q48
Q49
Reflections
16 cards, 1:48 packs.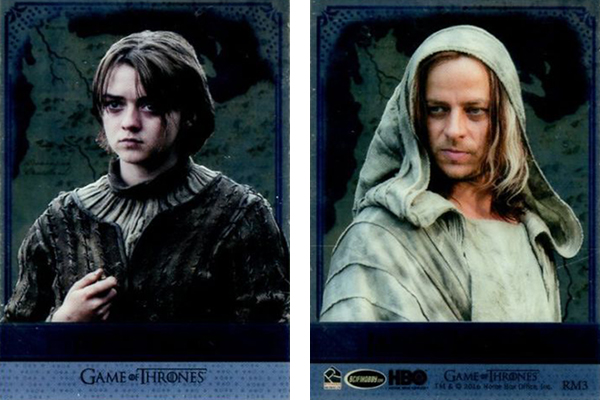 RM01 Eddard Stark/Robert Baratheon
RM02 Tyrion Lannister/Varys
RM03 Arya Stark/Jaqen H'ghar
RM04 Daenerys Targaryen/Khal Drago
RM05 Stannis Baratheon/Melisandre
RM06 Jon Snow/Ygritte
RM07 Robb Stark/Catelyn Stark
RM08 Sansa Stark/Petyr Baelish
RM09 Tywin Lannister/Roose Bolton
RM10 Cersei Lannister/Jaime Lannister
RM11 Jorah Mormont/Daario Naharis
RM12 Samwell Tarly/Gilly
RM13 Jofferey Baratheon/Tommen Baratheon
RM14 Margaery Tyrell/Lady Olenna
RM15 Brienne of Tarth/Podrick Payne
RM16 Ramsay Snow/Theon Greyjoy
Relationships
10 cards, 1:24 packs.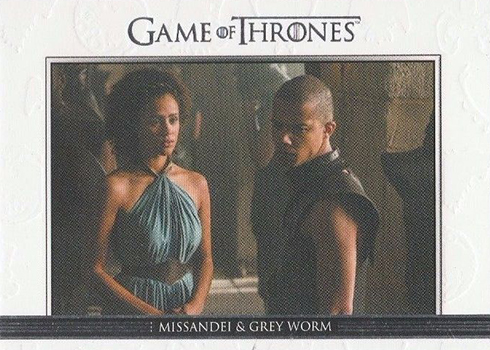 Parallels:
• Gold -1:144 (/225)
DL21 Tyrion Lannister/Varys
DL22 Arya/Jaqen H'ghar
DL23 Sansa Stark/Littlefinger
DL24 Daenerys Targaryan/Ser Barristan Selmy
DL25 King Tommen/Queen Margaery
DL26 Missandei/Grey Worm
DL27 Tyrion Lannister/Ser Jorah Mormont
DL28 Jon Snow/Alliser Thorne
DL29 Ser Davos Seaworth/Shireen Baratheon
DL30 Ser Jaime Lannister/Bronn
Sketch Cards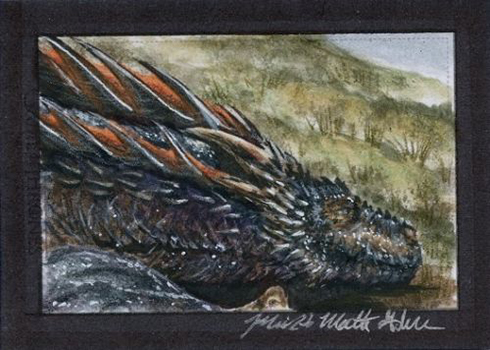 Kristin Allen
Francois Chartier
Adam Cleveland
Roy Cover
David Desbois
Mick and Matt Glebe
Javier Gonzalez
Dan Gorman
Charles Hall
Scott Houseman
Gavin Hunt
Debbie Jackson
Mike James
Achilleas Kokkinakis
Rich Kunz
Lee Lightfoot
Jeff Malinson
Warren Martineck
Chris Meeks
Sean Pence
Tim Shay
Danny Silva
Brad Utterstrom
Helga Wojik
Promo Cards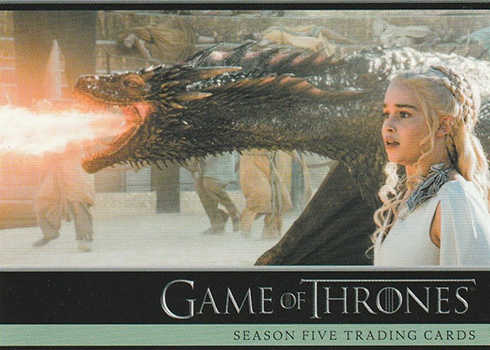 P1 Daenerys Targaryen – General Distribution
P2 Tyrion Lannister – Non-Sport Update Magazine
P3 Night's King – Binder
Comments? Questions? Contact Ryan Cracknell on Twitter @tradercracks.