2016 Panini Spectra Football Details
2016 Panini Spectra Football combines several elements. As with other sets in the brand's portfolio, autographs and memorabilia are the high-end pieces. Then there's the chromium stock the product is done on, which brings with it the familiar mix of colorful (and plentiful) parallels.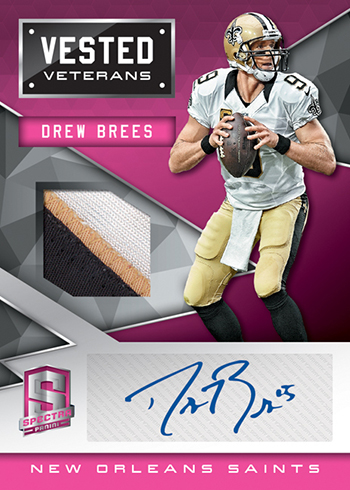 All told, each 2016 Panini Spectra Football hobby box has 16 cards spread across four packs. Eleven of those cards are considered hits.
Autographs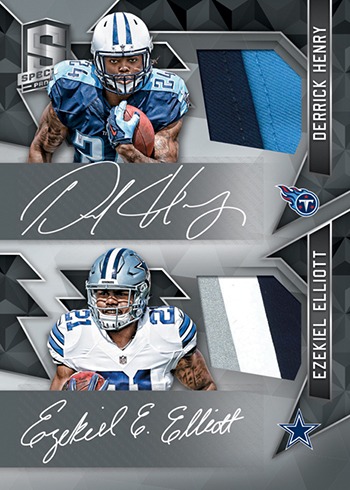 Each pack of 2016 Panini Spectra Football should have an autograph. Across the entire product, there's a mix of stickers and on-card signatures.
Rookies are a big focus on the checklist. Rookie Patch Autographs are numbered to 99. But that's just base versions. Parallels come in several levels all the way down to one-of-one Gold that have things like tags, logo patches and Nike Swooshes.
Radiant Rookie Patch Signatures and Aspiring Patch Autographs are among the other rookie-centered autographs in the product.
Among the parallels in Rookie Dual Patch Autographs (/5) is Black Light, which use acrylic white markets for the signature. Black Light parallels are found in other parts of the product as well.
Veterans and retired players also have some signed content in 2016 Panini Spectra Football. Among them is Illustrious Legends, which come with on-card autographs. Vested Veterans combine ink and memorabilia.
Memorabilia Cards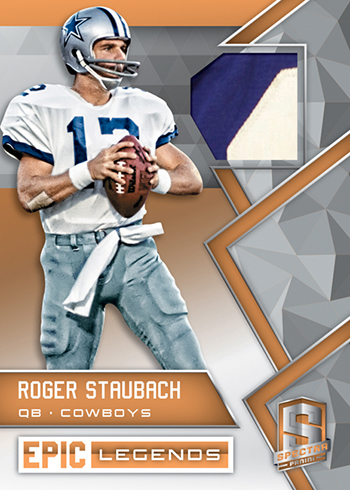 Most packs are going to come with a pair of memorabilia cards. Like other parts of 2016 Spectra Football, there's a mix of veterans, rookies and legends. And don't forget the parallels.
Memorabilia insert themes include Catalysts, Rising Rookie Material and Epic Legends Materials.
Base Set
2016 Spectra Football does have a base set. Its size, though, has not yet been announced. Between the 11 hits and three Prizm parallels, it doesn't leave much room for base cards, anyway. Because of this, it's possible these could become relatively tough to find once the initial supply dries up.
2016 Panini Spectra Football at a glance:
Packs per box: 4
Cards per pack: 4
Boxes per case: 8
Release date: September 14, 2016
What to expect in a hobby box:
Autographs – 4
Memorabilia Cards – 7
Prizm Parallels – 3