2016 Panini Prizm Draft Picks Football details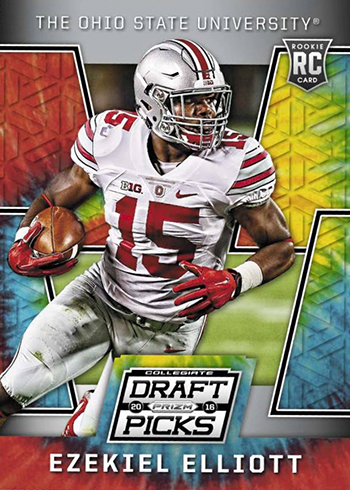 By Ryan Cracknell | Hobby Editor
For the second consecutive year, Prizm is getting the pre-draft treatment. 2016 Panini Prizm Draft Picks Football maintains the chromium style the brand is known for but focuses solely on the college game rather than the NFL. The result is many early cards of players slated for the 2016 draft and the incoming rookie class.
And while the shine might be the driving force for many, the number of autographs per box has more than doubled over last year's Prizm Draft.
Base Set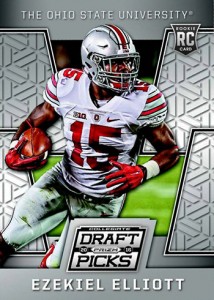 Like other Panini products over the past couple of years with the "Draft" name, the focus is on the NCAA and the company's near exclusive with the college market (basically every major school except Notre Dame). But the 2016 Panini Prizm Draft Picks Football base set isn't limited to recent graduates and players who declared for the 2016 draft. Pros are also featured, albeit with throwback images from their school days.
Since we're talking Prizm, there are plenty of parallels labelled Prizms. Included are Camo (/199), Purple Flash (/99), Tie Dye (/49), Red, White and Blue (/25), Gold (/10), Green (/5) and Black Finite (1/1).
Autographs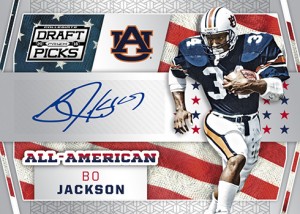 Autographs get more of a focus in 2016 Panini Prizm Draft Picks Football. When the line debuted in 2015, boxes came with a pair of signed cards. That number jumps to five here.
Look for the majority of them to have a similar look to the base set with numbering to 199 or less. Other signed inserts include All-American Autographs, Alumnus and Team Trademark Autographs. Team Trademarks is focused on 2016 rookies. Signatures from veteran and retired players can be found in the All-American and Alumnus sets.
Inserts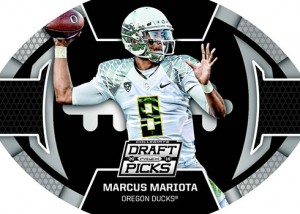 The product has a few basic inserts as well. Stained Glass returns, falling two per box. Football Die-Cut and Helmet Die-Cut inserts are both inserted one per box.
2016 Panini Prizm Draft Picks Football at a glance:
Packs per box: 12
Cards per pack: 12
Boxes per case: 12
Set size: 250 cards
Release date: April 13, 2016
What to expect in a hobby box:
Autographs – 5
Stained Glass Inserts – 2
Football Die-Cut Insert – 1
Helmet Die-Cut Insert – 1
Comments? Questions? Contact Ryan Cracknell on Twitter @tradercracks.