2016 Panini Prime Cuts Baseball Details
It has been four years since Prime Cuts last appeared. For its return, 2016 Panini Prime Cuts Baseball centers on autographs and memorabilia cards. In fact, it's all autographs and memorabilia cards with five per box.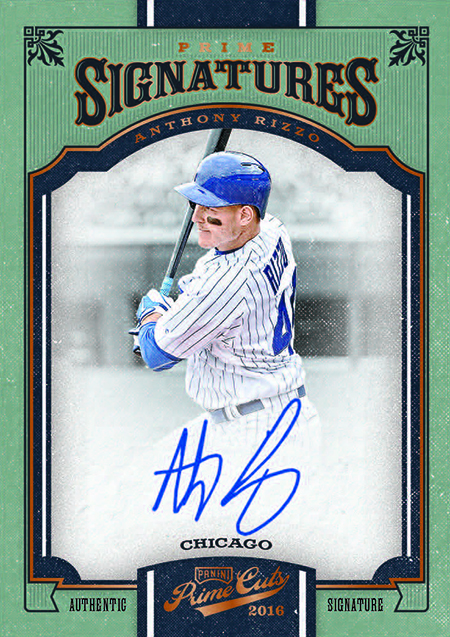 If you collect certain players or teams, many of the elements within the set are going to prove to be challenging with several versions of similar cards being done in addition to the traditional parallels.
2016 Panini Prime Cuts Baseball does have a base set but it's all done through hits. This is where the tiers come into play. For example, Base Materials have five different levels, each with a different sized swatch. From there, each of those has four different parallels numbered to 49 or less.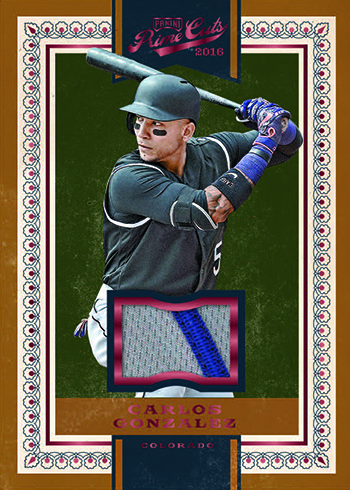 The base level of Prime Cuts Rookie Autographs start with an on-card signature. Ensuing tiers add different amounts of memorabilia. For example, Rookie Autographs III has a Triple Threads look to them with the signature being joined by a trio of swatches. These also have four sets of parallels numbered no higher than 49.
It's not just first-year players that have the somewhat complicated structure. Veterans have Base Autographs as well with an increasing number of swatches. Some have just the signature, others have as many as three pieces of gear. And yes, each of these has a similar parallel structure. Autographs here aren't necessarily on-card. Stickers will also be used in 2016 Panini Prime Cuts Baseball.
Prime Signatures is dedicated to current and retired players. These do have on-card autographs as well as four parallels.
A big part of Prime Cuts' past is the inclusion of memorabilia from big-name retired players. These are done in a few spots. Icons come in five different types: Jersey, Bats, Numbers Combos, Numbers Trios and Numbers Quads. Three parallels are numbered to 25 or less. Babe Ruth, Lou Gehrig, Joe DiMaggio, Roberto Clemente and Ty Cobb are among those in the product.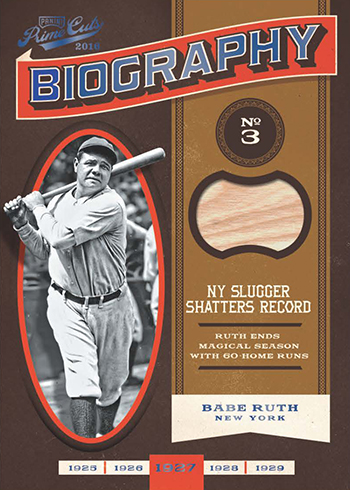 Biography and Timeline, memorabilia-based inserts from past releases, both return. Biography cards use a moment from a player's career as a framework to showcase a piece of bat, jersey or other memorabilia. In addition to basic single-swatch Timeline cards, there are Combos, Trios, Quads and Stats.
Every five-box case of 2016 Panini Prime Cuts Baseball has either a book card or a cut signature. Among them is Rookie Autographs Jumbo Materials Booklets. These have an on-card autograph on one side and a large piece of gear on the other. Prime versions are numbered to 10 or less. Other booklet inserts include Rookie Autographs Silhouette Combo Materials, Prime Six Signatures and Prime Eight Signatures.
2016 Panini Prime Cuts Basbeall at a glance:
Packs per box: 1
Cards per pack: 5
Boxes per case: 5
Release date: November 9, 2016
What to expect in a hobby box:
• Autographs and Memorabilia Cards – 5 Total
Comments? Questions? Contact Ryan Cracknell on Twitter @tradercracks.