2016 Panini Playbook Football Details
Once upon a time, sports cards were usually 2.5 by 3.5 inches. But then something happened. Some of these sports cards were connect with a hinge or spine and book cards were born. Usually, these are reserved for premium inserts. But Panini made them a focal point for their Playbook brand. 2016 Panini Playbook Football marks the sixth year for the line.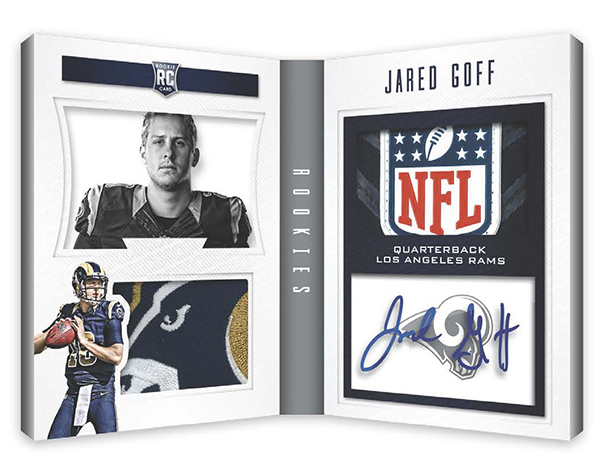 Each box has three cards, one of which is a booklet card that has an autograph, memorabilia or a combination of the two.
Book Cards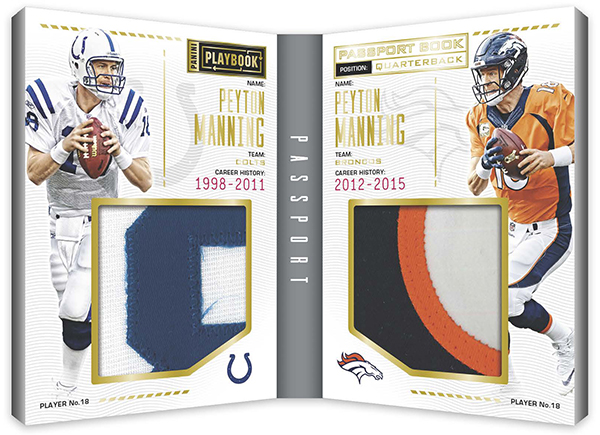 As they have been from the beginning, booklets are what make 2016 Panini Playbook Football distinct from other products. They come in a variety of forms, highlighting both rookie and veteran players. That said, if past years are any indication, rookies will get most of the attention.
Rookie Playbooks have a lot going on with a pair of oversized memorabilia swatches, an autograph and multiple player photos. Playbook Materials Autographs take a similar approach with veterans, albeit with three swatches.
Passport Book cards have a couple of jumbo pieces of memorabilia from multiple points in a player's career. Other over-sized memorabilia inserts include Mammoth Material and Red Zone.
Multi-swatch Armory cards return for another year.
Given the expanded size of the booklets, multi-player cards are also a thing. Face 2 Face pairs up two players, each with their own swatch. Front 4 Jersey Signatures have autographs and memorabilia from a quartet of players.
Autographs and Memorabilia Cards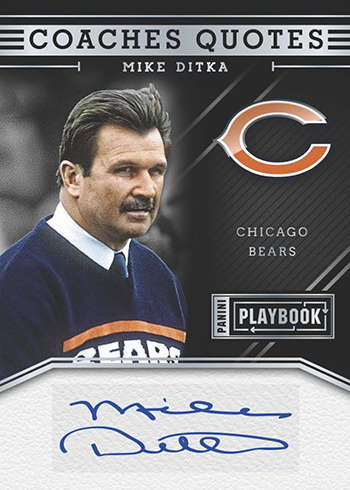 Even though book cards are the focus, they're not the only hits in 2016 Playbook Football. One traditionally sized autograph or memorabilia card is also included in each box. Several take on play themes from the field. Slant Signatures have the sticker autograph applied on an angle. There's also Coaches Quotes. While they have autographs from head coaches, mock-up images didn't indicate either famous quotes (at least on the front) or inscriptions.
Play Action Autographs have signatures from multiple players on the same team.
Base Set
2016 Panini Playbook Football does have a base set. What that entails hasn't been announced other than the fact that they're inserted one per box. In 2015, base cards were books. Initial materials on the set do not give this indication one way or the other.
2016 Panini Playbook Football at a glance:
Packs per box: 1
Cards per pack: 3
Boxes per case: 15
Set size: 100 cards
Release date: October 5, 2016
What to expect in a hobby box:
• Autograph or Memorabilia Book Cards – 1
• Additional Autographs and Memorabilia Cards – 1
Comments? Questions? Contact Ryan Cracknell on Twitter @tradercracks.