2016 Panini Impeccable Football Details
The hobby has a lot of high-end brands. And within that realm, some are more distinct than others in how they look and feel. Sometimes one release can blend into another brand in this regard. So there's a risk in introducing new lines as they need to be different. At least that's what they should be striving for. 2016 Panini Impeccable Football appears to be doing that. The low print run and abundant autographs and memorabilia might be similar to Immaculate, National Treasures and several other brands. But the design does bring something different to the table.
Each box of 2016 Panini Impeccable Football has eight cards. More than half are signed.
Base Set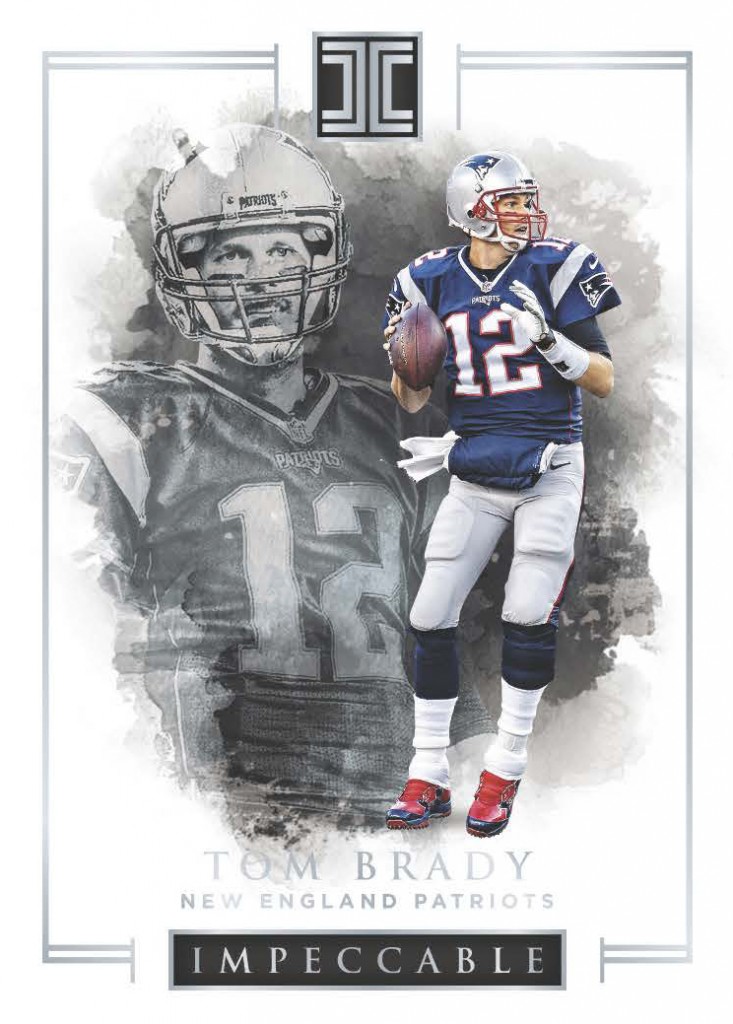 Although most are going to be busting for the autographs, Impeccable does come with a base set. Printed on canvas stock, it's a mix of veterans and retired players. Base cards are numbered to 75 copies and fall two per box.
Boxes also have one parallel. They come in three levels: Silver (/25), Gold (/10) and Platinum (1/1).
Autographs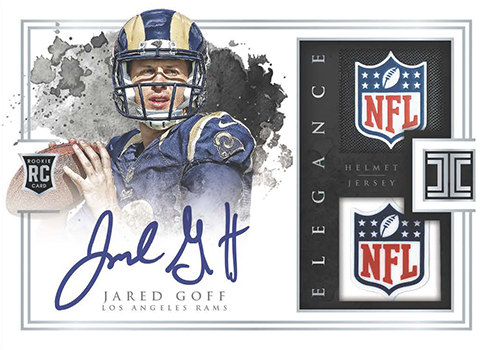 The meat of 2016 Impeccable Football comes with its autographs. Taken as a whole, the checklist includes a mix of on-card and sticker signatures.
Fifty Rookie Autographs are numbered to 99 copies each. That's the maximum number of any card in the entire production run.
Impeccable Jersey Number Autographs is one of the on-card autograph lines. Each card is limited to the player's jersey number. Indelible Ink is another hard-signed set. Base versions are numbered to 99 while Gold, Platinum and Printing Plate parallels go down from there.
Inkpeccable Duals, Triple and Quads may take the name puns to an extreme, but these do offer multiple signatures. All are numbered to 25 or less.
On the autographed memorabilia front, there's Veteran Elegance Patch Autographs. Hard-signed, this is one of the few parts of 2016 Panini Impeccable Football that also has memorabilia. Rookies have their own mix of Elegance autographed memorabilia cards that have things a pair of swatches from things like patches, helmet pieces and nameplate swatches.
Impeccable Cuts have cut signatures from Hall of Famers. These are numbered to 5 or less.
Silver NFL Logos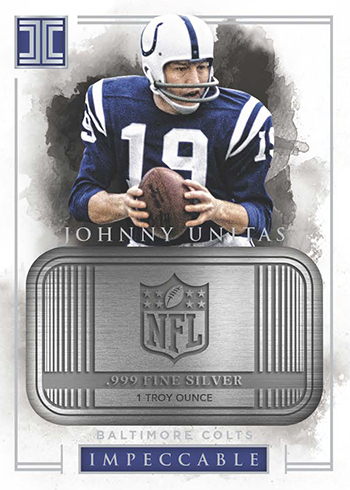 Every three-box case comes with one Silver NFL Logos card. These have an ounce of pure silver embedded in them. Parallels come with 14K gold.
2016 Panini Impeccable Football at a glance:
Packs per box: 1
Cards per pack: 8
Boxes per case: 3
Set size: 100 cards
Release date: October 19, 2016
What to expect in a hobby box:
• Autographs – 5
• Parallels – 1
Comments? Questions? Contact Ryan Cracknell on Twitter @tradercracks.