2016 Panini Immaculate Collegiate Baseball Details
Following in the footsteps of football and basketball, Immaculate is expanding into another NCAA realm. 2016 Panini Immaculate Collegiate Baseball might have a lot of the same elements as similar releases from other sports, there's a major difference in how it's being distributed. Rather than going the traditional distribution route, 2016 Panini Immaculate Collegiate Baseball is available exclusively to online case breakers.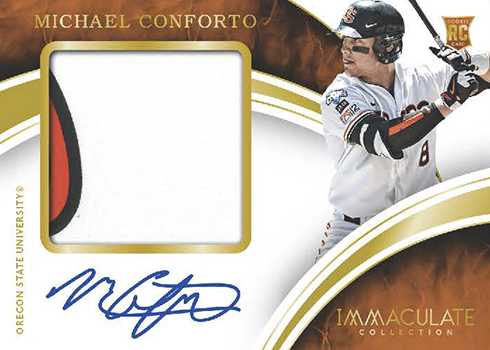 Of the six cards in each box, five are autographs or memorabilia cards.
Although it's not the case for every signed card in the product, there is a focus on on-card autographs. This includes Immaculate Ink and Rookie Autographs. Premium Patches Autographs are also hard-signed. They're also accompanied by and over-sized patch swatch.
Much of the autograph content is centered around young players. However, 2016 Panini Immaculate Collegiate Baseball does reach back multiple generations with its signatures, such as in the simply named Autographs.
This may be a baseball product, but there are some autographs from athletes in other sports. These come in the form of Sports Variations. Numbered to 99 or less, the checklist includes signatures from college basketball and football standouts as well.
As is always the case with Immaculate, memorabilia is a big focus. Some take a standard approach while others dive deep into the high-end. RPS Rookie Player Caps has big pieces of caps worn during photo shoots. All are numbered to 10 or less with some including things like logo patches and buttons.
Immaculate Fielding Gloves bring the leather. Each is a one-of-one and nearly the entire front of the card consists of a piece of player-worn (not used in a game) glove.
Tools of the Trade uses different types of memorabilia including jerseys, gloves and cleats. Premium Prime parallels are numbered to 10 or less.
Immaculate Numbers Memorabilia might not have quite the flash as some of the other inserts in 2016 Panini Immaculate Collegiate Baseball but it does mix rookies and veterans as well as player-worn and game-used swatches.
2016 Panini Immaculate Collegiate Baseball at a glance:
Packs per box: 1
Cards per pack: 6
Boxes per case: 5
Release date: November, 2016
What to expect in a hobby box:
• Autographs and Memorabilia Cards – 5 Total
• Base Cards and Parallels – 1 Total
Comments? Questions? Contact Ryan Cracknell on Twitter @tradercracks.