2016 Panini Cyber Monday Details
2016 Panini Cyber Monday is like the online equivalent of Black Friday. The promo set, which is only available through Internet breakers, covers all of the sports in Panini's portfolio.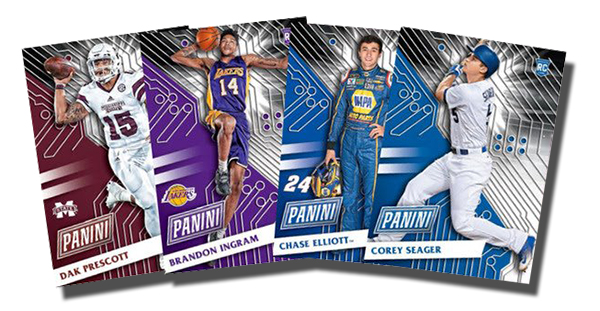 The content doesn't run as deep as 2016 Panini Cyber Monday, but it reach beyond just its base set.
The bulk of the Cyber Monday promo cards come in the base set. It has 49 cards with 20 rookies. Basketball, football, baseball, NASCAR and college are all covered.
Randomly inserted Cyber Monday Material cards have memorabilia swatches from rookies. Once again, the checklist is composed of athletes from a variety of sports. Parallels come numbered to 25, 10 and 1.
Packs are distributed to breakers based on what they order. The cards are intended to be an incentive for their customers. Breakers can decide how they wish to market their cards.
2016 Panini Cyber Monday at a glance:
Cards per pack: 2
Set size: 49 cards
Release date: November 28, 2016
Comments? Questions? Contact Ryan Cracknell on Twitter @tradercracks.