2016 Panini Contenders Draft Picks Football kicks off a new card season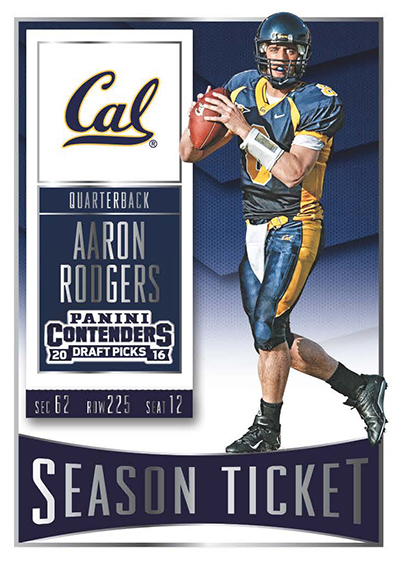 By Ryan Cracknell | Hobby Editor
2016 marks the first full calendar year of Panini's near-exclusive on the NCAA trading card market. That means we should get a better idea on their full plans for college cards and how they'll integrate with their other licenses. 2016 Panini Contenders Draft Picks Football is one such instance. While the brand debuted last year, it came along after the NFL draft. This time, it will arrive sooner and act as more of a primer for the incoming rookie class.
Hobby boxes come with five autographs and are heavy on basic inserts — as in more than 100 of them in a 24-pack box.
Get a fully sortable 2016 Panini Contenders Draft Picks checklist and price guide access.
The 2016 Panini Contenders Drafts Picks Football base set highlights former college players in their old threads. The overall design is similar to the one used for 2015 Panini Contenders Football (the NFL version). Among the parallels are the hobby-exclusive Season Ticket (/99), Cracked Ice (/23) and Championship Ticket (1/1). Printing Plates for College Ticket and Season Ticket are also only in hobby boxes.
College Tickets are where collectors will find a lot of the set's autographs. Signatures come from players who have declared for the draft and should be rookies in the NFL in 2016. Parallels for these include College Bowl Ticket (/99), Cracked Ice (/23), College Playoff Ticket (/14), Printing Plates and College Championship Ticket (1/1).
You can expect that at least half of every eight-card pack to be basic inserts. School Colors and Old School Colors both average one per pack. There's also a pair of Game Day Tickets per pack. 2016 Panini Contenders Draft Picks Football boxes come with 16 additional basic inserts — four each from Class Reunion, Rush Week, Collegiate Connections and Passing Grades.
Several of these insert themes come with autographed versions as well including Rush Week Signatures, Passing Grades Signatures and Old School Colors Signatures. Alumni Ink also returns.
Collegiate Connection Signatures come numbered to five or less. These feature autographs from two players who starred at the same school. John Elway and Jim Plunkett, Bo Jackson and Frank Thomas (he was a two-sport star at Auburn too), and Nick Foles and Rob Gronkowski are among the combinations.
2016 Panini Contenders Draft Picks Football at a glance:
Packs per box: 24
Cards per pack: 8
Boxes per case: 12
Set size: 100 cards.
Release date: March 23, 2016
What to expect in a hobby box:
Autographs – 5
Class Reunion Inserts – 4
Collegiate Connections Inserts – 4
Passing Grades Inserts – 4
Rush Week Inserts – 4
Old School Colors Inserts – 24
School Colors Inserts – 24
Game Day Tickets Inserts – 48
Comments? Questions? Contact Ryan Cracknell on Twitter @tradercracks.