2016 Panini Classics Football Variation Short Prints Gallery, Checklist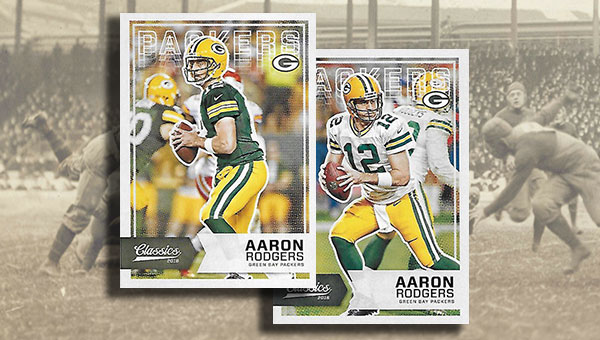 By Ryan Cracknell | Hobby Editor
Much like an old set, 2016 Panini Classics Football has plenty of quirks and variations. However, unlike the past where a lot of these were created accidentally, here they're intentional to add a chase element. While most are labeled on the front and fall under the modern parallel category, there are 40 2016 Panini Classic Football variation short prints that offer alternate photos.
While the majority of the 2016 Panini Classics Football variations are veterans, retired players and rookies are also included. Given how soon after the draft the set was released, rookies are featured in their college uniforms. Their pro teams are not mentioned.
Besides offering different photos on the front, variations can be spotted quickly by flipping through the card backs. Regular base cards have light black backs. Grain is clear. It's a dusty sort of look. However, the variation short prints have a much deeper and crisper black.
In addition to the 2016 Panini Classic Football variation short prints, some of the other quirks you might find are cards with no name on the front, blank backs and glossy cards. These, along with Blue and Red Backs, are parallels.
2016 Panini Classics Football Variation Short Prints Gallery
We're working to fill out the remaining images and will be adding them until the gallery is complete.
6 Tom Brady, New England Patriots
7 Cam Newton, Carolina Panthers
13 Todd Gurley, Los Angeles Rams
29 Peyton Manning, Denver Broncos
37 Jameis Winston, Tampa Bay Buccaneers
62 Aaron Rodgers, Green Bay Packers
71 Russell Wilson, Seattle Seahawks
74 Calvin Johnson, Detroit Lions
75 Marcus Mariota, Tennessee Titans
78 Odell Beckham Jr., New York Giants
84 Andrew Luck, Indianapolis Colts
87 Julio Jones, Atlanta Falcons
88 Tony Romo, Dallas Cowboys
97 Drew Brees, New Orleans Saints
98 Dez Bryant, Dallas Cowboys
105 Terry Bradshaw, Pittsburgh Steelers
112 Deion Sanders, Dallas Cowboys
114 Emmitt Smith, Dallas Cowboys
123 Roger Staubach, Dallas Cowboys
127 Joe Montana, San Francisco 49ers
137 Joe Namath, New York Jets
138 Barry Sanders, Detroit Lions
155 Troy Aikman, Dallas Cowboys
157 John Elway, Denver Broncos
176 Jerry Rice, San Francisco 49ers
177 John Riggins, Washington Redskins
178 Brett Favre, Green Bay Packers
186 Jim Kelly, Buffalo Bills
190 Dan Marino, Miami Dolphins
199 Michael Irvin, Dallas Cowboys
212 Ezekiel Elliott, Ohio State Buckeyes
225 Josh Doctson, TCU Horned Frogs
237 Laquon Treadwell, Ole Miss Rebels
244 Joey Bosa, Ohio State Buckeyes
252 Jalen Ramsey, Florida State Seminoles
259 Paxton Lynch, Memphis Tigers
262 Jared Goff, Cal Golden Bears
268 Carson Wentz, North Dakota State Bison
280 Derrick Henry, Alabama Crimson Tide
298 Connor Cook, Michigan State Spartans
Comments? Questions? Contact Ryan Cracknell on Twitter @tradercracks.