2016 Panini Black Friday Details
2016 Panini Black Friday sees the return of the popular hobby shop promotion, albeit with a twist. This time around, it has been split into two parts, each with their own packs. The first is strictly football while the other covers all of the other sports in Panini's portfolio. The content in each has similar elements and setups, but they exist separately. Packs are also allotted to dealers based on what types of boxes they order for the promotion.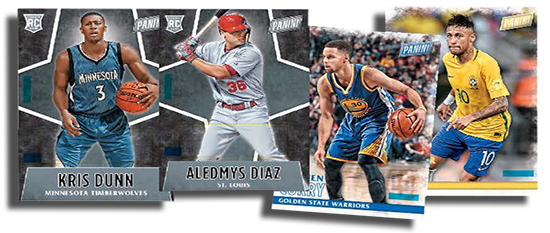 2016 Panini Black Friday Football
The football portion has a 75-card base set. A total of 25 rookies come numbered to 499 copies.
Inserts have a familiar feel from past years, even though this section is purely pigskin. It starts with Panini Collection, an insert that uses minimal flash to showcase strong photography.
Like all of Panini's promo sets, a lot of the memorabilia comes from special events and items not typically used on trading cards. There's Happy Holidays with pieces of player-worn Christmas hats. Salute to Service uses camo-print towels. Others include Super Bowl Memorabilia and Tools of the Trade.
Black Friday Patches adds a manufactured relic element.
2016 Panini Black Friday Multi-Sport
2016 Panini Black Friday Multi-Sport packs include players from basketball, baseball, soccer and NASCAR. The base set is similar in scope to football with 75 cards. The 25 rookies here aren't quite as numerous with 399 numbered copies each.
A separate set of Panini Collection inserts are included as are memorabilia sets like Tools of the Trade, Happy Holidays and Black Friday Memorabilia. Collectors can also find more Black Friday Patches in multi-sport packs.
Card shops get their Black Friday packs based on what they order. While shops can distribute as they see fit, usually it's connected to the purchase of boxes.
2016 Panini Black Friday at a glance:
Cards per pack: 2
Set size: Football – 75 cards, Multi-Sport – 75 cards
Release date: November 25, 2016
Comments? Questions? Contact Ryan Cracknell on Twitter @tradercracks.