2016 Leaf Great Moments Trading Cards Cover Prospects and Legends from Several Sports
Combining past and future stars, 2016 Leaf Great Moments is a multi-sport set you're not going to find in any packs. Rather, it's starting as an eBay exclusive produced in limited quantities.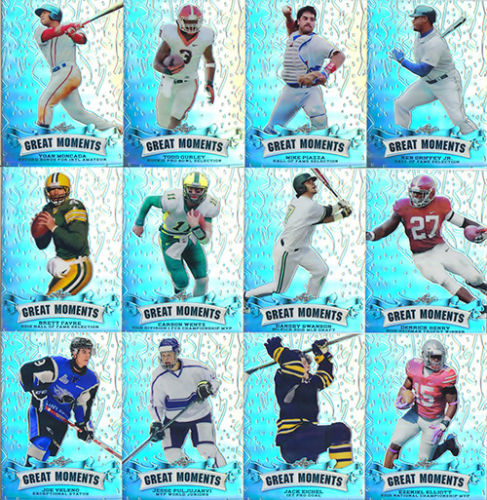 The set is small, with just 12 cards. However it encompasses prospects and all-time greats from baseball, football and hockey. The majority of the 2016 Leaf Great Moments checklist is dedicated to young players. These include Carson Wentz, Ezekiel Elliott, Yoan Moncada and Jesse Puljujarvi. Legends are limited to three players entering their respective Halls of Fame in 2016: Ken Griffey Jr, Mike Piazza and Brett Favre.
2016 Leaf Great Moments is available in a few different colors. Silver Prismatic is the most plentiful with a print run of 106 sets. There's also Blue Prismatic (25 sets), Purple Prismatic (15 sets), Pink Prismatic (ten sets), Black Prismatic (seven sets), Green Prismatic (five sets), and Red Prismatic (three sets).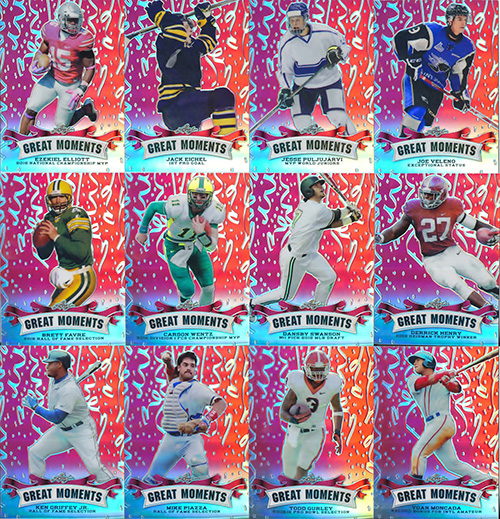 2016 Leaf Great Moments Checklist
Jack Eichel
Ezekiel Elliott
Brett Favre
Ken Griffey Jr.
Todd Gurley
Derrick Henry
Yoan Moncada
Mike Piazza
Jesse Puljujarvi
Dansby Swanson
Joe Veleno
Carson Wentz
Comments? Questions? Contact Ryan Cracknell on Twitter @tradercracks.