2016 Leaf Clear Multi-Sport Trading Cards Checklist and Details
2016 Leaf Clear Multi-Sport is a straightforward release that covers prospects, young stars and retired greats from several sports. Packaged as a factory set, it includes baseball, hockey, football, soccer and boxing.
The checklist is a small one with just 25 cards. Ezekiel Elliott, Dak Prescott, Gordie Howe, Ken Griffey Jr. and Lionel Messi are among those that are a part of the release.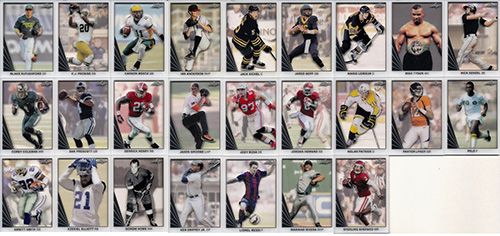 The design is based on 1990 Leaf Baseball, albeit with acetate stock that makes for transparent backgrounds.
2016 Leaf Multi-Sport does come with a bit of a twist. While the base version has a production run of 100 sets, there are parallels. These aren't randomly inserted bonus cards. Rather, those that land a parallel set get them for all 25 cards. Numbered to 25, 10, 5 or 1/1, all cards come with matching serial numbers.
2016 Leaf Multi-Sport Checklist
25 cards.
100 base sets produced.
Parallels:
• /25
• /10
• /5
• 1/1
Ian Anderson – Baseball
Joey Bosa – Football
Corey Coleman – Football
Jack Eichel – Hockey
Ezekiel Elliott – Football
Jared Goff – Football
Ken Griffey Jr. – Baseball
Jason Groome – Baseball
Derrick Henry – Football
Jordan Howard – Football
Gordie Howe – Hockey
Mario Lemieux – Hockey
Paxton Lynch – Football
Lionel Messi – Soccer
Nolan Patrick – Hockey
Pele – Soccer
Dak Prescott – Football
C.J. Prosise – Football
Mariano Rivera – Baseball
Blake Rutherford – Baseball
Nick Senzel – Baseball
Sterling Shepard – Football
Emmitt Smith – Football
Mike Tyson – Boxing
Carson Wentz – Football
Comments? Questions? Contact Ryan Cracknell on Twitter @tradercracks.