2016 Immaculate Ezekiel Elliott Rookie Card Redemptions Being Sent Out, Get Game-Used Upgrade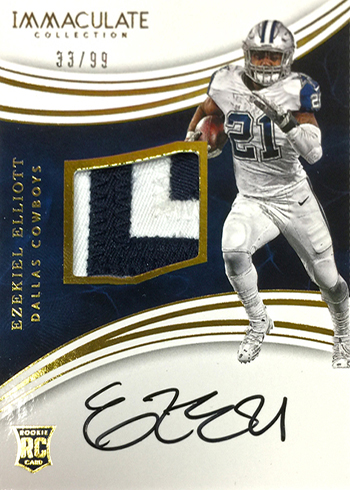 For those still waiting on 2016 Panini Immaculate Ezekiel Elliott redemptions, the wait is almost over. After an initial batch was damaged en route, a new batch has been signed, completed and are in the process of making their way to collectors.
And they're coming with an upgrade. The original cards were slated to have swatches from a photo shoot jersey. Now the swatch comes from one worn in a game.
The Dallas Cowboys running back had autograph redemptions in 2016 Panini Immaculate Football when it released last fall. Of the various Ezekiel Elliott autographs in the product, only his Rookie Card remained outstanding. Panini had planned for them to be done sooner but the original ones got damaged and they had to be remade.
The final cards, which apply only to the base versions numbered to 99, have a couple of other differences outside of the game-used swatch. Elliott's signature comes with his jersey number written at the end making it look like EZE21 instead of reading just "EZE." The photo on the card is also new compared to the parallels, which have Elliott wearing blue pants.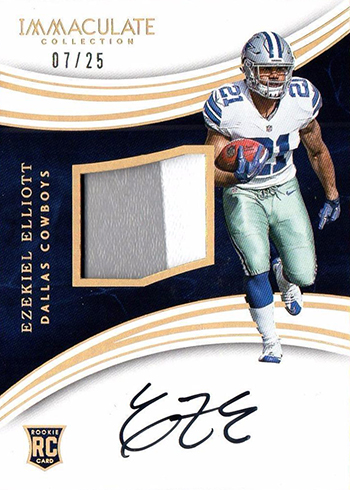 Comments? Questions? Contact Ryan Cracknell on Twitter @tradercracks or by email.