2016 Fanatics Authentic Under Wraps Series 1 Autographed Baseballs Come with Blessing of MLB, MLBPA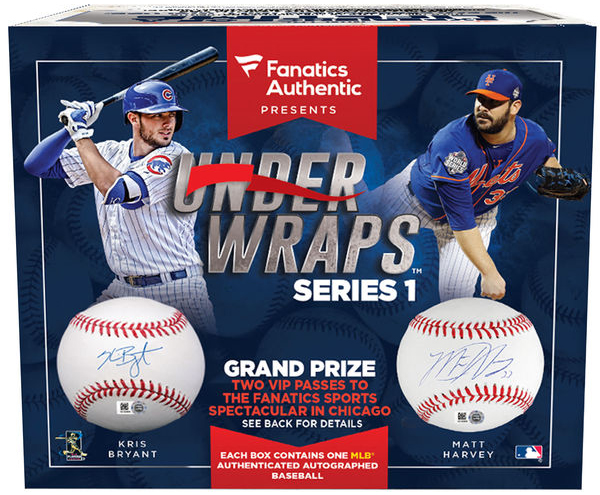 By Ryan Cracknell | Hobby Editor
Autographed baseballs have been packaged blindly like baseball cards for years. At first glance, 2016 Fanatics Authentic Under Wraps Series 1 is another in a line of such products. However, it comes with the blessing of both Major League Baseball and the Player's Association, the first to do so. This adds another layer of authenticity and backing to both the product and the signed balls that come with it.
Each box of 2016 Fanatics Authentic Under Wraps Series 1 comes with one autographed baseball covered under one of several themes.
Every ball included in the product has been certified through the MLB Authentication Program. This means there's a hologram on every ball that can be easily verified online through the MLB website. A second tamper-proof hologram from Fanatics is also included. These can also be verified online through Fanatics' database.
The balls themselves come in several themes, encompassing both current and retired players. Fan Favorites makes up the bulk of the list with 76 different signers. Derek Jeter, Kris Bryant and Clayton Kershaw are among the headliners. Other themes include Inscribed, 24K Gold, Hall of Famer and Hall of Famer Inscribed. Multi-signed balls come with anywhere from two to 28 signatures. Autographed game-used balls are also randomly inserted.
In addition to the signed ball, each box of 2016 Fanatics Authentic Under Wraps Series 1 comes with an entry for a trip to the Fanatics Authentic Sports Spectacular in Chicago. The VIP package grand prize comes with travel, autographs, photo ops and more.
2016 Fanatics Authentic Under Wraps Series 1 autographed baseballs at a glance:
Release date: May 16, 2016
What to expect in a box:
• Autographed Baseballs – 1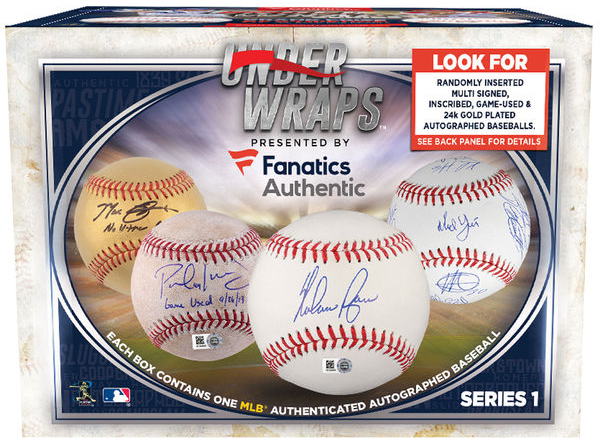 2016 Fanatics Authentic Under Wraps Series 1 Checklist
24K Gold Ball
10 players.
Kris Bryant
Carlos Correa
Carlton Fisk
Whitey Ford
Cal Ripken Jr.
Anthony Rizzo
Frank Robinson
Ryne Sandberg
Max Scherzer
Mike Schmidt
Fan Favorites
76 players.
Jose Abreu
Pedro Alvarez
Elvis Andrus
Jake Arrieta
Lance Berkman
Mookie Betts
Ryan Braun
Jay Bruce
Kris Bryant
Clay Buchholz
Matt Cain
Robinson Cano
Matt Carpenter
Starlin Castro
Yoenis Cespedes
Roger Clemens
Rocky Colavito
Carlos Correa
Chris Davis
Wade Davis
Jacob deGrom
John Farrell
Prince Fielder
Terry Francona
Freddie Freeman
Steve Garvey
Kirk Gibson
Paul Goldschmidt
Carlos Gonzalez
Matt Harvey
Keith Hernandez
Matt Holliday
Ryan Howard
Derek Jeter
Adam Jones
Jim Kaat
Clayton Kershaw
Dallas Keuchel
Jason Kipnis
Corey Kluber
John Lackey
Don Larsen
Fred Lynn
Manny Machado
Starling Marte
Don Mattingly
Andrew McCutchen
Minnie Minoso
Jack Morris
Mike Moustakas
Mike Napoli
Tony Oliva
David Ortiz
Dave Parker
Jake Peavy
Joc Pederson
Michael Pineda
Yasiel Puig
Manny Ramirez
Jose Reyes
Anthony Rizzo
Francisco Rodriguez
Ivan Rodriguez
Chris Sale
Pablo Sandoval
Max Scherzer
Gary Sheffield
Andrelton Simmons
Jorge Soler
George Springer
Stephen Strasburg
Jim Thome
Koji Uehara
Justin Upton
Kevin Youkilis
Michael Young
Game-Used
7 balls.
Kris Bryant, Anthony Rizzo
Prince Fielder
Paul Goldschmidt
Ozzie Guillen
Adam Jones
Starling Marte
Noah Syndergaard
Hall of Famer
22 players.
Hank Aaron
George Brett
Lou Brock
Steve Carlton
Orlando Cepeda
Andre Dawson
Carlton Fisk
Whitey Ford
Bob Gibson
Goose Gossage
Reggie Jackson
Al Kaline
Pedro Martinez
Bill Mazeroski
Willie McCovey
Cal Ripken Jr.
Brooks Robinson
Nolan Ryan
Bruce Sutter
Billy Williams
Dave Winfield
Robin Yount
Hall of Famer Inscribed
17 players.
Johnny Bench
Wade Boggs
Jim Bunning
Rod Carew
Steve Carlton
Tom Glavine
Fergie Jenkins
Tony La Russa
Tommy Lasorda
Joe Morgan
Phil Niekro
Jim Palmer
Tony Perez
Gaylord Perry
Mike Schmidt
Ozzie Smith
Don Sutton
Inscribed
20 players.
Mike Bacsik
Xander Bogaerts
Jose Canseco
John Farrell
Terry Francona
Cole Hamels
Ubaldo Jimenez
Jim Kaat
Francisco Liriano
Greg Luzinski
Raul Mondesi Jr.
Milt Pappas
Tim Raines
Bobby Richardson
Francisco Rodriguez
Mitch Williams
Ned Yost
Kevin Youkilis
Frank Howard
Multi-Signed
11 balls.
1975 Boston Red Sox – 13 signatures
2008 Philadelphia Phillies – 22 signatures
2013 Boston Red Sox – 20 signatures
2015 Kansas City Royals – 14 signatures
Chicago Cubs 100th Anniversary – 27 signatures
Chicago Cubs Alumni – 8 signatures
Chicago Cubs Pitchers – 8 signatures
Philadelphia Phillies Alumni – 24 signatures
Ralph Branca, Bobby Thompson
Bill Buckner, Mookie Wilson
Jorge Soler, Javier Baez
Comments? Questions? Contact Ryan Cracknell on Twitter @tradercracks.